Tuesday, April 27, 2010
"So don't think that I'm pushing you away/When you're the one that I've kept closest..."
Living in Chicago I am very fortunate to have many amazing bands come play live at one of the many venues in the city. And I know I am very spoiled that if I miss a band they will come back in 6 months to a year. I also had this luxury in DC and NYC.

The xx, http://www.thexx.info/, have been to Chicago I think at least two times since their debut album, xx, was released last year. And on April 8th they would be back again headlining and then a week later, coming back opening for Hot Chip at The Riv. I missed them their previous times here, but I did catch them on the 8th at Lincoln Hall, the city's newest venue owned by the same guys who own Schuba's. I had been to Lincoln Hall in October to see a local band do their Halloween show and the space was beautiful. So I was pretty excited to go back.

I got there a little bit on the early side since it was a sold out show (in fact they added an early show in the evening a few weeks later, which also sold out) and I was going by myself, and I wanted to secure a good spot after scoping out the place. When the doors opened I started out on the floor but realized the balcony area (with chairs) would be a better bet. The xx plays such chill music I didn't really need to be in the mix of things.

The opening band was called jj, a Swedish band whose lead singer, Elin, was taking my roommate Jo's look but not doing it justice: http://www.secretlycanadian.com/artist.php?name=jj. Elin had a very pretty voice and at first she was just solo on stage singing away and playing the guitar. The lyrics we not very good though. And I am not sure if it is because they wrote them in English or maybe things got lost in translation. But most of the songs were about getting high, and it came across like a middle school kid trying to appear cool when he uses the work "f*ck,." At some point the other member of the band, Joakim, came out and took over guitar duties. From time to time he would whisper something in Elin's ear as she sang. They also had a screen that would show them roaming around a beach or performing live. Then they would also show nature shots or focus on an Italian soccer player. Very random. They were not so much my thing, but maybe because they also use the same letter twice for a band name people thought they would be a good opener for The xx.

When The xx took the stage the venue was full. Considering they only have one album and it clocks in at around 39 minutes (on a good day), I knew the show was going to be short and that they would probably play all 11 tracks. I was correct. I enjoyed seeing them live, but to be honest it wasn't spectacular. They played most of the songs in either a slower (if you can believe it) or a faster tempo. I was able to do a little dancing while in my seat, but I knew it wasn't going to be a full on dance party…even though secretly I wished it were.

Visually they used a lot of lights that often drowned them out or blinded us in the audience. It helped create an ambient, dream like mood which matches well with their music. They had bright white Xs on their keyboard/synth/DJ area and those stood out from time to time and were really cool.

I am not sure how they were when they opened for Hot Chip, but I imagine they were the same. They will also be back in Chicago in August for Lollapalooza. Which will be interesting. I wonder how their sound will carry at an outdoor festival.

I wouldn't rush out to go see The xx live again, but I wouldn't be disappointed either. Maybe as they keep touring and release another album their live shows will change. I love their debut album though and I will continue listening to it in the meantime.

xoxo,
Stefania

P.S. Here are some videos people took of the show. Even though they aren't the best you can get an idea of what it was like.

"Basic Space"


"Crystalized" (my favorite song)


"VCR"


"Night Time" (on "Later…with Jools Holland" just so you can see a clear live performance)


Tuesday, March 30, 2010
"Brooklyn, Brooklyn take me in..."
So my first experience seeing The Avett Brothers,
http://www.theavettbrothers.com/us/home
, live came during the Austin City Limits Festival last October, in fact they were the first act I saw on Friday at the festival. I knew of the Avetts through KEXP and was really digging on their new single, "I and Love and You." While watching them at ACL I really liked their sound, their lyrics, and what they were doing on stage. So after I got back I did so more research and listening of this North Carolina band.

Around November, my new friend Michael (who had grown up with the Avetts) asked if I would be interested in seeing them when they came to town March 7th. I was like, "Sure!" So after the holidays and then the celebration that was my birthday the show date finally arrived. They were playing at the House of Blues.

The opening band was called The Low Anthem,
http://www.lowanthem.com/
, and they were pretty good. The members were multi-instrumentalists and would shift what they were playing depending on the song, however they kept the same singer (Ben Knox Miller) with the other members harmonizing or singing backing vocals. It was rustic, folksy, slow paced, and was a good choice for an opening band. I think my favorite song was, "Sally, Where'd You Get Your Liquor From?" (a Reverend Gary Davis cover):


When The Avett Brothers took the stage the crowd was roarin' to go. It was obvious that the audience were fans and sand and danced to every song. Their set list was as follows:
1. The Fall
2. Slight Figure of Speech
3. The Lowering
4. Shame
5. Head Full of Doubt/Road Full of Promise
6. January Wedding
7. Colorshow
8. Laundry Room
9. Paranoia in Bb Major
10. The Ballad of Love and Hate
11. Love Like the Movies
12. Go to Sleep
13. Kick Drum Heart
14. I and Love and You
15. Matrimony
16. Travelin' Song
17. Where Have All the Average People Gone (Roger Miller cover)
18. Murder in the City
(One of my all time favorite lyrics and has me think about how much I love my siblings: "Always remember there was nothing worth sharing/Like the love that let us share our name")
19. Pretty Girl from Chile
Encore:
20. Yardsale
21. Salvation Song
22. November Blue
(So apparently the Chicago crowd was not as video happy as the Milwaukee or Minneapolis crowds. Since they did play those cities right before Chicago it was pretty much the same setlists. I know they aren't from the show I saw, but I really wanted you all to experience what they are like live).

From the small taste I got from ACL, I was happy that I got to see them on stage and on their own. They are a really high energy band and really rock it out on things like the banjo. I would definitely see them again and I really look forward to the next time they are in town.

xoxo,
Stefania
Saturday, February 27, 2010
"I'm your biggest fan/I'll follow you until you love me..."
In November my friend, Kate, in Dallas sent me a Facebook message asking if I wanted to join her and her cousin, Victoria, to see Lady Gaga in January at the Chicago Theater. Even though I had not gone gaga for Gaga yet, I was like, "Sure!" I mean spending time with some out of town friends from home and go see live music is a no brainer for me.

Kate is probably the biggest Gaga fan and up until tickets were secured she was bouncing off the walls and constant communication between us was going on. My friend Samantha is also a huge Gaga fan so I sent her a message asking if she wanted to come spend the weekend with me (she lives in Okla.) and see the show. She was in.

When I got the tickets the concert gods were smiling down upon me, because for the 3 nights she had scheduled I ended up getting 5 tickets (got on in case another person wanted to go) for the final night, and all three shows had sold out in under a minute. Woweee zowee!

Time passed and we were all jazzed about the show. However, our bubble burst, a day after Christmas, when we found out she had cancelled her Chicago Theater venue and was moving to the Rosemont Theater, thus everyone getting their tickets cancelled and refunded. The silver lining was those who had tickets were able to purchase the same number for the same date in a pre-sale. We again planned and plotted strategically and were able to secure our 5 tickets. Whew!

When Sunday, January 10th finally got here we were all super excited. We got all gussied up in our best sassy, sexy Gaga inspired duds and headed over to the venue. Kate's friend Pearson also joined us and he, like Kate, is a massive Gaga fan. After grabbing a few drinks, taking promotional photos we decided to take our seats. We missed the opening-opening act, Semi Precious Weapons, but in all honesty it was okay. They were the band that had opened for Ladyhawke and I didn't really care for them then so I wasn't interested in seeing them now.

The opening act was a guy named Jason Derülo, who was kinda like a watered down Usher type guy combined with the appeal of one of those Disney acts. However, he was kinda obnoxious and a bit inappropriate. Not that I'm some prude, but he would say things like, "Last time I was in Chicago I had a one night stand and it was awesome!" And people would cheer, especially the five 14 year olds who were sitting behind me. I was like, "You people are morons! Don't cheer for a one night stand! What a douche!" But no one cared and he continued on with his music about finding the right girl and being ready for sexy time. Ug. So awful.

Even though I was not a Gaga superfan before the show, I liked the songs I had heard and I knew I would see a good show. Her outlandish costumes and persona would guarantee it. Also, the amount of crazed glittered up fans meant there was going to be an awesome energy throughout the show. And guess what? I was right. The show was AMAZING and completely converted me into this crazed Gaga fan.

Costume changes, dancers, interesting lighting and stage picture, pre-recorded video pieces…everything but the kitchen sink. Every detail was well thought out and precise. Very similar to when I saw Madonna, and by that I mean the amount of time, effort, and energy to put into this show was big time. Gaga was very good about interacting with the crowd. Sharing stories of meeting her "Little Monsters" (the names for her fans) and even gave us a hand gesture to show our solidarity to one another. At one point she laid down on the stage and went into the whole "Clap for Tinkerbell if you want her to live" bit until the applause was roaring from the crowd and she stood up and went into song.

Even though I didn't know the names to most of the songs she did play the ones I knew. Her set list, I'm guessing, due to the flashy show doesn't vary. But I really don't think people in that crowd cared. We all ate up ever last bite.

1. Dance in the Dark
2. Just Dance
3. LoveGame
4. Alejandro
5. Monster
6. Teeth

7. Speechless
8. Poker Face (on piano)
9. The Fame
10. Money Honey
11. Beautiful, Dirty, Rich
12. Boys Boys Boys
13. Poker Face

14. Paparazzi
Encore:
15. Eh, Eh (Nothing Else I Can Say)
16. Bad Romance


I would definitely go to a Lady Gaga show again. I had so much fun and she entertained us from start to finish.

xoxo,
Stefania

P.S. For more information about this tour, The Monster Ball Tour, Wikipedia has a good write up:
http://en.wikipedia.org/wiki/The_Monster_Ball_Tour


P.S.S. Some fun photos:

This guy had made razor blade glasses (how he got them in the venue, I'll never know) a la the "Bad Romance" video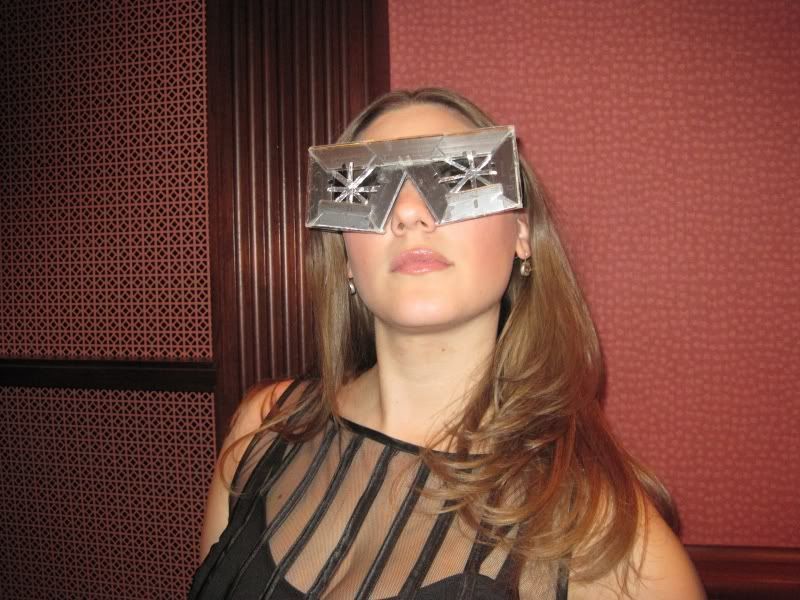 Samantha and I in the Monster Ball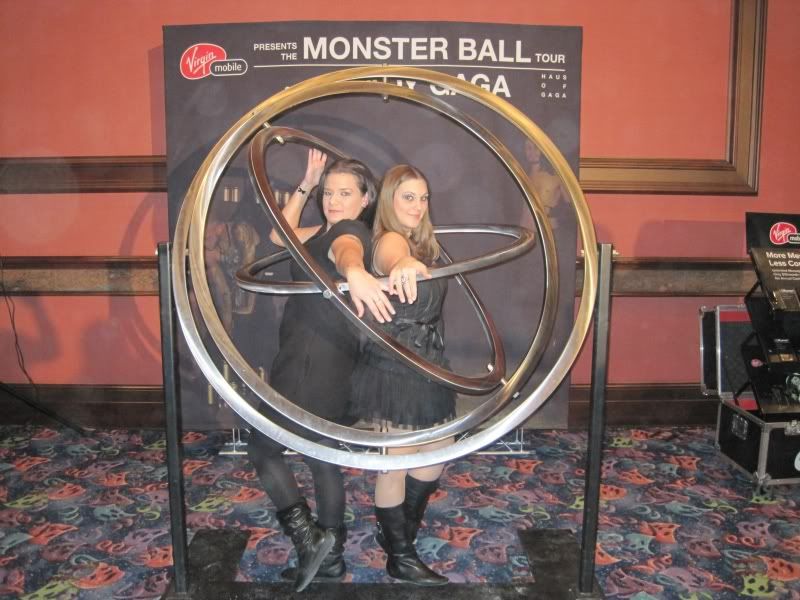 Me channeling Gaga

Sunday, January 31, 2010
Best of 2009
So after getting over my laziness and going over the mental list I had come up with for my favorite albums of 2009, it is with great pleasure I announce them now!

13) Junior—Röyksopp
Upbeat, dancey, and musical-start studded guest vocalists (Robyn, Lykke Li, and Karen Dreijer Andersson) all describe this album from this Norwegian electronic group. Favorite tracks: "Happy Up Here," "The Girl and the Robot," "This Must Be It," and "Tricky Tricky."


12) Miike Snow—Miike Snow
Debut album from this Swedish trio, none who are named Miike or Mike for that matter. Heard the song "Animal" and fell in love immediately. The rest of the album is just as solid. Favorite tracks: "Animal," "Burial," and "Song For No One."


11) Kingdom Of Rust—Doves
I always have and will always love this Manchester group. Their 4th album is no exception. Beautiful, moving, and thoughtful. Favorite tracks "Jetstream," "Kingdom of Rust," and "Spellbound" (one of the greatest love songs…ever).


10) A Brief History Of Love—The Big Pink
Debut album from this London group of young lads. Milo Cordell says of the album, "Every song is a love song to some degree, about every different aspect of love... The good, the bad, the boring, the exciting, the dreams, the nightmares, the whole thing." Young, fresh, and addictive. Favorite tracks "Too Young to Love," "Dominoes," "Velvet," and "A Brief History of Love."


9) Tonight: Franz Ferdinand—Franz Ferdinand
What if you wrote an album that described a night of partying followed by the morning after? This is what Scottish band Franz Ferdinand does on their 3rd album. Cheeky, fun, introspective and dancey. Favorite tracks "No You Girls," "Twilight Omens," "What She Came For," and "Katherine Kiss Me."


8) Julian Plenti Is... Skyscraper—Julian Plenti
First solo album from Interpol lead singer, Paul Banks. I was unsure of this album at first but after a few listens was hooked. Paul's voice is one of my favorites and it's hard not to get on board. Favorite tracks "Games For Days," "Skyscraper," "On the Esplanade," and "Only if You Run."


7) The Twilight Saga: New Moon—Various Artists (soundtrack)
I love pretty much every artist on this soundtrack so it is no surprise that they produced amazing tracks for this tween franchise's second film. I hate that it is a part of Twilight history, but as long as I don't know how the songs were used for certain plot lines I can sleep easy. Favorite tracks "Roslyn," "Slow Life," "Done All Wrong," and "Meet Me on the Equinox."


6) Horehound—The Dead Weather
Combine Jack White and Alison Mosshart and then throw in talent from Dean Fertita and Jack Lawrence and you have yourself a side project super group that blows minds. My favorite rock album of 2009 left me feeling like I wanted to punch someone or make out with them…or both. Favorite tracks "Hang You From the Heavens," "Treat Me Like Your Mother," and "Bone House."


5) It's Blitz!—Yeah Yeah Yeahs
Third album from this NYC trio made the start of 2009 and its winter blahs bearable. A dance party sound mixed in with some slower tracks made me love this album. It may not have been too huge of a departure from their previous two albums and EP, but I don't care. Why fix something that ain't broke? The deluxe edition of the album also had four of the tracks acoustic. WIN. Favorite tracks "Zero," "Soft Shock," and "Hysteric."


4) xx—The xx
Debut album from this London group came out of left field for me and hit me like a ton of bricks. Beautiful, haunting, and sexy with a bit of electro thrown in for good measure. You just want to put on this album and have a make out session. Favorite tracks "Crystalised," "Heart Skipped a Beat," "Night Time," and "Basic Space."


3) Middle Cyclone—Neko Case
Seventh album from this red headed alt-country siren that continues her wonderful storytelling of love, loss, needing to flee her hometown, and taking care of mother earth (among other things) from a unique perspective and sometimes without happy endings. Favorite tracks "This Tornado Love You," "People Gotta A Lotta Nerve," "Middle Cyclone," and "Prison Girls."


2) The Hazards Of Love—The Decemberists
The 5th Album from this Portland band is a rock opera. One that follows the story of two lovers and a jealous queen mother from start to tragic finish. Guests Shara Worden and Becky Stark fill in as lover and queen while Colin wears two hats of lover and narrator. The rest of the band does what they do best by supporting with grand sounds and choruses and backing vocals. Amazing. Favorite tracks, "Won't Want For Love (Margaret In The Taiga)," "The Wanting Comes In Waves/Repaid," "The Hazards Of Love 3 (Revenge!)," and "The Hazards Of Love 4 (The Drowned)."


1) Veckatimest—Grizzly Bear
I always liked this Brooklyn based band, but it wasn't until their 3rd album did I fall absolutely head over heels in love with them. Dreamy, beautiful, and moving. I am transported to a bygone era even though the modernity is peaking through. Favorite tracks "Southern Point," "Two Weeks," "Cheerleader," "While You Wait for the Others," and "Foreground."


Wednesday, December 16, 2009
"And you will make it, but only if you run..."
One of my favorite albums this year comes from Julian Plenti (the solo project of Paul Banks from Interpol). I was super excited when I found out he was going on tour and playing at the Metro. So the Saturday after Thanksgiving (Nov. 21st) I made my way to the venue for what I was hoping to be an amazing show.

It was okay. In fact, after I left, I had this feeling of "What just happened? That was not what I was expecting." Maybe it's because I adore Interpol so much I was still expecting Paul to be the same. Maybe it was the backing band? I know it is unfair for me to do that to him, and expect the same performance as he does with Interpol, but his voice is so distinctive and tied to that band it is hard to picture him anywhere else.

The set he played was not too surprising since there is only one album. The covers were kind of surprising. The Pixies had just played Chicago a few days before so maybe that's why he played one of their songs? The America cover caught me completely off guard.

1. "Mythsizer"
2. "Fly As You Might"
3. Fun That We Have
4. "No Chance Survival"
5. "Unwind"
6. "Girl on the Sporting News"
7. "Madrid Song"
8. "Only If You Run"
9. "On the Esplanade"
10. "Into The White" (Pixies cover)
11. "Skyscraper"
12. "Goodbye Toronto" ("Let It Snow" intro)


Encore:
13. "H"
14. "Horse With No Name" (America cover)

15. "Games for Days"


The next day I still felt odd about the whole thing. So I wrote Paul a letter:

Dear Paul Banks,
Although I love your Julian Plenti album, I do not like your Julian Plenti persona. Please stop doing it in public. I need you in a suit. I need you with shaggier hair. I need you not to have a thin pervy mustache. I need you not to "banter." I think that was the most I have heard you talk on stage. Stop. Please get back to the guys and work on a new Interpol album.

I need Sam behind the drums (not some blond Butch Vig look-a-like), I need Daniel to be at guitar (not some guy in a t-shirt with the sleeves ripped off of it), and I need Carlos playing bass with his Deadwood/Gestapo look (not a guy who could be a member of The Roots).

But I guess this is how we learn…amazing

xoxo,
Stefania

"Games For Days" (official video)


Sunday, December 13, 2009
"And these hazards of love/Never more will trouble us..."
On Thursday, October 8th I sucked up my dislike for The Riv and got there early enough to secure a good spot for The Decemberists. They have been touring pretty heavily supporting their latest album The Hazards of Love and this was their third visit to Chicago this year. The first time at Grant Park in the summer and the second at Lolla. Colin joked with us saying, "Man, Chicago, how many times do we have to come back here?" Ummm…never enough!

Their opener is not a stranger to the band and has opened for them before, Laura Veirs. She did many songs from her soon-to-be-released album, July Flame. She also played my favorite song of hers, "Galaxies." She had a different backing band than her previous tours, but she was still cute as a button. She mentioned she'll be back this winter as a part of her proper tour.

As great as Laura is we were there to see one of my all time favorite bands play. I was completely caught off guard that they played The Hazards of Love in its entirety and in order, which makes sense since it is a rock opera:
http://en.wikipedia.org/wiki/The_Hazards_of_Love
They also had their cast, Lavender Diamond's Becky Stark and My Brightest Diamond's Shara Worden, with them in addition to the band. I was very impressed that the entire band stayed on stage the entire time playing, no breaks and no banter, for about an hour. It took me a few listens to get into this album when I first got it, and prior to the show I had my favorite songs…but after seeing it live I am head over heels for this album.

The first part of the show went as followed:

"Prelude"
"The Hazards of Love 1 (The Prettiest Whistles Won't Wrestle the Thistles Undone)"
"A Bower Scene"
"Won't Want for Love (Margaret in the Taiga)"
"The Hazards of Love 2 (Wager All)"
"The Queen's Approach"
"Isn't it a Lovely Night?"
"The Wanting Comes in Waves/Repaid"
"An Interlude"
"The Rake's Song "
"The Abduction of Margaret"
"The Queen's Rebuke / The Crossing"
"Annan Water"
"Margaret in Captivity"
"The Hazards of Love 3 (Revenge!)"
"The Wanting Comes in Waves (Reprise)"
"The Hazards of Love 4 (The Drowned)"

When they finished up, Colin said they were going to have a little break and then come back out for some more. I thought we'd hear two or three more songs and that would be that. But no (thank goodness)! They ended up playing almost a full hour with old familiar and favorite songs. Making it a very beefy encore:

Encore 1 (the 2nd part of the show):
"July, July!"
"Everything I Try to Do, Nothing Seems to Turn Out Right"
"Los Angeles, I'm Yours"
"Grace Cathedral Hill"
"The Crane Wife 1 & 2"
"O Valencia"
"Crazy On You (Heart cover, sung by Becky and Shara)"

Encore 2:
"Save Yourself"
"Sons & Daughters"
The Decemberists always put on a solid and engaging show. This not the first time I have written about the band and hopefully, if you have been reading this blog at all, you know that my love for them runs deep. And every show I have seen has been amazing. I can appreciate their consistency and dedication they put into each show. I cannot say enough good things about this show or the band. Again, go see them when you get the opportunity.

xoxo,
Stefania

Current followed The Decemberists as they were getting ready for this tour:


As of now, there are no official videos for the songs on this album, instead they have done this:

Now available on iTunes, but I hope it will be released on DVD.
Friday, December 04, 2009
2009 Austin City Limits Festival
If you have been reading my blog or if you have met me at all you know that when it comes to multiple day music festivals, I just can't do it. I mean I can do it, but I'd rather not. And if I do go, I need to limit my time to one day, not all 3 or 4. Or have a VIP pass. VIP makes it bearable. I have been to Lollapalooza, Pitchfork, and Vegoose thus far. I'd be fine with that. However, when my sister (Kathy) and brother-in-law (Brian) moved to Austin a few years ago, she kept asking, "When are you going to come for the Austin City Limits Festival?" And after years of saying, "Uhhh…next year" it was time. The good thing is that I would get some quality time with my family, my brother Michael also came in from LA, and see some music. Two things I love.

Day 1
We got to Zilker Park around 2:30pm. We looked at the merchandise (not impressed) and then headed over to the AMD stage to see The Avett Brothers. I was looking forward to seeing them live and they played many songs off their new album, I and Love and You. Afterwards we walked over to the Dell stage to see Dr. Dog. They were just as much fun as when I saw them at Double Door. We then headed back to the AMD stage to see Phoenix. While we were waiting we could hear The Walkmen at the nearby stage. I like Phoenix just fine, but like several other bands in my life I am losing them to d-bags. It was cool seeing them though, because this was the largest crowd they have ever played and you could tell they were genuinely happy about it, and played it up even more. After a quick food break, Michael and I went to the Austin Ventures stage to see Robyn Hitchcock and the Venus 3. One fun surprise was seeing Peter Buck (of REM) playing with him. We then headed over to the AMD stage to see the Yeah Yeah Yeahs (YYYs). We got there a bit on the early side to get a good spot, which meant we missed Them Crooked Vultures, but at least we could hear them since they were on the next stage over. The YYYs are one of my favorite bands and put out a solid album this year, It's Blitz! They were the last act of the night playing up against Kings of Leon (KoL). We heard a song or two of theirs as we were leaving the park. Turns out Eddie Vedder came out for a song with the band. I asked, "What did he do? He doesn't play any instruments. Did he just stand there?" And it turns out he did (confirmed by my sister's friend). Well he did play a tambourine or something. In any case I was not sad to miss KoL. The d-bags have taken them away. I will just hold on to the memories I have had of them. And plus, the dance party at YYY rocked. No need to be sad.

Day 2
Saturday we got to the park kinda later than we expected. We slept in. We arrived just as Mute Math was starting at the Livestrong stage. Michael and I stuck around for a few songs, but I wanted to head over to the Dell stage to secure a good spot for Grizzly Bear. Even though I had seen them literally 5 days before and had no intentions on seeing them again, I had become a super fan and HAD to see them again. They did not disappoint and they played a few songs I didn't hear at the Metro, including "Little Brother (Electric)." Also during this set the drizzle had turned to rain and didn't stop except for 30 minutes here and there the rest of the day. After Grizzly Bear we headed over to Flogging Molly for a few songs and then to …And You Will Know Us by the Trail of Dead. After about 4 songs Michael asked if we could go get a good spot for The Levon Helm Band. So we headed over to the opposite end of the park. As we were passing the Dell stage, I got to hear Bon Iver play "Blood Bank" one of my all time favorite songs. Sigh. The Levon Helm Band was great and they played some songs by The Band, some covers, and then original stuff. Unfortunately, Levon didn't sing due to doctor's orders. In 1998, Levon was diagnosed with throat cancer. However, it was good to see him smiling and drumming away. We then headed over to the Wildflower Center (the only covered stage) to see DeVotchKa. The Decemberists were playing at the same time, but since I was going to see them 5 days later at The Riv, I decided to skip them. Plus I really wanted to see DeVotchKa! Oddly, they didn't start on time and we stood there 20 minutes getting shoved as more people tried to make their way under the covering to find shelter away from the heavy downpour of rain. But when the band made the stage, everyone was fine. Midway through their set I had just reached my limit. We had decided earlier in the day we would leave after DeVotchKa missing both headlining acts for the night: Dave Matthews Band and Ghostland Observatory, due to us being cold, wet, and muddy. As we were leaving the park we heard a few Ghostland songs, so it was good enough for me.

Day 3
Since the park had turned into a giant muddy mess we decided to try and find rain boots to wear, so before we headed over we did a quick shopping trip. We were very smart to do so. Michael decided that he would just roll up his jeans and go barefoot the whole day. Even though it didn't rain on Sunday it was unbearably muggy and hot. It was gross. We got there early (12:30pm) and saw the last part of Black Joe Lewis & the Honeybears. We were able to secure a good spot for The B-52s, who were energetic and fun. Kathy and Brian left in the middle of their set to get a good spot for White Lies. Michael and I went after The B-52s had finished. Also during this time my friend from Okla., Samantha, made it. Michael and I met up with her at White Lies. The funniest thing Michael said during their set was, "Are they on the 'Twilight' soundtrack?" when they were playing "To Lose My Life." After White Lies Michael and I went to grab a bite to eat. Kathy and Brian also met up with us. At this point I had had it. I was overheated and just grumpy. I also threatened to call my mom to come and get me. I reached my end. But, after opening up my umbrella to block the abusive sun and drank some Sweet Leaf Tea, I was okay. We all then went over to see Passion Pit for a little bit and in the middle of their set, Michael and I headed over to the Livestrong stage to secure a spot for The Dead Weather, which was impossible. Since Pearl Jam (the main headlining act and closer of the festival) was going to be on that stage right after, the crowd was deep. Samantha met up with us though and we watched one of my favorite super groups perform their badass songs. The sun was setting toward the stage and there were times I thought Alison Mosshart was going to pass out. Nothing like pasty, black-clad rockers melting in the setting sun. It was a relief to have the ball of fire finally go away. At this point we had lost Kathy and Brian. We decided to meet up after Pearl Jam. Michael and I headed over to see Girl Talk. He had a crowd of people surrounding him on stage dancing the entire time. It was awesome. The crowd was really into as well and they went almost as far back as the neighboring stage. After his set, Michael and I stopped for a slushy break before heading to Pearl Jam. We knew we wouldn't have a good spot, nor did we care. Since we were in the back we would see the waves of people who were leaving after a song they were probably waiting to hear. I just wanted to hear "Elderly Woman Behind The Counter in a Small Town," which they played. Toward the end of the show Perry Ferrell came out to join them since the festival is also put on by him. The next day he and Michael would be on the same flight to LA. After Pearl Jam we all met up, tired and ready to go home.

Overall, the festival was fun, but it was long and draining. Kathy and Brian have already purchased tickets for next year. Michael has said he'll go again. I will pass.

To see photos of my Austin City Limits Festival experience, click on this link:
http://www.facebook.com/album.php?aid=2280300&id=5318194&l=be3a7baee9

Thanks to Michael for being the photographer for us that weekend.

xoxo,
Stefania