Sunday, September 30, 2007
"I was your silver lining, but now I'm gold…"
So the weekend of Sept. 14-16th Anna came to visit. She had a speaking engagement in the 'burbs on the 17th, and came earlier to spend some time with me. Hooray! I had a great time showing her around my new city and it was fabulous to have a buddy to go exploring some new places with me.

One thing that brought me back to the good 'ole days of DC was going to a show with Anna on the 15th , and it was fun to go see an act that we had seen together a few years back, but when they were the opening act for Coldplay. We went to the Riviera Theatre (The Riv) to see LA based band Rilo Kiley.

This was my first time at The Riv so I didn't know what it would be like on the inside. I pass it and the Aragon on my morning commute on the El. Anna and I took our time in getting there, and by the time we did the place was packed. It had two different levels on the floor and then a balcony area. We decided to stand in the second tier of the floor space. We had gotten there right before the opening act, Jonathan Rice, but had missed the opening-opening act, Grand Ole Party. Oh well. C'est la vie.

By the time Jonathan had taken the stage many of us had grown restless. I was having a hard time seeing the stage. I knew that this was not going to be a good night for me to see the stage. At least the tall guy in front of us allowed us to stand in front of him. The first time I had seen Jonathan was when he was on tour with Jenny during her solo thing. I gave some background about him in my Oct. 17, 2006 entry. Most of the songs he played came off of his new album Further North including "We're All Stuck Out in the Desert" and the standout track "End of the Affair," a duet with Jenny.

After Jonathan's set, Anna and I stood around patiently and chatted with the nice guy who allowed us to stand in front of him. However, it did no good. As soon as Rilo Kiley took the stage everyone in front of me seemed to get in my line of vision. As the show progressed I got to see glimpses of everyone in the band. And Jenny was in a sequined top/dress thing so you couldn't miss her.

They put on a great show, full of energy and the crowd was really into it. They were fans and you could tell that they didn't first hear of Rilo Kiley off of the Grey's Anatomy soundtrack. The majority of the set list came from their new album, Under the Blacklight: "Close Call," "The Moneymaker," "Breakin' Up," "Dreamworld," "Smoke Detector," "15," "Silver Lining," and "Give a Little Love" (the first song of the encore). They also played favorites from More Adventurous: "It's a Hit" (opening song), "Portions for Foxes," "Ripcord," "I Never," and "Does He Love You?" (second song of the encore). They even played some older songs "Wires and Waves" from Take Offs and Landings, and "Paint's Peeling," "Spectacular Views," and "With Arms Outstretched" from Execution of All Things. At one point they were also nice to cover Jenny's song "Rise Up with Fists!!!" and Blake's other band The Elected's "Greetings in Braille."
I had a great time at this show, even though I couldn't see a lot of it. It was nice spending time with Anna, and sharing this show with her. Rilo Kiley is a fun act and worth going to see. So go.

xoxo,
Stefania

"The Moneymaker"


"Silver Lining"


Saturday, September 29, 2007
"Why aren't you keeping with you, all the ones who really love you?"
On Wednesday, Sept. 12th I went to go see Midlake at Metro.
http://midlake.net/
It seems like a lot of good acts go to Metro, so I was excited to check out the place. I arrived a little after doors opened, and as I entered I just knew I was going to like this venue. It reminded me a lot of my beloved 9:30 Club in DC. It's about the same size, but shaped differently, if that makes sense. They do have a balcony similar to 9:30, which I was really happy about. And so I got comfortable behind the railing…standing right in the center of course.

Midlake is originally from Denton, Texas and the 5 lads all met while they were students at the Univ. of North Texas. Now I am not a Texan, but being from Okla. its close enough. I know rabid college football fans will say that is blasphemous, but really the states are pretty similar. I am proud of my Okie roots, but I love Texas as well. So I always get excited when I find out a band or a member of a band I like is from my area. They are still touring for their album, The Trials of Van Occupanther. I put off buying this album for a while, but once I finally did I was like, "Why did I wait so long? This is awesome!" And many people whether they are into jam bands or 70s rock or indie all agree that this album is fabulous. The melodies, harmonies, and vocal arrangements just make you feel this music. Really feel it. And the songs that tie this album together are amazing. These songs of travel, pioneering, isolation, loss, and love weave together to create a story. So I was interested to see how they could pull it off live.

However, first up was their opening act, Dawn Landes.
http://dawnlandes.com/
She is originally from Kentucky (but now lives in New York) and had a large group of family in the crowd.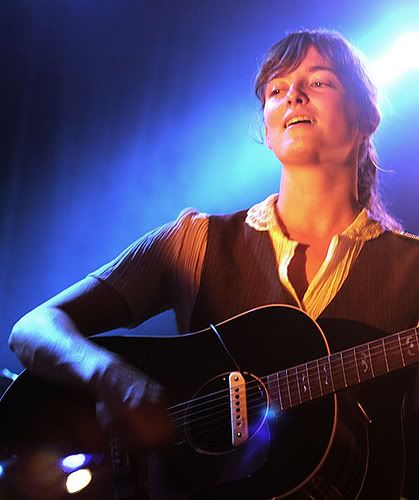 I really liked her a lot. It was her with a guitar, a drummer (Ray Rizzo) and cello (Eric Stevenson) doin all the work. Her music was pretty, soft, but she knew when to crank it up a bit. She reminded me of New Buffalo. I absolutely loved her songs "Straight Lines," and "I Don't Need No Man." But the treat was when she did a cover of that great song by Peter, Bjorn, and John, "Young Folks" adding her bluegrass style:


After Dawn left the stage it wasn't much longer before Midlake appeared. They wasted no time in starting the show. They played pretty much everything off of Van Occupanther including "Young Bride," "Roscoe," "In This Camp," and "Head Home." They also did some songs off of their first album, Bamnan and Slivercork, like "Balloon Maker." A treat they gave us is when they did the song they did with the Chemical Brothers, "The Pills Won't Help You Now." It was pretty cool. The even played us a new song they had been working on. I don't recall if it had a title or not.

Tim Smith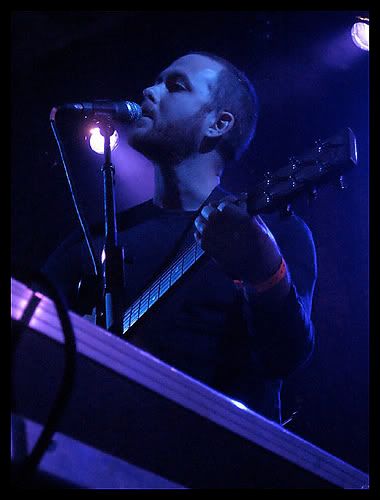 This was a super fun show in a great venue. Several times during the show Eric Nichelson thanked us for being there and also mentioned that he knew we had other options. While it's true that on most nights, more than one good show going on, and on this particular night Chicago band Wilco was playing. The tickets for Wilco had actually gone on sale after I purchased my Midlake ticket. I would like to see Wilco live, but I am glad that I didn't ditch Midlake to do it.

Eric Nichelson



Paul Alexander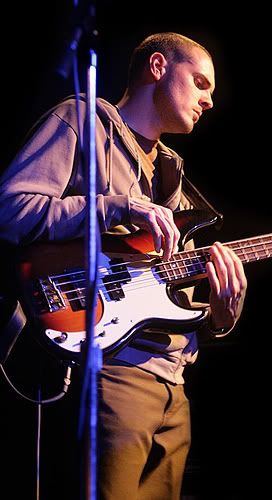 Eric Pulido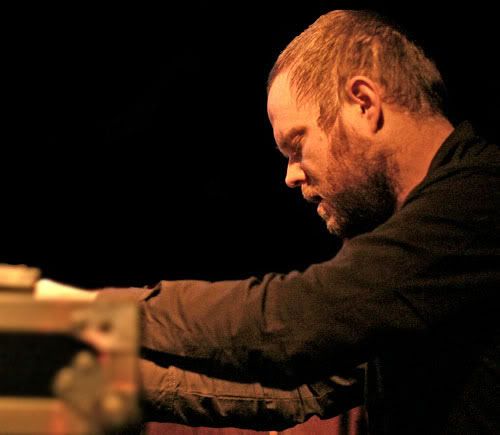 McKenzie Smith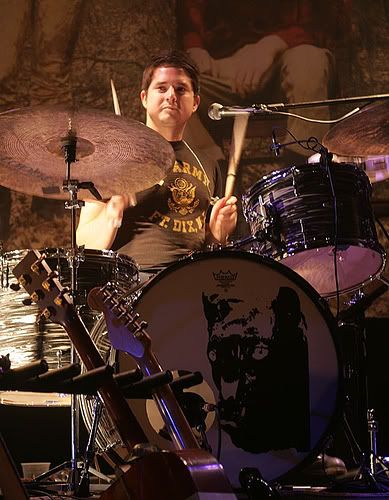 "She fell in love with the drummer…"

xoxo,
Stefania

P.S. I have already posted the video for "Young Bride" in my June 26th entry so I won't repost it. Instead here is the video for "Head Home":

Sunday, September 23, 2007
"You came on your own, that's how you'll leave…"
I have been waiting to properly see the Editors for at least a year now. And when I say properly see them, I mean a full show of theirs. The first time I saw them (and the only time before now) was in DC when they were the openers for Stellastarr*. My friend Brie and I were so excited to see them after becoming addicted to their song "Munich." After they were done with their short set (due to being the opener), we were bummed.

So I was really excited when I saw they were coming to Chicago on Tuesday, September 11th. I was sad that Brie couldn't be here with me (I still haven't found a concert buddy as fabulous as her), but I knew she would be there in spirit. They played at Park West, a venue close to my home, so close I walked there. It was a very interesting venue. It looked more like a place where you would see a dinner theater show or a reception room, but with a big stage. I got there kind of early not really knowing if the time on my ticket was start time or doors time. I walked around a bit scoping out the best place to see where I wanted to watch the show. I decided to sit at a table at least for the opening-opening act. I ended up striking a conversation with a gal who had driven down for the show from Madison. We hung out during the first two opening acts, but when the Editors took the stage I left the table and headed toward the stage.

The opening-opening act was a band called Ra Ra Riot from Syracuse.
http://www.rarariot.com/
They were pretty good as far as opening-opening bands go. They looked really young, like they could have been in college or just barely graduated. In fact, they seemed like the kind of band that formed when the 4 guys met on their dorm floor and said, "Hey let's put together a band." Then one said, "Well if we do maybe we can invite those cute artsy girls to join." And tah dah! Ra Ra Riot was formed. They did have a song called "St. Peter's Day Festival" that I liked. You could really tell that they were excited and grateful to be on tour with the Editors. And how could I tell this? They said it. They are even continuing on with them for their European leg of the tour.

The opening band was called Biffy Clyro and they were from Scotland.
http://www.biffyclyro.com/
They were errr umm interesting. They were a big departure from Ra Ra Riot. They were edgier, rockier, and grungier…in both music and appearance. The music they played wasn't my cup of tea, but they seemed to have a following in the crowd. However, when I listened to their music online they sounded crisper, clearer, and more Foo Fighters like. So maybe I should give them another chance.

By the time the Editors took the stage I was super excited.
http://www.editorsofficial.com/
They came out and just started into it. They played pretty much everything off of their new album, An End Has A Start including the title track, "Smokers Outside The Hospital Doors," "Bones," and "The Racing Rats."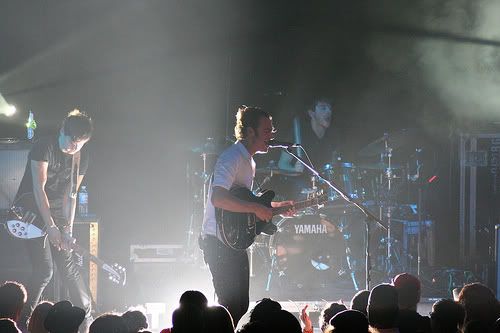 They also performed a number of songs from their first album, The Back Room including "Munich," "Bullets, and "Blood."

Russell Leetch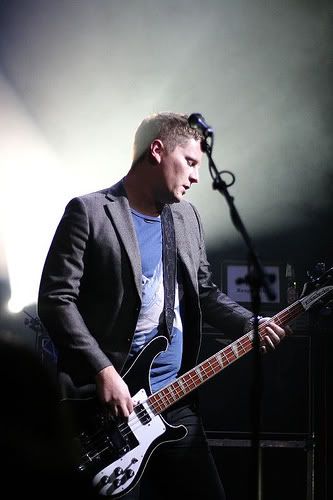 I really enjoyed this show and thought that the Editors are great live performers. Often times Tom Smith (lead singer) would do these weird arm movements, but I think he just gets really into it.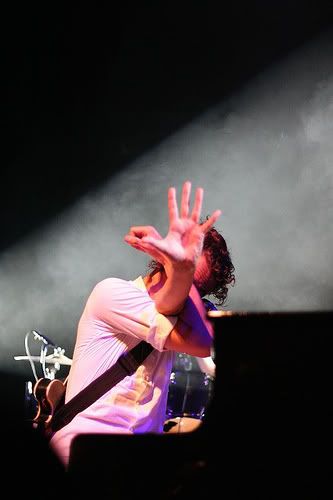 Plus he's such a hottie, so it doesn't really matter.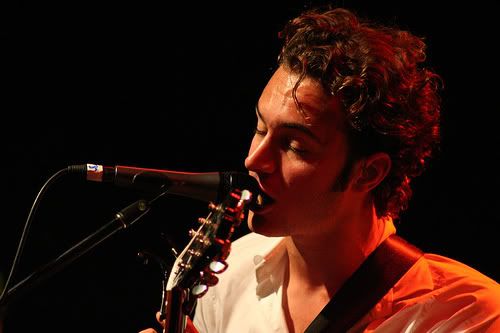 xoxo,
Stefania

"Smokers Outside The Hospital Doors" from Later with Jools Holland (there is an official video, but I want you to see what they look like performing):


"An End Has A Start"

Tuesday, September 18, 2007
"Nothing's gonna change my world…"
I know I am going a bit out of order with what happened in my musical life, but I feel the need to talk about this before giving you reviews of the past three shows I attended. On Sunday afternoon, my friend Anna and I went to see the film "Across the Universe." The Julie Taymor film that revolves around the music of the Beatles.



Now I won't give you a synopsis of the film, in fact there are others who review it so eloquently you should just read theirs:

Sean Burns:

http://www.philadelphiaweekly.com/articles/15415

Ty Burr:

http://www.boston.com/movies/display?display=movie&id=8798

Pete Hammond:

http://www.maximonline.com/entertainment/reviews.aspx?p_id=13175

Kyle Smith:

http://kylesmithonline.com/?p=446

I know you are thinking, "But Stefania those review are all negative, the movie couldn't have been that bad, right?" Well at first, as I was leaving the theater, I did think it was a decent movie, even though a lot of the storyline and characters didn't sit well. And I think I felt that way because I love the Beatles and I love the music choices in the film. But if we removed the music from the storyline, would the movie be worth watching? The answer is no.

At first I was suckered in by the beautiful visuals: bright colors, the backdrop of NYC, and of course eye candy Jim Sturgess (rowwrr…), and then combine that with the music, it is easy to be fooled. But dear friends, don't be. Some of the visuals will taint the precious memories of those beloved Beatle songs. The ones that you heard during your formative years and associated life moments and memories to. But if you do decide to go see it…it wasn't so awful that the images can't be reversed. You just have to relisten to the music and remember, remember why you fell in love with the Beatles to begin with. And we all know you don't need a movie to do that for you.

xoxo,
Stefania
Monday, September 17, 2007
Second verse same as the first…
So it's almost been a year since I started this blog…my how time flies! When I think of my life a year ago I was in a similar situation, being in a new city trying to find my place. And the best way for me to make a city feel like home is through music, especially going to shows. And how funny that my first Chicago show was also my first NYC show: The Flaming Lips.

I saw the Lips on Friday, Sept. 7th at Aragon Ballroom. I went with my friend Mike from Atlanta (who was here for work) and his two friends Brian and Andrew. I was pretty excited for the show because I knew the Lips were going to do great. I won't spend much time reviewing them, since the show was pretty much the show I saw a year ago. They are still touring on the same album. To remind you of the experience: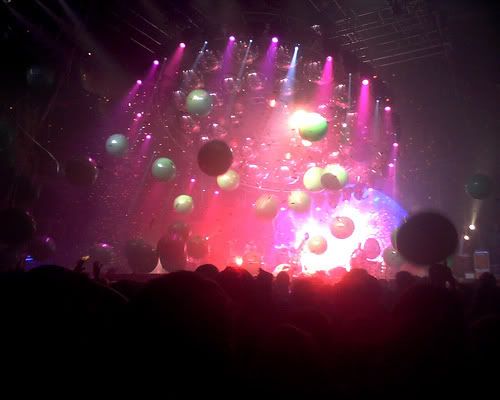 Balloons, lights, and glittery confetti

They are still a great band to watch and they put out so much enthusiasm and energy it is contagious. It is hard to have a bad time at a Lips show. However, this time around I got to do the laser pointer trick. People who work for the band hand out these little lasers that shoot out red light. And during the show there is a part (during "Veins of Stars") where Wayne holds up a mirror and everyone shines their laser light onto it so it reflects back. It looks pretty cool.


The Aragon Ballroom was an interesting venue. It had this Latin/Mexican theme. It looked like were at the Mexico pavilion at Epcot Center rather than a venue for a rock show. The floor was massive and there was some balcony space (which is where I think I will be for the upcoming Interpol show). The really big downside about the venue that night was that only half of the power for the AC was working. So it was unbearably hot. It was a combo of body heat/sweat and smoke (cigarettes/marijuana) that raised the temperature to a point I had to leave the crowd and stand by an open window. I really felt like staying there the whole night because 1) it was cooler and 2) I could see a lot better. But I knew I had to go back into the crowd to watch the rest of the show with my friends. I did survive though.

The opening act was an instrumental psychedelic/pop/rock/folk outfit called the Black Moth Super Rainbow. They were actually not bad as far as instrumental groups go. Sometimes they sang but when they did the lyrics would be distorted and it was more like they would repeat a line or a word. Most of their songs were pretty mellow. They too utilized video screens and showed off random movie clips or animation of things like tacos. I don't have a clip of them from the evening, but here they are from a performance they did earlier this year:


I had a fun time at the show and it was a good kick start my concert going in my new city. In fact I will have to let you all know of the 3 other shows I went to last week. Until then, kisses!

xoxo,
Stefania
Monday, September 10, 2007


I still miss you MDK. Sad face.

xoxo,
Stefania