Thursday, November 16, 2006
"Hear all the bombs, they fade away…"
One fear that I had about writing this blog was that I would not write often enough, especially after I go see a show. I try my best to do at least one entry a week. I'm trying my best people. I really am. But in the meantime feel free to engage me in music conversation at any time.

On Friday, Nov. 3rd I was blessed to see The Decemberists for the second time in my life, and certainly not my last. Once again they did not disappoint. My friend Juliet from DC made it up for the show and my friend Sam (no longer by default) who came with me to the Sufjan show also went with us. The Decemberists were playing at Hammerstein Ballroom, the same place the Flaming Lips played. For this show we had general admission floor seats, well actually space. We stood the whole time. This for me is problematic. Whenever I am in a situation like this I am always trying to make my way to a better spot. Most often because someone taller chooses to stand in front of me. I could rant about this all day, but I won't. I'll save it for another blog.

Anyhoo…The Decemberists are one of the most brilliant bands out there today. They hail from Portland, Oregon and are named after the Russian Decembrist revolt. They play literary alt-rock. But I will get more into them in a moment. First the opening act….

So after Juliet, Sam and I found what we thought was a good spot, a few moments later the opening act, Alasdair Roberts came onto the stage with his accompanying musicians. He is a Scottish folk musician, and his music sounded very traditional. His voice was soft and soothing and was patient with the crowd, who often times spoke louder than he sang. I can't really say that I was ready to go buy his album after watching him perform, but if you are into Damien Rice or into traditional-folky sounding music than you might like him. I did like his orange turtleneck though.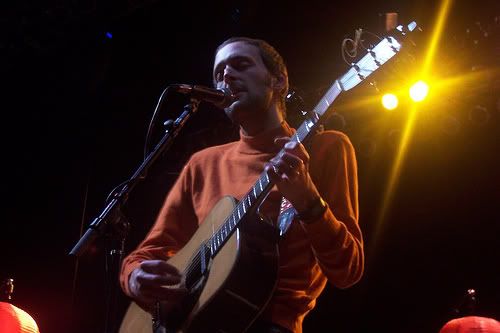 When Alasdair left the stage the excitement for The Decemberists began. Instead of playing a random mix of music before they got on stage they played the children's story Peter and the Wolf, the one that reminds me of being 8. If you heard it, I'm sure you would know it too. Well the last time I saw them perform they did this as well. It must be their thing. So after waiting and waiting and waiting, finally the show began. A recording then started, and the gentleman speaking told the crowd to introduce themselves to each other and share an interesting fact to their neighbor. Then the voice asked us to mind our manners and went on to introduce the band. The crowd went wild.

They played a great set covering songs from all four of their albums, focusing mainly on their new one, The Crane Wife. The stage set had paper lanterns and a backdrop similar to the album art. With certain songs Colin Meloy (lead singer, songwriter, guitar) had the crowd participate.



During one song he wanted the crowd to form a circle so there could be a dance off. During "16 Military Wives" (their political song) Colin had the crowd divide into two sides and had a singing contest with the part of the song that goes, "La de da de da de-dadedade-da."

This show the crowd actually did move and sing along. It was great. Juliet and I got really into it by doing interpretive moves to the song lyrics. Our favorite was during "The Engine Driver" when we got to sing and make a gesture for "There are powerlines in our bloodlines…"

At one point Colin had us do a vocal warm up so we wouldn't harm our vocal cords.


Certain songs of course had the crowd really singing. When they performed "Song for Myla Goldberg," the crowd went nuts as we sang from the top of our lungs, "I know New York I need New York, I know I need unique New York…" Something about singing about the city you are in. They get the same reaction in DC when they play "the Bagman's Gambit."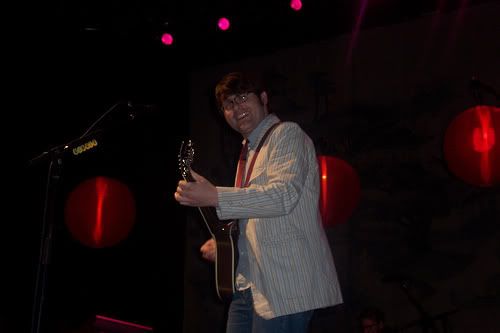 As the show was coming to an end they ended their set with "Sons and Daughters," where Colin said that this was the song that would heal the riff from "16 Military Wives." That this would bring us all together. The little group of friends that we had made in our area put our arms on each others' shoulders and swayed back and forth as we sang along. As they left the stage the applause and cheers were thunderous. We longed for the encore.

Colin came out solo and sang one of my all time favorite songs, "Red Right Ankle." Then as he started the next song, "A Cautionary Song" (the only Decemberists song I absolutely never listen to—pay attention to the lyrics, I just can't listen to it, the imagery is too strong…even though the music is catchy), members of the band were going through the crowd with their instruments like they were in a parade.


Then at one point in the song they stopped in the crowd and did a reenactment of a dramatic battle.


Afterwards the members of the band made their way back to the stage. They closed the show with another one of my favorite songs, "I Was Meant for the Stage."

Once again The Decemberists did not disappoint. They were lively, engaging, and allowed the crowd to enjoy themselves. Colin also mentioned that his mother was in the audience, which must have been a nice feeling as a parent to see your child bring genuine happiness to a group of people. I know I speak a lot about Colin, but often times the lead singer is the one who speaks the most. Maybe because they are the ones who deal with the words, but the other band members had just as much of a presence: Chris Funk with his bear-like stature holding his guitar, Nate Query playing his upright bass, John Moen behind the drums, and of course Jenny Conlee behind the organ or rocking out on her accordion. On this tour Lisa Molinaro joined the band to offer her vocals and viola.

I highly, highly, highly suggest checking out The Decemberists when they come to your town. Even if they don't come to your town, drive, fly, take a train, or do whatever it takes to see them. They are worth it!

xoxo,
Stefania

P.S. To get an idea of the show you can listen to their entire performance (when they were in DC a few days before NYC) online:
http://www.npr.org/templates/story/story.php?storyId=6382494

The set list was pretty much the same.

A snippet of "Yankee Bayonet (I Will Be Home Then)"


One of the greatest videos ever made, "16 Military Wives"

Tuesday, November 07, 2006
Viva Las Vegoose
So a week ago I was leaving Vegas and heading back to a colder NYC. Being my first trip out to Vegas I can say it went well. As you all know (or will know now) I am not a gambler. The type of gambling I enjoy is I give you money and you give me shoes. We both win. So I did do some shopping out there, but nothing too crazy.

Okay so now on to Vegoose! Being my first music festival I had no idea what to really expect. I was envisioning what I have seen on MTV when they covered Woodstock '99 (less looting, fires, and rape though), Live 8, or Lollapalooza. What I got was similar but on a much less grand scale. Vegoose is done by the same people who do the summer music festival Bonnaroo. Like I mentioned previously, I was only doing day two of the festival. I went with my friend Paul, who was working on the Widespread Panic tour. I was really fortunate because one of Paul's fellow crew men was not feeling well, and so he really had no plans on going to Vegoose…which means that I got his pass. So I now have a really cool souvenir of an artist pass. Plus it allowed me access backstage and other areas the normal folks didn't get to go. Unfortunately, I didn't meet anyone or get to interact with any of the musicians other than a "hi" or a wave. Oh well.

When we arrived we noticed that there were not a ton of people like we expected. But that was okay, I mean it was only 1:30pm, and doors opened at noon. There were four stages: the Double Down Stage (main stage), the Snake Eyes Stage, the Joker's Wild Stage, and the Cabaret Clubs Tent (which looked like a circus tent). We had ended up missing the first act, Band of Horses, who I wanted to see, but what can you do? We went over to the Snake Eyes area first because Built to Spill was playing. We only saw half of their set, but they were awesome, and sounded really great live. They had a good crowd and people seemed to know who they were.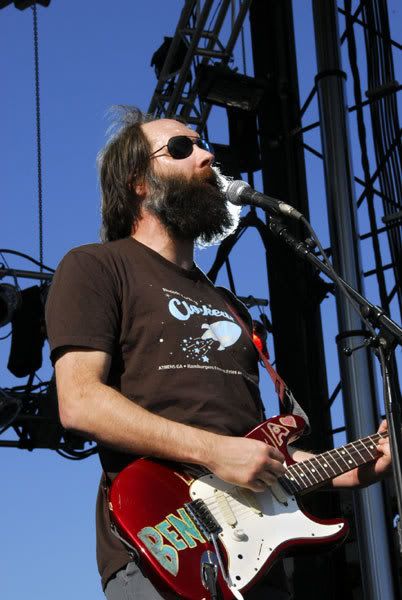 Doug Martsch of BTS

After that we went over to the Cabaret Clubs Tent to see Guster. I have seen Guster three times before, so I really just wanted to catch some of their set. We spent some time wandering the grounds and then walking over to the main stage to see The Rhythm Devils with Mike Gordon (of Phish—he said hello to me backstage) and Mickey Hart (Grateful Dead). They were pretty good and had the heady crowd. We left before their set was over to check out Fiona Apple.



Now I LOVE Fiona. Her music is so brilliant. Her music and lyrics just touch you to the core. Her music to me never gets old. It is timeless and has defined so much of what I was feeling at one time or another. Her crowd was large, and you could tell they were also fans. But as a performer, she is awkward….especially when she is not at the piano. She moves around like a bird that has an injured wing. Sometime flailing around on the stage and making movements with her mouth when not singing. Maybe that's her "getting into the music," but to me it just looked weird. She must have not been feeling well because she was straining at times with her voice, and she didn't play the piano the whole time, one of her band members did. She did sing most of the stuff you wanted to hear (you have to know that everyone with the exception of some of the later acts on the main stage had only an hour or a little over an hour to perform). We didn't stay to the end of her set because we wanted to check out Phil & Trey (see previous blog entry).

They also had drawn a large, heady crowd. Paul said it best. He said that if Vegoose wants to do well they should just take the remaining members of the Grateful Dead and Phish, and shuffle them around and they can perform the whole weekend. And as funny as that sounds I have to agree. But we pulled ourselves away for a bit to check out Jenny Lewis & the Watson Twins. Their act was very similar to how I last saw them. We stuck around for a few songs, but Trey & Phil were drowning them out. It was strange though seeing such a small crowd for her show. But at least I was able to get pretty close up.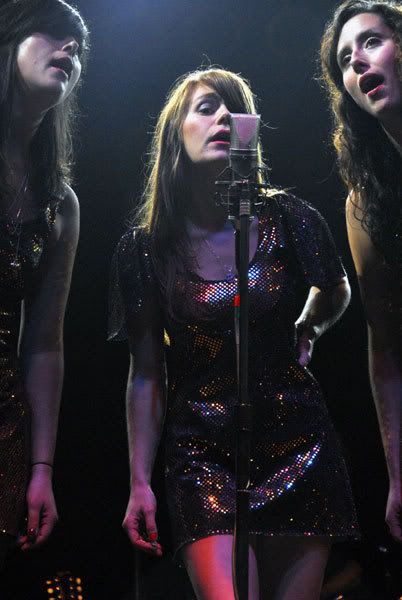 After Jenny was done, we were waiting for Ben Folds to come on. But by that point we were tired and it was getting colder. Plus I have seen Ben Folds 4 other times, so I wouldn't lose sleep over not seeing him again. Well I did see him the night before. He was staying in the same hotel as me, and as I was leaving the bar around 12:30am in my drunkenness I noticed him walking by. I called out, "Hey Ben!" and smiled and waved. He turned around and smiled and waved back. I was okay not seeing Ben perform. So we left to head back to the Strip.

The overall structure and feel of Vegoose was pretty cool. Since it is over the Halloween weekend, they had several things to remind you of this. The largest was the Evil Pumpkin.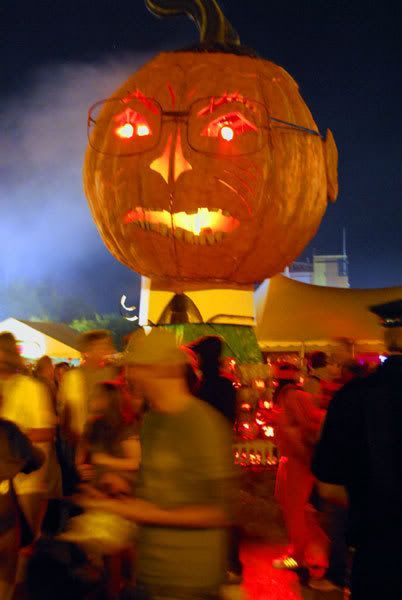 They also had a Farris wheel and a tent of famous look-a-like performers, like Ozzie, Austin Powers, Alice Cooper, Tina Turner, etc.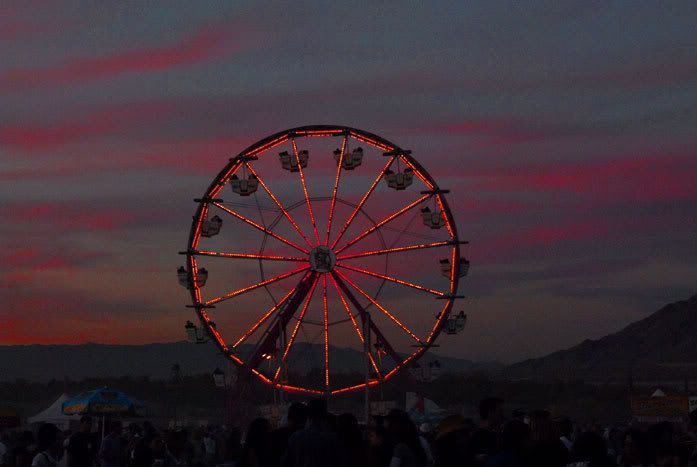 The crowd was pretty laid back and respectful. Some people were in costume, which was encouraged. The landscape was very flat. It was like being back in Oklahoma again. Well except for those random mountains! Anyway, the overall feel of the festival was cool, but a little strange. The acts were diverse enough to draw different crowds, but I'm not sure why there weren't more people in attendance. Maybe it's the weekend? Maybe the acts were not "big" enough? Who knows? But in the end I don't think I'll do another large festival again. I'm not opposed to it, but it was more of like being at a buffet. Having a little bit of this act here and a little bit of this act there and then leaving me feeling stuffed but a little sick because I took in too much. I think I prefer my seeing my acts like a nice meal. The opening acts are the pre-dinner drinks and appetizers, the main act is the entrée, and the encore is the dessert. I leave feeling full and satisfied, and willing to dine there again…errr uhhh I mean see the act again!

On Monday night I got to see Widespread Panic for the 4th time this year. When your friend works for a band you go see them when you can in order to see your friend. But this time it was a little bit special because it was their Halloween show. They had stage decorations, go-go dancers, and were in costume. The crowd also showed up all decked out, and the energy was exciting. Also Carrot Top (who is a good friend of Dave Schools, bassist) was there. Like I have said before I had never heard of WP before, but they are a good band, just not my thing. But I will continue supporting them and going to shows as long as my friend works for them.

So the next day I woke up, got myself ready, and made my way to the airport. I left Vegas in one piece and not broke. Overall it was a nice trip and now I can put a star on my US map of another state I have visited. I did get to spend time with my friend Ann, and I hope that I'll get to see her again soon. Until then…

xoxo,
Stefania

P.S. Thanks to Steve Hopson for his photos:
http://stevehopson.com/VegoosePhotos.htm

P.P.S. So in Shakespeare's play Hamlet, Marcellus said, "Something is rotten in the state of Denmark." Apparently he had not heard of the band Mew. Even though this Danish group has been around since the 90s, I have just discovered them now with their latest album, And the Glass Handed Kites. I first heard "The Zookeeper's Boy" and thought it was fabulous until I heard their latest single, "Special" (video below). Their music is melodic and have recently gotten more attention from the press. I suggest checking them out.