Tuesday, October 30, 2007
Dear Modest Mouse,
Not only did you write a beautifully sad song about a relationship ending (due to a breakup, or possibly death…the message boards are a buzzin'), you decided to pair it with one of the most heart wrenching videos I have ever seen. Thanks for making me cry…jerks! Please go back to videos with mariners, robots made from boxes, and tree people.

xoxo,
Stefania

"Little Motel"


Sunday, October 28, 2007
"Got a cricket for a conscience, always looks the other way…"
I will be the first to admit that I left NYC rather abruptly. I thought since the timing was right (my apt. lease was ending for one) that it would be easy to pack up and go. It wasn't until I landed in Chicago that it hit me that I had actually moved. I wasn't here for a weekend trip. It has now been 5 months since the move, and I am now starting to get into more of a groove. I have my friends, I am meeting new people, and I'm still doing improv. And how can I forget the music? Without going to shows, I couldn't ever feel like I was home.

Right before I left NYC I had a string of shows to go to. However, since the move was quick, I had to miss out on some great acts. One of those was Bright Eyes. So how excited was I to find out he would be making his way to Chicago? I'll answer that for you: VERY! On Friday, Oct. 19th I went back to the Chicago Theatre to see Bright Eyes with opener Andrew Bird.

I arrived a song or two into Andrew Bird's set. I have heard of him, but not actually heard him. I know that he had a following of dedicated fans, especially in the Chicago area since this is his hometown and where he resides. I didn't know the titles of any of the songs he played. I tried to do some research after the fact and I know that he played a song called "Imitosis." He also played a song where he used a See 'n Say toy at the start and then went in about how he couldn't save his chickens. It sounds odd, but it sounded so beautiful. He also was on stage by himself playing all the instruments, looping and using effects to make his music. He was really interesting to watch.
http://andrewbird.net/

"Imitosis"


After a little bit of time a DJ from the radio station sponsoring the show came out and introduced this older gentleman who is known as the indie poet of Chicago. He got on stage and did a poem that lasted about 5 seconds. This was the second time I had seen him. The first was at The Twilight Sad show. Oh things to do after you retire!

A few moments later Bright Eyes took the stage.
http://www.thisisbrighteyes.com/
The show started out with Fever & Mirrors' "An Attempt to Tip the Scales." From there he played songs from most of his albums (I think he has 50 now…), and surprised us with a few covers. From what I can recall he played: "Classic Cars," "Four Winds," and "If The Brakeman Turns My Way" from Cassadaga; "Lua," "Old Soul Song," Poison Oak," and "Another Travelin' Song" from I'm Wide Awake It's Morning; "Hit The Switch" from Digital Ash In A Digital Urn; "You Will. You? Will. You? Will," and "Bowl of Oranges" from Lifted Or The Story Is In The Soil, Keep Your Ear To The Ground. He covered "Walls (Circus)" by Tom Petty and sang a song he wrote for a friend's band (Neva Dinova) called "Spring Cleaning."

Conor was very endearing, funny and engaged the audience. He shared stories about his family and was embarrassed when he took off his sweater, because had a hole in his favorite shirt that he has had for 10 years…he didn't think he would get hot enough to take his sweater off. He also shared a story of an ex-tour manager that made the joke, "How does Bright Eyes warm up for a show?" The answer? "Me me me me…" Conor then said, "I fired him." I know some people aren't a big fan of Conor's or think that he is self-centered or whatever. But he puts on a good show and I think he is a pretty genuine guy. Plus, his lyrics are so beautiful.

Unlike my Ryan Adams experience where everyone around me annoyed the crap out of me, this time no one was really around me. In fact no one was seated next to me. There were people at the end of my row, and then some people in front of me and behind me, but that was about it. And during the show no one was really disrespectful and no one yelled out, "Conor! I want to have your babies!" like when I saw him in DC. Which in a weird way it felt odd. I don't really like going to shows solo, but this is something I am getting used to. It just makes it a little more difficult to hear the words from "Lua":

"When everything is lonely
I can be my own best friend
Get a coffee and the paper
Have my own conversations
With the sidewalk and the pigeons
And my window reflection…"

Bright Eyes is not a good show to see solo. It is also not a good show to go make out with your significant other or annoy those around you by yelling out obnoxious things. It is a good show to go with some pals dance around or just sit and listen.

xoxo,
Stefania


P.S. Even though he didn't play "Hot Knives" here is the video from it. I already posted "Four Winds" in my March 23rd post.


Sunday, October 21, 2007
"You fly straight into my heart…"
On Thursday, October 11th my friend Stephanie and I went to the Aragon Ballroom (where I saw The Flaming Lips) to see Interpol. I still think this venue is weird and awful. Its way too big, but at least it was well ventilated this time. Since I knew I didn't want to be on the floor, I had to get there a tad bit early to secure a spot in the balcony area. I found us a pretty good spot with chairs and where no one would be in front of us.

The opening act was LA band, Liars. I have only heard a few songs of theirs on KEXP and the jury was still out. Well after seeing them live, I can't say they won me over. Stephanie and I just couldn't get into the music. It was abstract, a little weird, and very loud. The lead singer, Angus, did strange dance moves. The drummer, Julian, wore a hot pink boxer's robe. The guitarist, Aaron, was just doing his own thing. I wish I could have liked them more, but I can't like every band out there. But I'll let you judge for yourself:

"Plaster Casts of Everything"

WARNING: If boobies offend you, don't watch! Oh Patrick Daughters!

We were really excited by the time Interpol took the stage. This is the 6th time I have seen them live. I really enjoy their live show even though there is little banter in between songs or connection with the audience. It's like they take the stage, do their thing, say their thanks and then move on. I also really love their light show….LOVE IT! They played a good mix from their new album, Our Love to Admire including "Pioneer to the Falls," "No I in Threesome," "The Heinrich Maneuver," "Mammoth," and "Rest My Chemistry." They also played songs off of Antics ("Evil," "Take You on a Cruise," "Not Even Jail," "Narc," and "C'mere) and Turn On The Bright Lights ("Untitled," "Obstacle 1," "PDA," "Say Hello To Angels," and "Stella Was a Diver and She Always Was Down").

I love Interpol. I know a lot of people don't due to various reasons, but I still enjoy them. In fact I could watch them every night. In fact if I could follow a band they would be it. And if I were to follow them I'd like to do it on a European tour so not only could I see Interpol just about every night, but I could also explore some really cool countries. I need to start saving…

xoxo,
Stefania

Some videos from the new album:

"Mammoth"


"No I In Threesome"


"The Heinrich Maneuver"


Friday, October 19, 2007
Don't buy the hype? But how will I discover new music?
Wednesday, October 17, 2007
I heart KEXP!
On Thursday October 4th I took the day off of work so I could volunteer with KEXP while they broadcast here in Chicago for three days. Chicago won the city challenge during the last pledge drive and as a reward John Richards and Cheryl Waters broadcast their shows out of Engine Studios,
http://www.enginestudios.com/
, Oct 3rd-5th. I wish I could have volunteered all 3 days, but I couldn't due to work. Sad face.

I was only signed up for one shift, 7:30am-10am, during John's show. However, I had signed up for all of the in studio performances that day, so I was going to be there the whole time.

Since there were a lot of KEXP and Engine Studio staff and Engine studio interns there really wasn't a whole lot for me to do. So I answered the phones when I could and let people know where to go during the performances.

The KEXP blog was updated as the day progressed by a really cool gal named Meredith who works for KEXP. She is originally from Lubbock, TX and we talked a lot about the area and what we liked/disliked about it. The photos were taken by another volunteer named Susana Meza. I also spent a lot of time hanging out with Shannon, who does a show before John's show on Tuesday mornings, who did most of the band interviews.

The first act of the day was The 1900s:
http://depts.washington.edu/kexp/blog/?p=3402

The second in studio was Imperial Teen:
http://depts.washington.edu/kexp/blog/?p=3403
Notice who wrote it? ME!!! I was really excited when I was asked if I would mind taking notes and then doing a write up of the performance. Meredith had to run out during the set, and Tobias (the main organizer of the KEXP Chicago Posse) asked if I would mind stepping in. I was so nervous, but said yes. I almost got to interview them as well if Shannon wasn't able to, but she was. Oh well maybe next time. I was surprised that I got the writing credit. How cool is that?

Also during the Imperial Teen set I did my imitation of "bass face" but was unaware that Susana had caught me!



The third act of the day was The Twilight Sad:
http://depts.washington.edu/kexp/blog/?p=3409
I also had a ticket for their show that night at the Empty Bottle. Shannon is a super big fan of theirs as well, and she too was planning on going to the show.

The final in studio came from Jose Gonzalez:
http://depts.washington.edu/kexp/blog/?p=3416
I made it in a picture! Look at how into it I am. He is so talented.

After the eventful day in the studio I went home to rest up a bit for the member party and then the once a month show put on by KEXP and the Chicago Posse called the Equalizer. I have now volunteered my services and time to the Chicago Posse, and I hope to take on more of a leadership role.

At the member party I got to meet more KEXP members in the area (I sat at the welcome table with the free swag—buttons, stickers, sign up sheet), and spent some more time with my favorite DJs.

Cheryl, me, and John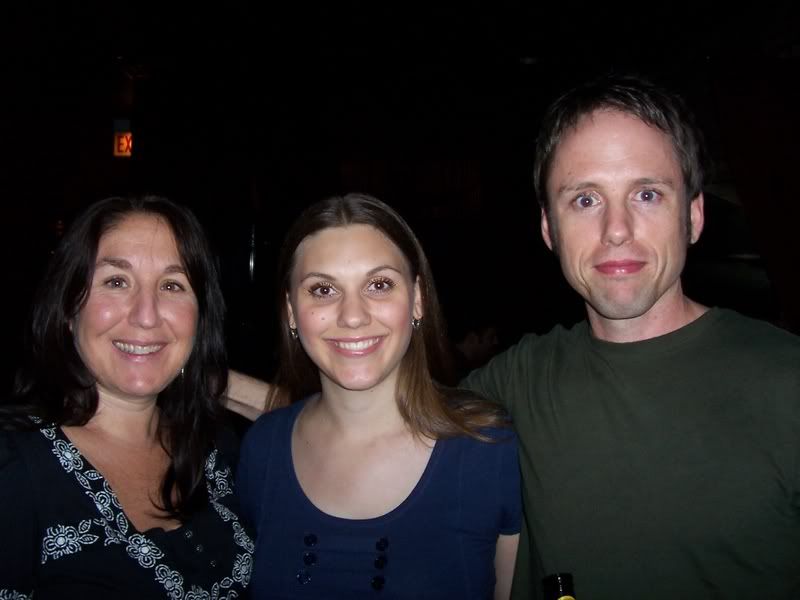 The performances that night for Equalizer came from Mason Proper, Airiel, and Scotland Yard Gospel Choir. However, Shannon and I left early to go see The Twilight Sad.

The Empty Bottle is a tiny venue with the stage barely above the floor. We arrived literally 10 minutes before the Twilight Sad took the stage. They played pretty much every song off of their album Fourteen Autumns and Fifteen Winters…my favorite being "That Summer, At Home I Had Become The Invisible Boy," which is a reference from the movie Stand By Me.

Shannon and I at the show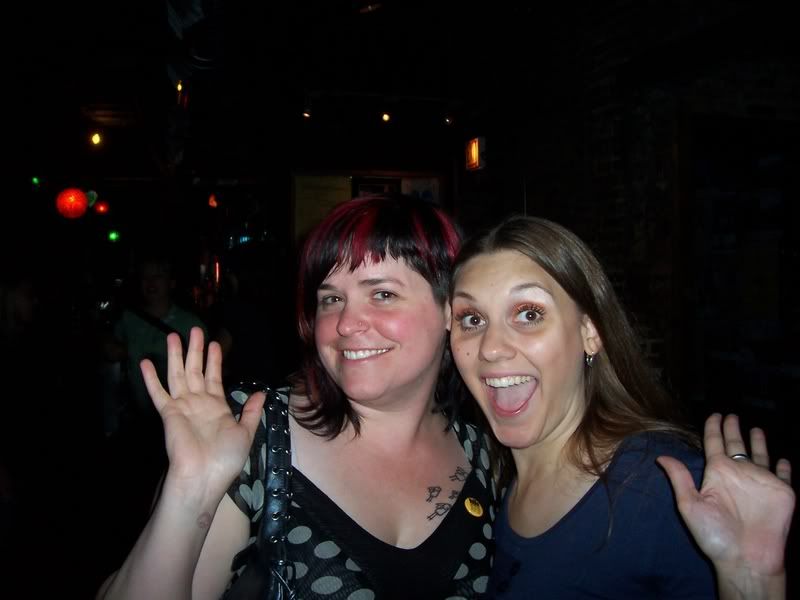 I had such an amazing day being a KEXP tool. I met a ton of great people and got to be a part of something I truly loved. A highlight on Friday was when I was back in my cubicle working and John gave me a shout out on the air. Next year when they come back I plan to volunteer everyday. It was too much fun not to.

xoxo,
Stefania
Sunday, October 07, 2007
"Hanging around Broadway, and I think I saw your face…"
There are many bands/performers that have been around for years and have a rabid following. It's always strange when I get into these acts waaayyyyy after everyone else has already been there and done that. One of these bands is Wilco. Another is Ryan Adams. I know people who have seen him more times than I have digits to count on, and who have bootlegs of bootlegs of bootlegs of the rarest of rare songs. So where was I when everyone was getting into him?

Does it really matter where I was? No, it doesn't. Sometimes people make a big deal that they knew an artist before everyone else did or before an iPod commercial has brought them to the masses (I have been guilty of this…I do not lie…but sorry, Feist was an "artist to know" before "1234"), but shouldn't we just be happy when more people discover the music we love? I'm trying my best to do this. So okay, I got into Ryan Adams almost a decade after he broke the scene. But I'm there now.

On Saturday, Sept. 29th I made it out to the famed Chicago Theatre to see Ryan Adams & The Cardinals perform.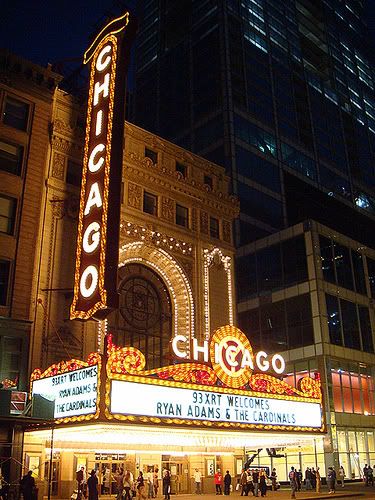 This performance was a few days after his "meltdown" in Minneapolis:
http://edition.cnn.com/2007/SHOWBIZ/Music/09/28/people.ryanadams.ap/index.html
So I was hoping that his performance here in Chicago would go smoothly. And it did. In fact he even poked fun of himself about the situation.

There was no opening act. Which I am not sure if this is typical of a Ryan Adams show, but I was okay with it. I know that he has enough material to play for hours so I was just looking forward to what was in store.

Since I am a newbie to Ryan and there are enough super fans out there, I found a site that posts every single set list since 1994. So this was the show I saw:
http://www.answeringbell.com/Answering%20Bell/2007%20Shows/2007.09.29.htm

He played some of my favorite songs such as "Dear Chicago," "When The Stars Go Blue," and "Two."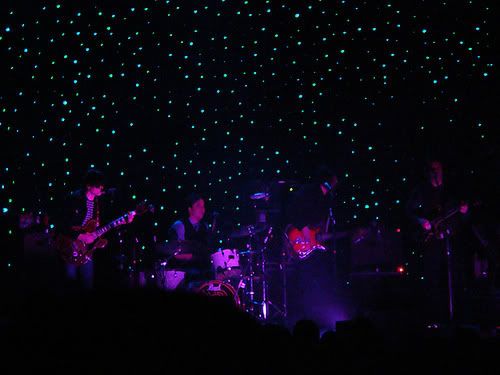 During the first part of the encore, Ryan was alone at the piano.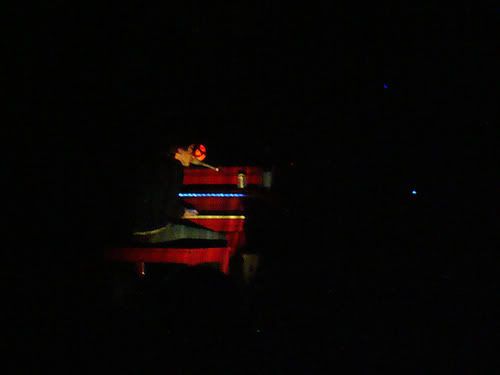 Nothing is as beautiful as hearing "Sylvia Plath" live with such emotion behind the lines, "Maybe she'd take me to France/Or maybe to Spain and she'd ask me to dance" with him playing on this small red piano.

He has lived in NYC for a while and so many of his song reference the city. Nothing made me more homesick than "Sweet Lil Gal (23rd/1st)" since it was so close to where I used to live (20th and 1st).

Overall, this was a great show and I'm really glad that I went. I have no complaints about the performance. Well maybe one. I wish he would have played, "To Be Young (is to be sad, is to be high)."



The biggest complaint that I had about the show is the audience. Well at least the audience that was a round me. I am still going solo to most shows, and so it's great when the show is seated. When you look for one ticket, you normally get to be in a good spot. However, you are then surrounded by twos. And most often times couples. The most annoying was the couple to my left who basically made out the whole time. And not just kissing or snuggling, but groping. Yes, Ryan has some pretty romantic songs, however just because a song is soft and slow it doesn't make it a great make out song, such as "Dear John." To my right was a couple who talked during the whole show, and in front of me were fratty frat boys who texted on their cell phones and chatted away making plans for what they were doing after the show. I was annoyed. Maybe this is why people get smashed or high at shows. Maybe it's not to help them really experience or enjoy a show, it's for them to tune out the d-bags. Of course often times they become the d-bags. What to do?

xoxo,
Stefania

Snippet of "When The Stars Go Blue"


Part of "Dear Chicago"