Friday, October 10, 2008
Baby!
So I think this has to be the cutest video for a song about an almost accidental (or is it intentional?) pregnancy with your aspiring country-music star, ramblin' man sorta boyfriend. Because in all honesty ladies, who hasn't been there?

"We Almost Had a Baby"—Emmy the Great


xoxo,
Stefania

Thursday, October 09, 2008
Even Italians like Miley Cyrus!
For the first two weeks of September I was very lucky to go on a family vacation to Italy to do some touristy stuff and visit more family. The last time I was in Italy was almost 10 years ago (1999). Anytime I leave the country, whether it's across the pond or close by like Canada, I always like to know what music is big there.

During our trips to Italy in the 80s and early 90s, there were a few artists that were big in both there and at home…Madonna and Bon Jovi leading the way. I think 1994 is when the gap started closing. This partly could have been because that was the year we discovered MTV UK on our grandparents' TV. That summer I think we saw the video for "Black Hole Sun" by Soundgarden anytime we put it on that channel, which was also being played on MTV at home. However, I do recall discovering a boy band called Take That, and their song "Back For Good" being on heavy rotation, and you may recall this song as it was their only US hit. This video also introduced my 14 year old self to the beauty that is Robbie Williams.


In 1999, the gap seemed even closer. However, MTV UK had been switched for MTV Italia, and so more Italian artist were played along side the American and British Acts. Again, Robbie Williams was on the screen, however this time as a solo artist. The video for "Millennium" was popular and was on what seemed like every 10 minutes. Even though the song and album were released in the States, it wasn't as big of a success. Another song I remember seeing the video for was Skunk Anansie's "Secretly" which was used in the movie Cruel Intentions.


So this time around I knew there would probably be no gap in what was big here and what would be big over there. According to Death Cab For Cutie, "Information travels faster in the modern age" and I couldn't agree more. Due to the internet, mainly, anyone can find out what the number one song is in any country, discover the latest bands through sites like MySpace, or network with other fans across the globe and file share. And I was right, the music that is being played on top 40 radio here in the States is the same music being played on the radio and MTV Italia. I loved watching their TRL to see what was hot. There were some Italian artists on the countdown, of course, but you saw the familiar tween favorites Miley Cyrus ("7 Things") and Jonas Brothers ("Burnin' Up). Summer hits like "Disturbia" by Rhianna, "Viva La Vida" by Coldplay and "I Kissed A Girl" by Katy Perry were also in heavy rotation. One video that was also played a lot was "Sex On Fire" by Kings Of Leon.


At first I was surprised to see it on during the morning mix or even on TRL, but then I remembered that KOL always seemed to have a bigger following in Europe.

Another thing I ended up watching part of on MTV Italia was this special on German sensation Tokio Hotel. If you are unfamiliar with this band, just ask any 14 year old with jet black hair at Hot Topic. I first found out about them in April when my friend Morgan said her 15 year old cousin was coming up from Kansas City to see them here in Chicago (one of their only US dates) However, they never made it due to vocal problems. Mascara and eyeliner ran for days once this news was announced, I'm sure. What was even funnier was my cousin, Alice, had lead singer, Bill Kaulitz's picture as her cell's wallpaper.

However, if I had to pick one song that I will associate with this trip it would have to be The Ting Tings' "Great DJ"

It was played everywhere, no matter what city we were in. I heard it on the radio. I heard it in stores. I saw the video plenty of times. I think I even heard it as a ring tone. I really like this song, so if something was going to be stuck in my head, I'm glad this was it.

xoxo,
Stefania
P.S. Oh another random music moment from my trip was when we were at Heathrow on our way back to the states. We had to take a bus from one terminal to another. After the short video they show you about how to make your travels smoother, music started playing softly. It took me a minute to realize what it was because it was so low, but once I figured it out I looked at my brother and pointed up to the speaker. We then laughed. It was Pulp's "Common People." One of my all time favorite songs, but very random to hear on an airport bus...we were in London though!
Tuesday, October 07, 2008
KEXP and Pitchfork Music Festival
So there was a week in July (16th-20th) where I was balancing my musical overload lifestyle with my regular life. I had just gotten back from one of my leadership institutes and I was preparing for the KEXP visit and Pitchfork Music Festival.

My favorite KEXP DJs, John Richards and Cheryl Waters, were going to broadcast live again from Engine Studios in Wicker Park for 3 days (July 16th-18th) and have some great in-studio performances from Chicago-land and beyond. Since I had just gotten back from a work trip I wasn't able to volunteer all three days like I wanted to. Instead I was only at Engine on Friday. Since last year, I have moved up in my volunteer duties for the in-studios and served as the "creative assistant" specifically working with Jim Beckmann, who is in charge of the blog.

But before I move on to Friday…On Wednesday the 16th we had our listener appreciation party at Darkroom making it a bonus Equalizer for the month. I was on hand as the "KEXP Girl" sitting behind the table handing out swag and giving info out about the station. Here I am with another volunteer, Michelle, giving away a sticker: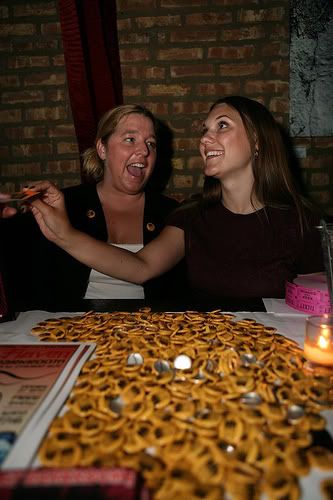 (Photo by Jeremy Farmer)

To read about the event, check out Mike Turner's post on the KEXP blog:
http://blog.kexp.org/blog/2008/07/23/equalizer-showcase-darkroom-chicago-7308-kexp-listener-party-with-catfish-haven-au-sleep-out/


Back to Friday…I was going to be working with Jim on the blog, my specific role was transcribing all of the interviews with the artists. Now this sounds really cool, I mean I got to sit in on the interviews and be the fly on the wall. However transcribing is tough! Especially for a quasi-perfectionist like me. But I did have fun and it was a new experience for me. I ended up transcribing the interviews for The M's:
http://blog.kexp.org/blog/2008/07/18/live-in-chicago-day-3-the-ms/
, David Vandervelde:
http://blog.kexp.org/blog/2008/07/18/live-in-chicago-day-3-david-vandervelde/
, and The Occidental Brothers Dance Band International:
http://blog.kexp.org/blog/2008/07/18/live-in-chicago-day-3-the-occidental-brothers-dance-band-international/
. Overall the day was great and it was fun being back in the studio watching the "magic" happen.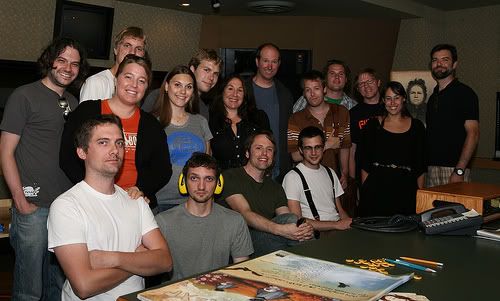 The Friday volunteer group with KEXP staff


(photo by Jeremy Farmer)



Friday night kicked off the Pitchfork Music Festival at Union Park, however, I had just volunteered to work on Saturday. KEXP was an official sponsor of the festival this year and so they needed volunteers to be at the table answering questions and handing out swag…the things I do for Equalizer. Since I am still not a fan of festivals I thought I'd give it a shot from another angle. I did pick to work Saturday since the line-up had more acts I wanted to see and after my shift I was free to enjoy the festival. So I took the earliest one and was in charge of set-up. The unfortunate thing about Saturday was that it rained for most of the day. Yuck! Here I am (in the green dress) setting up:


(photo by Jeremy Farmer)

When my shift was over I met up with some friends to check out some of the acts. I actually had several groups of friends who were going to be there, and I tried my best to balance all of them. Of course midway through my day I was granted VIP status, not by KEXP, but by another vendor that was close to the KEXP booth. It pays to be cute and flirty my friends. Not that I was looking to get VIP status, but if an attractive guy asks if you want a laminate and a wrist band you too would probably say yes. What was also great was that a group of my music industry friends (managers of bands, the bands themselves, and journalists) also had VIP status so I could hang out with people behind the gated-fancy pants part. However, the VIP stage area sucked. You were on the side of the stage (which sounds great) but actually wasn't since you couldn't really see the band, or if you did you might see a few members here and there. But I got as much free beer as I wanted. Whoo! Being sarcastic there, my dear friends.

I was not as stressed out about actually seeing acts, which normally causes me to not enjoy festivals. This time I was very go with the flow and would just wander around with friends from stage to stage. To be honest it would be best to say I caught a few songs from: Fleet Foxes, Vampire Weekend, The Hold Steady, and !!! The only act I made sure I saw a majority of his show was Jarvis Cocker.

Overall Pitchfork wasn't bad. I had some enjoyable moments and made the experience more about volunteering and spending time with my friends rather than making sure I saw this band or that band. I figured if I really wanted to focus on an act I would see them when they come back on tour…because they always do come back.

xoxo,
Stefania
P.S. Jeremy Farmer chronicled the KEXP in-studios as well as Pitchfork. Check out his pictures here:
http://www.flickr.com/photos/farmdog/collections/72157606348692030/