Monday, May 28, 2007
"It's now I know do I stay or do I go
And it is finally I decide
That I'll be leaving
In the fairest of the seasons"
"

The Fairest Of The Seasons"—Nico



I know I try not to get to personal with my blogs, but I'm going to. So as many of you may know, I am leaving NYC at the end of this week. Friday to be exact. After being in this city for almost a year (my anniversary is June 3rd), I am sad to leave. I know when I first got here I really had a hard time with NYC. I had just left the DC area and a very comfortable existence full of friends and a life I loved.

When I arrived in NYC I had two friends here, I was moving in with strangers (who I have since grown to love), and it rained all the time. I thought it was going to be really hard to actually like this city. But I knew if I gave it time I would like it...hopefully. I mean I wasn't all gung ho about DC either when I first got there, but by the end of 3 years I still miss it.

As my move is approaching I have realized that I was (and still am) lucky to have given this city a fair shot. I think the biggest turn around for me was starting improv classes at the Upright Citizens Brigade (UCB). I have met some wonderful people in my classes and practice sessions and have gotten to know some of the best improvisers in the business. My interest in comedy has gone back since I was very young, and I knew that if I ever got the chance to explore it, I would. The foundation I have received from the UCB is priceless. I do hope to continue my improvisational education while in Chicago. And if I am any good at it, chances are I'll have to come back to NYC or go to LA (How many cities will you live in, Stefania?!?).

Another reason why I am okay in leaving NYC is that my love of going to shows will not be eliminated. DC spoiled me. From that point on, I knew no matter where I lived in the future, I had to live someplace where there is an active, vibrant music scene. Chicago definitely fits that requirement. So fear not, the blog will continue. How exciting for me to explore new venues and see new festivals. This will certainly be good times.

Thank you again to everyone who has made my life in NYC enjoyable. It saddens me to think we have known each other for such short amount of time. I feel so attached. Please know you always have an open invitation to visit me in the Windy City, and I hope to come back and visit you all too.

And to those of you have always stood by me and have helped me with this decision making process, I owe you a lot. I can get pretty irrational/emotional when it comes to making "adult" decisions, and I needed that support and often times a smack in the face to figure it out. Thanks for that, and come visit as well.

I always seem to leave city on a high note. What I mean by that is I leave a city when I still am fond of it. Which is great because then I know I could always go back. I'm not sure how long I will stay in Chicago (I can say confidently more than a year), and who knows where I will go after that (I really don't want to think about it—moving sucks). But I hope that regardless of where I am we continue to keep in touch, and that you continue to read my blog as long as I keep writing it.

xoxo,
Stefania
Thursday, May 24, 2007
"I get by with a little help from my friends..."
So these videos have been all over peoples' blogs these days, and I thought I'd post them too incase you all hadn't seen them yet.
The first is M. Ward's performance of "Chinese Translation" on Conan with special guests Neko Case, Jim James (of My Morning Jacket), and Kelly Hogan.

The second is Ben Gibbard's performance of "Such Great Heights" at The Fillmore (in San Francisco) with John Vanderslice, Jenny Lewis, and David Bazan.

xoxo,
Stefania
Wednesday, May 23, 2007
"We are the earth intruders, we are the sharp shooters…"
So remember how I said the music gods smiled favorably on me when I got the Arcade Fire tickets? Well I wasn't lying. The same day the Arcade fire tickets went on sale (at 10am), Björk tickets also went on sale that day (at 11am), and once again I was able to secure two tickets. But this is the way it works my dears. When the good karma rains on you it often times will pour.

So on Tuesday, May 8th Matt and I went to go see Björk at the famed Apollo Theater. I was really glad that I was able to go to this historic venue. Unlike the previous night, our seats were not that close. We sat up in the balcony, literally 4 rows from the back. But the theater was so slanty it gave me vertigo. I was afraid to stand up. But I didn't let it get to me too much, and after a while I got used to it. And I had to remind myself I was here to see Björk!

Björk's first album Debut was one of the first albums I ever owned. In fact I think it was the 3rd one I bought with my own money. I was quite proud of that. I am not going to lie though and pretend to be this super Björk fan. They are out there, I know this. I love her. I think she is fabulous, but after Post I haven't bought any of her albums. Even though there are songs off of each album I like, I never ended up buying them. But that doesn't make me any less of a fan though.

I got there early enough for the opening act. This rap/DJ combination. I didn't quite catch their name, and to be honest with you their music didn't impress me enough to make me want to research who they were. I know that is a crappy attitude to have and I am sure I am letting my readership down. But with lyrics like, "All you white girls shake it till my dick turns racist…all you black girls shake it till my dick turns racist " just doesn't' appeal to me. Sorry. Plus they weren't who I was there to see.

Okay I felt bad about that rant and not caring who they were. So I looked it up. They are the Baltimore based hip hop group, Spank Rock. Save your money.

So after the turntables were removed from the stage, most of it was set up already. There were tons of instruments and other random electronic-y looking things. Also big flags with birds, frogs, and alligators on them were in the background. As the stage hands were setting up the big red velvety curtain lowered. It just made the anticipation grow. Then…

Björk appears as the curtain opens. The crowd goes totally nut-so! She was wearing a gold lamé dress and headband with silver leggings. She was barefoot. She opened up her mouth and started to sing "Cover Me." With such a big catalogue of songs to choose from I was wondering what she would choose to do. Also, her latest album Volta had just released that day. Matt loves to read Brooklyn Vegan,
http://www.brooklynvegan.com/
, and actually that's how we found out Björk was coming. But anyway Brooklyn Vegan had her set list:

Cover Me
Earth Intruders
Venus as a Boy
Aurora
The Dull Flame of Desire
Immature
I
See Who You Are
Pleasure is All Mine
All is Full of Love
Jóga
Bachelorette
Army of Me
Innocence
Wanderlust
Hyper-ballad
Pluto
==========
Oceania
Declare Independence

They also had some great pictures of her. Which I was glad about, because there was no cameras/photography allowed. And people got kicked out if they pulled out anything with a glowing screen or flash. They were serious about it.

Björk and Antony (of Antony and the Johnsons) singing "The Dull Flame of Desire"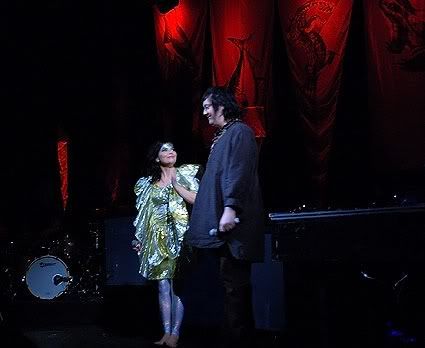 Rockin' it in gold lamé



I was really grateful and happy to get the opportunity to see Björk. She put on a superb show not only musically but also visually. If you saw her performance on SNL a few weeks ago then you will have a little bit of an idea. Her horn section was all women in these oversized solid colored jumpers with flags coming up from their backs. During the last song "Declare Independence" there is a line that goes "Raise your flag!" and all the ladies took the flags off of their back and waved them. It was a pretty cool visual, and a good one to leave out on.

I'm not sure if I will get the opportunity to see Björk again I would. I know it might be tough due to how often she tours and how hard of a ticket it is to get. But who knows? Maybe the concert gods will smile upon me again.

xoxo,
Stefania

Video for "Earth Intruders" (Sorry the video isn't here. You Tube has said, "Embedding disabled by request." Sad face.)

http://www.youtube.com/watch?v=wioa74MsBYA
.

P.S. Matt also sent me this article about a mishap that Ticketmaster had made about the date of the show, and how this poor gal missed out on it:
http://popwatch.ew.com/popwatch/2007/05/bjorkticketbast.html
I did get an e-mail a day before the show from Ticketmaster notifying me of their mistake and that the show was in fact on Tuesday. I guess that woman didn't get it. How crappy is that?


Monday, May 21, 2007
"I know no matter what you say, there are some debts you'll never pay…"
On Monday May 7th my friend Matt and I were one of the fortunate to see The Arcade Fire play at United Palace Theatre (UPT). The UPT is located in a part of Manhattan I had never ventured, and the farthest north I have ever gone to in Manhattan: 175th Street. And the hour train commute was worth it. The UPT is an old Lowe's movie theater that has now been turned into a church with Rev. Ike as their pastor. The marquee proudly boasted their 2pm Sunday service.

Matt and I arrive a little after 8pm. We didn't know if doors opened at 8pm or if the show started at 8pm. Turns out it was the show start time. However, after figuring out that we were considered VIP due to our seat location, (7th row orchestra, baby!) we were able to go in the shorter line. When we entered the theater we were overwhelmed by what we saw. It was all gold with carvings, statues and chandeliers. There were also quotes from Rev. Ike painted in mural sized signs throughout the lobby.

When we entered into the actual theater the opening act, The National, was playing. I know only a few songs by them, and my favorite is "Secret Meeting." But we were only there for the last part of their performance unfortunately. Matt was more familiar with them then I was. I enjoyed them, and found them to be entertaining. Maybe I'll get to see them again another show.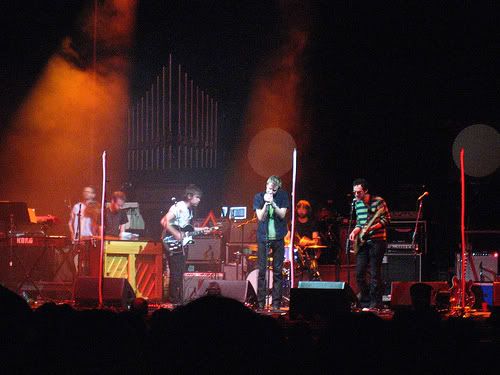 So in the intermission time between acts, these people came over to our row and had the same seats as us. After reviewing our tickets it turns out we were sitting in row G while our seats were row GG, which was in the same area but on the side. So we were still close to the stage, thank goodness. I felt silly, but Matt was forgiving.

After a short wait, the lights dimmed and everyone just cheered. Then these round screens that were set up on stage started showing footage from a female preacher in the '80s preaching something about women taking off their high heels and putting on combat boots and taking charge of life or something. Then it went dark and these neon lights in the front of the stage lit up and these images in neon lights of a book appeared (similar to their album art). The band then took the stage and started playing "Black Mirror."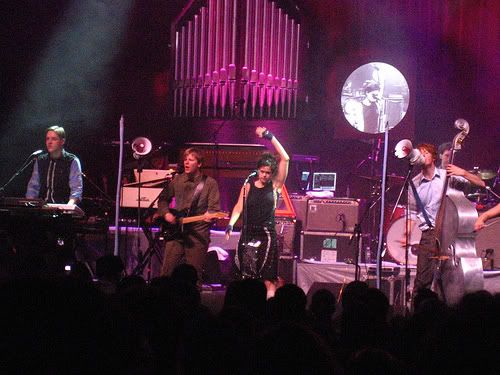 They covered many songs off their new album, Neon Bible such as "Intervention," "No Cars Go," "(Antichrist Television Blues)," "Neon Bible," and "Black Wave/Bad Vibrations." Then they played a few favorites from Funeral. And with each song they played the crowd was just eating out of their hands. They could have played anything and we would have loved it. They are so involved in their music and full of energy. It is contagious. One cool thing was at the end of "Neighborhood #3 (Power Out)" they morphed it into "Rebellion (Lies)." During this song Win entered the crowd:


The stage itself was set up with neon lights and video screens. It looked really cool, and sometimes the images were confusing, creepy, or interesting:



There were 10 of them on stage, and many of them would play different instruments for each song. It was really cool to see such versatility in a group.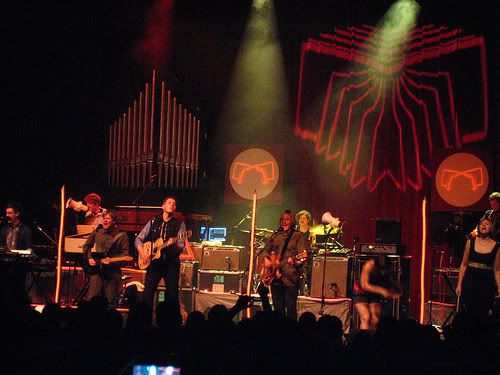 I wholehearted enjoyed this show. I have been looking forward to seeing The Arcade Fire for at least 2 years now. And each time they come into town I have been unable to get tickets. But this time the concert gods had pity on me and allowed me to get 2 tickets in a sweet spot. I was really happy to share this experience with Matt who is also a fan. It's always nice to share a fabulous show with someone who truly can appreciate it. Or whenever you take someone to a show that may not be totally familiar with the group, but then they leave a convert. I love that.

This was hands down one of the best live shows I have ever seen. I really don't have a ranking of the best shows I have ever seen. Normally I just say, "This show is in my top 5." But if you ask me what that top 5 is in order I'd have a hard time. But this show by far passed my expectations and just made me want to see them anytime they come to town. However, this is a hard ticket to get…in any city. So if you get the opportunity to see them then you MUST go. And if you can't make it, give me a call. I'd be willing to travel to see them.

xoxo,
Stefania


P.S. The Arcade Fire doesn't have videos yet for this album, but I found some good performances of two of my favorite songs:

"Intervention" Live at Canterbury High in Ottawa


"Neon Bible" (shot in an elevator for
http://www.blogotheque.net/
)

Sunday, May 20, 2007
D'oh!
Once again Brie is keeping me straight. This is why I keep her around. She informed me the F&M video "Ankle Injuries" was made dice and not dominoes. I apologize for my error. But she does agree the video is similar to The White Stripes video.
xoxo,
Stefania
Friday, May 18, 2007
"Your tongue is sharp but I miss the taste of it…"
So here I go again totally slacking! Who do I think I am? Leaving you all waiting for weeks for an entry? Seriously! Please leave all complaints with my assistant. But don't be too harsh. She is a crier.

Alrighty then, moving on. On Wednesday, May 2nd I ventured out to a new venue (Webster Hall) to see Swedish darlings Peter Bjorn & John (PB&J). However I was just as excited to see their opening act Fujiya & Miyagi (F&M). Who you might guess were Asian, but no, three British dudes. The opening-opening act was a Brooklyn group, Au Revoir Simone. All three bands had three members each which I thought was a fun coincidence.

Au Revoir Simone played dreamy elcetoronic-y music. Made up of three gals (Erika, Annie, and Heather), they took their name from the character Simone is the movie Pee Wee's Big Adventure. Remember her? God, I love that movie. Anyway I digress. Where did I leave off? Dreamy music…right. I really enjoyed their sound, and this was the first time I had ever seen or heard of this band. They have just released a second album, and seem to be on a roll touring with some cool acts (Camera Obscura, Voxtrot). They were really cutesy-girly with their banter. You could tell they were really excited to be playing in NYC to a crowd of friends, family, and fans. Each had this distinct look that reminded me of high school girl stereotypes. One looked like the shy, artistic type, another looked like the sweet drama girl with a wannabe edge, and the third looked like the geeky but cute and a little bit spastic smart girl.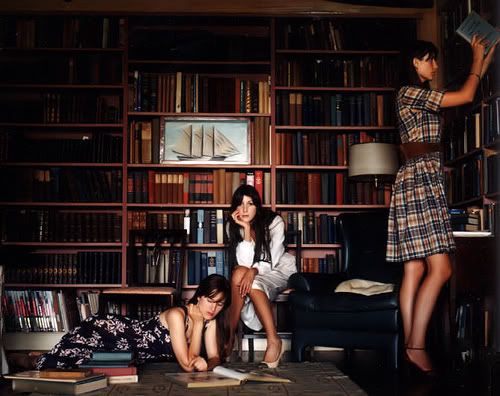 I really did enjoy them though, and they were stylish.
http://www.aurevoirsimone.com/


When F&M took the stage and started to play, I was really impressed. A lot more than I thought I would be. I know that sounds kind of awful to say, but it's true. In fact out of all three acts I enjoyed their set the most.



They kept their energy up and were a really solid act. Plus their music is danceable. Yay! To me the highlight was "Collarbone" but I also ended up loving "In One Ear & Out The Other."
http://www.fujiya-miyagi.co.uk/
"Ankle Injuries"

Does this video remind you of The White Stripes' "Fell In Love With A Girl"? Instead of Legos though, they used dominoes.

By the time PB&J made their appearance the crowd was more than ready. It was a pretty young crowd age wise. It seemed like many of them were surprised about the amount of people at the show. Like they are the only ones who knew of this group. It's quite funny actually when people act like that. Oh well. So as soon as they took the stage everyone went nuts. They played most songs off of their latest album, Writer's Block, and they played a few songs from previous albums. When it came to the song "Young Folks" Erika from Au Revoir Simone came out to sing Victoria's part.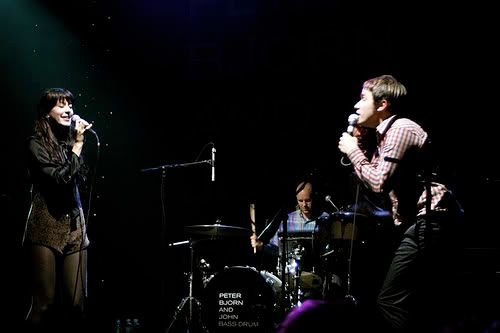 "Young Folks"


The rest of the show was good, but for some reason I wasn't as impressed by them live. They also did an acoustic version of "Amsterdam" that seemed really off. This is one of my favorite songs, and this version did not do it justice. Their banter was fun and they did interact with the audience. At one point Peter asked us if we liked the new backdrop:


As we all cheered, he then pointed out the sign on the guitar amp ("Peter Bjorn and John Amp"), then the kick drum ("Peter Bjorn and John Drum"), and then the bass amp ("Peter Bjorn and John Bass Amp"). At first it was cute and funny, but then when he started promoting the merch ("Peter Bjorn and John T-Shirt" and "Peter Bjorn and John Bag") it just got old. But at least his heavily accented English made it a little bit more endearing.
http://www.peterbjornandjohn.com/

The show overall was fab. I had a great time and had fun being in such a strange venue. The inside looked like the set of Legends of the Hidden Temple with the Asian/Indian/African looking statues, paintings, and animal skins. Definitely interesting.

"Objects Of My Affection"


"Let's Call It Off"


xoxo,
Stefania