Saturday, May 24, 2008
"When out of a doorway the tentacles stretch of a song that I know..."
So once I got back home from Portland, it was back to the daily grind…work, TV, and more shows! On Tuesday, April 29th I got to see one of my favorite British bands: Elbow. I love, love, love them!

They were playing at Park West, which is literally 10 minutes from my house, and I got there early enough to get a sweet spot by the stage. Normally I don't stand in front of the stage, because I don't think the sound quality is that great and you can't see the entire stage setup. However, since I went solo to this show I thought it would be less awkward for me. Not that I mind going to shows by myself, but this venue in particular makes it feel weird if you arrive early and are just standing by yourself in the middle of the floor. So by the stage it was!

The opening act were The Watson Twins.
http://www.thewatsontwins.com
Yes, those Watson Twins who backed Jenny Lewis on her album and tour. They have a new album coming out in June called Fire Songs and so most of the stuff they played was from that. I am not as familiar with their music, but from what I heard they are good. I really loved a song called "Fall" and they did a cover of The Cure's "Just Like Heaven." I found it odd that for the style of music they play that they would be opening up for Elbow, but hey, it worked.

I was so excited by the time Elbow took the stage. When they all came out they stood in a row all with trumpets in hand to start the first song of their set, "Starlings." Awesome. After the horn part they went to their respective areas and continued playing the song. In addition to the regular line up they had two ladies with them with violins. It was a great start and I knew this show was gonna be good…and I was right.

They played (from what I can remember) "The Bones of You," "Mirrorball," "Grounds for Divorce," "The Loneliness of a Town Crane Driver," and "One Day Like This" all from the new album, The Seldom Seen Kid. From Leaders of the Free World they played the title track, "The Stops," "Great Expectations," "Forget Myself," and "Station Approach (first song in the encore). They played less from their first two albums but did get a few songs in. From Cast of Thousands they did "Switching Off" and "Grace Under Pressure" (second song of the encore), and from their first album, Asleep in the Back, "Newborn," and "Scattered Black and Whites" (last song in the encore). I loved the set list! They pretty much played all of my favorite songs. Well except for "Beats for Two" (see March 21st entry).

The band had great stage presence and Guy Garvey is known for his witty banter. He was very entertaining sharing stories and often times joking with the crowd in a loving way. Several times throughout the first hour of the show he would say, "Tonight is a very special night. Do you want to know why?" And after the crowd would yell yes or cheer, he would say, "We'll tell you later." And after building this moment he finally revealed that it was guitarist, Mark Potter's birthday. Which at that point the entire crowd and band sang "Happy Birthday" and the two ladies who were playing the violins came out with a cake. Guy also informed the crowd that they have started a new tradition that whoever's birthday it is while on tour, the birthday boy gets to pick most of the set list. Pretty cool.

Guy was also really good about interacting with the crowd and engaging us. Before starting "One Day Like This" he taught us the line "So throw those curtains wide. One day like this a year would see me right" in order to sing along and do grand arm movements while singing it. He also informed us that the phrase "would see me right" is a northern [England] colloquialism meaning "Be okay/alright." Also during this song he shook people's hands, and since I was in the front I got the two handed shake and direct eye contact. Who hoo!

Another fun and creative thing Guy did was before they played the last song, but before the encore, he explained that after this song we all knew what was going to happen, but in order for them to come back out for the encore he wanted us to sing a song to get them back out. He then asked the crowd what song we should sing, and made the stipulation that it couldn't be an Elbow song. After several offers, he really liked the suggestion of The Muppets' "Mahna Mahna." He even broke the crowd up and had us practice it. The back of the house starting us off singing the "Mahna Mahna" part and the front of the house singing the "Do do da do do" part. And about a minute after they got off the stage the crowd started singing it. When they came back on the stage, they gave us applause. Too cute!

I wholeheartedly enjoyed this show and will always make the effort to see them live again. In fact after I got home I was so fired up I decided I needed to move to Manchester.

xoxo,
Stefania

"One Day Like This"

Thursday, May 22, 2008
"And when I feel this way I really am with you…"
So one of the shows I didn't plan on going to see was Hot Chip.
http://www.hotchip.co.uk
I was visiting my bestie, Reggie, in Portland and because he knows I love music he asked if there were any acts I wanted to see while I was visiting. There were few that I recognized, but I said if I were going to see one I would want to see Hot Chip…and so we did.

On Wednesday, April 23rd we headed over to the Crystal Ballroom.
http://www.mcmenamins.com/index.php?loc=2&category=Location+Homepage
The Crystal Ballroom is a McMenamins establishment, a company that owns several bars, restaurants, and venues in the Portland area. They tend to take old buildings and with a lot of history to it and update it for use. The Crystal Ballroom was originally a dance hall, and over time it became a live music venue.

The one unique feature about the venue is the floor. It bounces. I don't know how or why, but if you were to jump or bounce on it, it pushes back. It sounds odd, but it actually was pretty cool. And for a show like Hot Chip which has very danceable music, which means people would be moving around quite a bit. I was hoping the place would just go nuts. And they did!

Since this was an all ages show they put up this barricade in the middle of the room separating the 21+ crowd from those underage. The stage was on the underage side. But Reggie and I found a pretty good spot.

The opening act was a band called Free Blood.
http://www.myspace.com/freeblood
It is a guy (John) and girl (Madeline) duo who also plays electronic music, and sing/loosely rap over it. It was interesting, a little experimental. During this set some of the members of Hot Chip and crew came out onto the floor area to watch the show. No one really bothered them, which is always nice.

By the time Hot Chip came on the crowd was excited. I have to admit I don't own any Hot Chip albums, and really only know a handful of songs. They do have a new album out, Made In The Dark, and I have heard some songs on KEXP, including "Ready For The Floor." They did play familiar favorites from their first album, The Warning, like "Over and Over" and "I Was A Boy From School."

Even though I couldn't tell you what songs were played that night, I can assure you I enjoyed the show. They were energetic, interactive with the audience, and fun to watch. The music itself got you moving, and by the time the show was over I was smiling. I got to see a solid band at a cool venue. What a great unexpected, addition to my vacation.




xoxo,
Stefania

"Ready For The Floor"


P.S. Also during my first visit to the Pacific Northwest I got to visit the Doug Fir Lounge (another great live music venue) however we didn't see a show there (next time).



I also got to go to Seattle for a day and visited the KEXP station and got a tour from Cheryl (so lucky and grateful for that)!



Also in Seattle I got to spend some time with Shannon (who also DJs for KEXP), and she took us to Sonic Boom Records where I got to use my membership card for the discount. Hooray!
Monday, May 19, 2008
Colin back in Chi-town
So for the last month I have been to seven shows. Three of those seven shows I had not planned to go to, but the opportunity arose and so why not? Going to shows is awesome, but as you all can tell I've been slacking on getting them posted on my blog. So I hope to crank out those entries as soon as I can.

My run of shows started on April 21st when I saw Colin Meloy at Park West. This is his 3rd solo tour and my first time seeing him this way. When tickets went on sale I ended up getting two hoping someone would want to come with me. I invited my friend Lynnae, who I met through improv classes, to join me. She had heard of the Decemberists and was told she would really like them, but hadn't heard them. However, we have similar musical tastes (and in other stuff) that I thought she would enjoy the show. I was right!

For Colin's solo tours he basically just plays Decemberists' songs acoustic. So the set list was filled with some favorites as well as some new songs and covers. I can't recall the order the songs are in, and I couldn't find the set list online anywhere (I also did not look hard enough), but he started out with "Leslie Ann Levine" which I was super excited about since it is one of my faves. He also played:

O Valencia!
The Perfect Crime
Shankill Butchers
We Both Go Down Together
The Engine Driver
The Mariner's Revenge Song
A Cautionary Song
Oceanside
Kingdom of Spain
Apology Song

Each solo tour he chooses an artist to cover and releases an EP of those songs. In tours past he has done Morrissey and Shirley Collins. For this tour he has decided on Sam Cooke. He played a very beautiful version of "Cupid" with harmonies provided by opening act, Laura Gibson. Sadly, I arrived late and only got to see part of her act, but she was pretty good.

He also played two new songs, one was still a work in progress. I cannot wait for the new Decemberists' album. That means they will go on tour again. Hooray!

I'm glad I got to see Colin solo and be a part of a show that was more like a crowd sing-a-long. Everyone in the audience was a fan and that made the vibe extra fun. This tour was also in support of his new solo CD Colin Meloy Sings Live! which was recorded during his 2006 solo tour.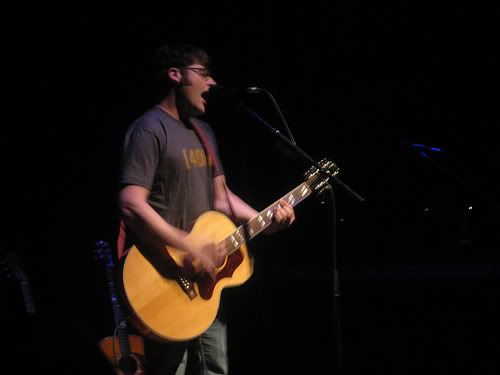 xoxo,
Stefania

Here is Colin singing "Oceanside" at Jackpot Records in PDX a little over a month before I saw him: