Monday, December 24, 2007
My Best of 2007
I had a tough time assembling my best of list this year. Not because of the lack of music, but because there was so much. Once I had narrowed it down, putting them in a ranking order was even tougher. This year's albums were released from some of my all time favorite artists, as well as some newcomers I hope to hear from again soon. I keep looking over this list though and think, "Did I leave someone off? Am I sure I put them in the right order?" But at some point I had to let it go. These are all solid albums, and worth checking out in 2008 if you didn't in 2007.

16.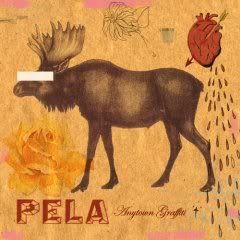 Anytown Graffiti—Pela
This Brooklyn based band's album made an impression on me. From the music to the sometimes inaudible lyrics, I just really liked the songs on this album. I first heard "Tenement Teeth" on KEXP and was like, "Yeah, this band rocks." It wasn't until I heard other songs like "Lost To The Lonesome" and "Waiting On The Stairs" that I was a believer. KEXP also plays this great version of "Lost To The Lonesome" called "Lonesome Hearts" which is a remix by Cassettes Won't Listen. Oh so good.
http://www.pelamusic.com/
15.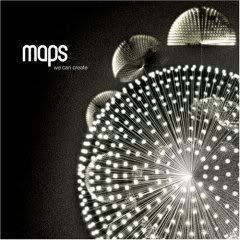 We Can Create—Maps
Were you looking for a dreamy, shoegazer, British album this year? If so let me introduce you to We Can Create by Maps. A bit The Clientele, a part Spiritualized, and a tad Low this band combines electronic-y beats with more traditional rhythms and soft breathy vocals. The first album of this Northampton man (James Chapman, he gets some peeps together when he tours) also made enough of an impression to end up being nominated for the 2007 Mercury Prize. My fave tracks? "You Don't Know Her Name" and "To The Sky."
http://www.mapsmusic.com/
14.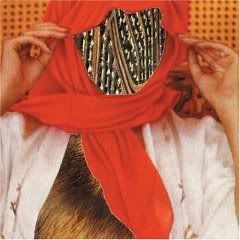 All Hour Cymbals—Yeasayer
Is it odd to think that one of the year's best albums is also the first album of this Brooklyn based band? That as you are reading this many people still will have never heard them? Maybe if one of their songs ends up on an iTunes commercial they will be an overnight sensation…but I can't think of a song that the silhouettes could jam to. So let's just keep it in between us, okay? This album is considered in the genre of "world" on iTunes. Do I really own a world album? Whudda thought? Anywhoo, for one of the most inventive, thoughtful, and creative albums of this year I turn to All Hour Cymbals. This album flows with a distinct middle, beginning, and end. When I first heard the song "2080" I was hooked from the drum beat to the children singing at the end. The vocals that Chris Keating provides are fitting for the eclectic beats and chorus-y chanting. It also is great to listen to while traveling. Maybe this is where that "world" label comes in.
http://www.yeasayer.net/
13.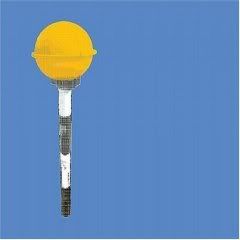 Transparent Things—Fujiya and Miyagi
This three piece group from Brighton really knows how to make a booty wiggle. When I first heard their track "Collarbone" on KEXP I couldn't help but have a mini dance party in my cubicle. Then when I got the album I think I was having a full blown dance party. However, this is also the perfect album to listen to as you are relaxing or running errands around town. I also love other tracks such as "Ankle Injuries" and "In One Ear & Out The Other." Another plus about Fujiya & Miyagi is they a great live act.
http://www.fujiya-miyagi.co.uk/
12.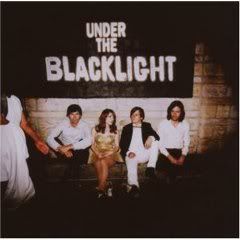 Under The Blacklight—Rilo Kiley
I really liked the fourth album of this LA based band. A bit funkier and dancier than some of their albums I fell instantly for it when I heard the bass line of "The Moneymaker." It was also nice to have a new Rilo Kiley album after a few years of successful solo projects from Jenny and Blake. I love the tracks "Silver Lining," "Dreamworld," and "Breakin' Up." Some fans disliked the direction they took with this album, but I think it was a bold move and you can tell they just had fun with the songs.
http://www.rilokiley.com/splash/
11.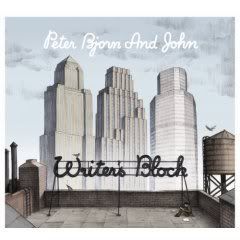 Writer's Block—Peter Bjorn and John
I think those who knew about PB&J towards the end of 2006 felt like they were part of this cool kids club. I mean Drew Barrymore wore their shirt when she hosted SNL. So by the time the album was officially released (in the US in 2007) it felt as if I had been hearing gems like "Young Folks," "Amsterdam," and "Objects Of My Affection" a lot longer than I actually had. There was a point this year where I was like, "Will I ever get tired of this album?" The answer is no. It's still in heavy rotation on my iPod.
http://www.peterbjornandjohn.com/
10.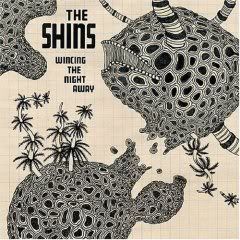 Wincing The Night Away—The Shins
I think the novelty of The Shins being a reason Garden State was thought to be a good movie is over (hopefully). For those of us who knew that this band made music that was life changing before Natalie Portman put headphones on Zach Braff's head were pleased that the guys had released another album. However, for the Garden State crowd it was I'm sure it was just as good. I mean with songs about a small town lesbian teenage couple ("Phantom Limb"), getting your bearings on a relationship ("Sea Legs"), and realizing your shortcomings ("A Comet Appears") are life itself, no need to change.
http://www.theshins.com/
9.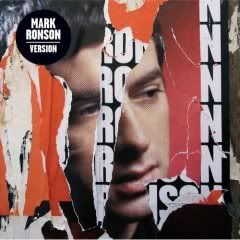 Version—Mark Ronson
I bought this album when it came out this summer and I think it was the one I played the most as I spent most of my time driving between Chicago and Indiana. Sure these songs are all covers, or "versions" of familiar favorites, but my goodness can this boy make an album. Utilizing friends and new discoveries Mark put together a fun, feel food album that makes you want to dance, sing along, and revisit the originals. Each artist put their own style to each of the songs whether it was Lilly Allen covering Kaiser Chiefs' "Oh My God," Amy Winehouse covering The Zutons' "Valerie," or Alex Greenwald (of Phantom Planet) singing Radiohead's "Just." The track that got the most play was Daniel Merriweather covering The Smiths "Stop Me If You Think You've Heard This One Before" that leads into The Supremes "You Keep Me Hangin' On." Brilliant. But I think my favorite would have to be Paul Smith of Maximo Park doing a version of his band's song "Apply Some Pressure." I liked it so much I made it my ring tone.
http://www.markronson.co.uk
8.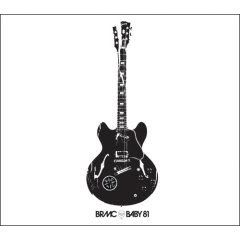 Baby 81—Black Rebel Motorcycle Club
I love BRMC. Love, love, love them. There are a few great rock bands out there today and I think they are one of them…hands down. When Baby 81 came out I was super excited. After hearing tracks like "Weapon Of Choice," "Berlin," and "666 Conductor" on their MySpace page before the release I knew this third album was not going to disappoint. I'll be honest, it isn't much of a departure from their other albums, but I really don't care. They know how to create a powerful album that not only rocks you but moves you too. From start to finish there is an energy that runs through this album. It's electrifying and the more you listen to it the more you are entranced.
http://www.blackrebelmotorcycleclub.com/
7.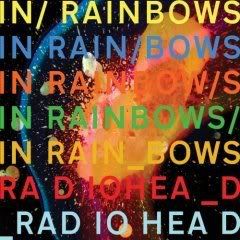 In Rainbows—Radiohead
Technically this album could also be in the Best of 2008 list since it will be physically released on January 1, 2008. However, Radiohead released it to those with a computer and a credit card in October. The album that sparked conversation and debate amongst the music industry, was actually easy to take after first few listens. Some previous Radiohead albums for me have taken years for me to really "get it" and for the songs to sink in. In Rainbows reminded me of The Bends era Radiohead, but updated. The song "Jigsaw Falling Into Place" had me instantly. After that other tracks like "Bodysnatchers" and "Weird Fishes/Arpeggi" had me returning. I'm glad that I liked this album so easily, and that they are continuing to be their innovative selves.
http://www.radiohead.com
6.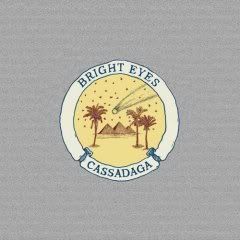 Cassadaga—Bright Eyes
For someone who has been in the musical spotlight since he was 14, I think Conor Oberst has figured out what works for him to making creative, moving, and timeless music. When I first got Cassadaga I was 1) excited about the album art and 2) blown away by the storytelling set to this alt-country rock music. From "Four Winds" to "Soul Singer In A Session Band" to "Classic Cars" you can visualize these characters as he paints them in your mind. And then there is the classic Bright Eyes that come across in songs such as "Make A Plan To Love Me" and "Lime Tree" that wrap around your heart and just squeeze it enough to make it ache.
http://www.thisisbrighteyes.com/
5.

We Were Dead Before The Ship Even Sank—Modest Mouse
There is a reason people love Modest Mouse: they are awesome. This album actually surpassed my expectations. I knew that I loved "Dashboard" the moment I heard it (and then once I saw the video) and thought that I may like a handful of other songs, but when I realized that I could listen to this album from start to finish, I knew it was more than just a good album. Songs like "Fire It Up," "Florida," "Fly Trapped In A Jar," and "Spitting Venom" solidified that this album had to be on this list. Oh and how can I forget "Little Motel" the song that lyrically had me, but just pushed me over the edge once I saw the video? Well done, Modest Mouse, well done.
http://www.modestmouse.com/
4.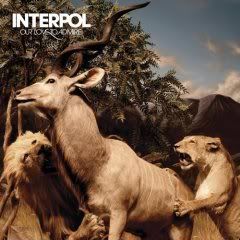 Our Love To Admire—Interpol
My love for Interpol runs deep. So I was super excited about their new album this year. When Our Love To Admire made it into my hands I think it was the only thing I listened to for the next month. Each day I think I had a new favorite song. This album to me seemed very grand, bigger, and loftier than their last two albums. They still very much have that Interpol sound, but there is a maturity to this album. It also is a very relationship-y album to me. Each of the songs describe a relationship at different points from infatuation to lust to romance to sacrifice to being over it…sometimes they can be all rolled up in one song. Interpol is just one of those bands I will probably never get tired of. And when you listen to songs like "Mammoth," "No I In Threesome," or "The Heinrich Maneuver" you can see why.
http://www.interpolnyc.com/
3.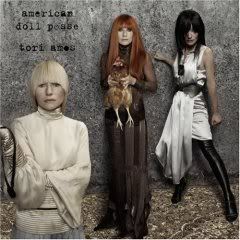 American Doll Posse—Tori Amos
I was literally counting down the days until this album came out. Like all Tori albums this one was just as thought out and well packaged. The story behind this album is centered around 5 women (the Dolls) who have something to say about the state of affairs today. Songs that talk about politics ("Yo George"), the way technology is taking over ("Digital Ghost"), finding a way to survive ("Teenage Hustling"), or being a hot mom ("Big Wheel"). At 44 years old and 9 albums there seems to be no stopping her.
http://www.toriamos.com/
2.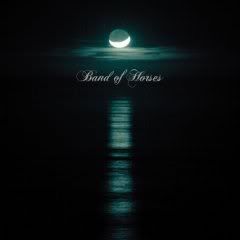 Cease To Begin—Band Of Horses
In 2006 I put Band Of Horses' album Everything All The Time on my best of list. I think it is a testament to the kind of musicians they are that the album they released this year, also made it on my best of list. And to be honest, this album surpassed any expectations of what a second album should be. Cease To Begin is short (just under 35 minutes), sweet, and rockin'. I can listen to this album from start to finish and genuinely be excited about the song that is about to come up. My favorite though would have to be "Cigarettes, Wedding Bands." I really hope they release an album in 2008…so I can put that one also on my "Best of" list.
http://bandofhorses.com/
1.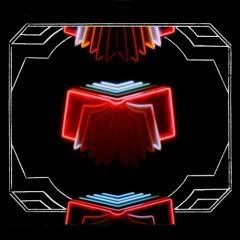 Neon Bible—The Arcade Fire
I think the first time I listened to this album and the beginning notes of "Black Mirror" began to play I knew that there was not going to be a sophomore slump. Their first album had so much attention and well-deserved hype, could their second album measure up? YES! With songs like "Keep The Car Running," "Intervention," and "No Cars Go" it would be hard to just dismiss this album. Musically the album is strong, but lyrically I think it is stronger. Only The Arcade Fire can create songs about escape, hope, and praying that your daughter becomes famous as dramatic and beautiful. This album was one of the best of the year…hands down.
http://arcadefire.com/flash.html


This year I also got some albums that I wished I had given more of a listen to. I seem to do this each year (buy albums and don't give them a proper listen, or got them initially for a handful of songs, or get side tracked by the ones on my best of list) and then I notice they end up on other people's best of lists. Then I think, "Why didn't I pay more attention to this album? The one or two times I listened to it I thought it was good, but I stopped paying attention to it after I got this other album." This year those albums are:

Icky Thump by The White Stripes

Release The Stars by Rufus Wainwright

The Reminder by Feist

Sky Blue Sky by Wilco

Easy Tiger by Ryan Adams

An End Has A Start by Editors

Fourteen Autumns & Fifteen Winters by The Twilight Sad

Like, Love, Lust & the Open Halls of the Soul by Jesse Sykes and the Sweet Hereafter

Yours Truly, Angry Mob by Kaiser Chiefs

Then this year there were a bazillion and one songs that I loved, but didn't get the album they were on. Since I have to purchase a majority of the music I listen to, I can't get every album released. Often times these artists also end up on other people's best of lists, and I normally get them the following year and then think, "I wish I got this sooner. This album rocks!" Or sometimes these are just the songs I liked that came out in 2007 and they will just end up in my iTunes. This year those songs are:

"Fake Empire" and "Mistaken for Strangers"(video) by The National (can be found on Boxer)—this album I have suggested to others and they loved it, but for some reason I couldn't get my act together this year and buy it.


"Myriad Harbour" by The New Pornographers (can be found on Challengers)

"Walters" and "From Nothing To Nowhere"(video) by Pinback (can be found on Autumn of the Seraphs)


"The Underdog" (video) and "Black Like Me" by Spoon (can be found on Ga Ga Ga Ga Ga)


"Knocked Up," On Call," and "Charmer" by Kings of Leon (can be found on Because of the Times)—this one I really didn't get my act together on. I have their other albums, why didn't I get this one?

"A Sunday Smile" by Beirut (can be found on The Flying Club Cup)


"Ex-Guru" by The Fiery Furnaces (can be found on Widow City)


"Our Life Is Not A Movie Or Maybe" (video) and "You Can't Hold The Hand Of A Rock And Roll Man" by Okkervil River (can be found on The Stage Names)


"Paper Planes" by M.I.A. (can be found on Kala)


"Thou Shalt Always Kill" by Dan Le Sac Vs Scroobius Pip


"Ash Wednesday" and "While You Were Sleeping" (video) by Elvis Perkins (can be found on Ash Wednesday)


"Revival" by Soulsavers (can be found on It's Not How Far You Fall, It's the Way You Land)


"Oxford Comma" by Vampire Weekend (can be found on Vampire Weekend which is self-released, however it will be widely released in January—wait so can I consider this for 2008?)

"North American Scum" (video) and "Someone Great" by LCD Soundsystem (can be found on Sound of Silver)


"A Postcard to Nina" by Jans Lekman (can be found on Night Falls Over Kortedala)

"End Of The Affair" by Jonathan Rice (can be found on Further North)

"Paper Birds" by Siberian (can be found on With Me)

"Earth Intruders" by Björk (can be found on Volta)


"23" (video) and "Spring And By Summer Fall" by Blonde Redhead (can be found on 23)


"Am I Wry? No" by Mew (can I be found on Frengers)


"Cemetery Lawn" and "Get Up Get Out" by The Rosebuds (can be found on Night of the Furies)

"Lake Michigan" by Rogue Wave (can be found on Asleep at Heaven's Gate)


"The Year Before The Year 2000" by Les Savy Fav (can be found on Let's Stay Friends)

"I'm Sorry, But I'm Beginning To Hate Your Face" by Eagle Seagull (can be found on The Year of the How-To Book which is going to be released in 2008)

"Tonight I Have To Leave It" by Shout Out Louds (can be found on Our Ill Wills)


"I'm Not Gonna Teach Your Boyfriend How To Dance With You" by Black Kids (can be found on Wizard of Ahhhs)


"Jesus Saves, I Spend" by St. Vincent (can be found on Marry Me)


"What's A Girl To Do? by Bat For Lashes (can be found on Fur & Gold)


"Silence" by PJ Harvey (can be found on White Chalk)


"The Songs That We Sing" by Charlotte Gainsbourg (can be found on 5:55)


"You're a Wolf" by Sea Wolf (can be found on Leaves In The River)


"101" by Albert Hammond Jr. (can be found on Yours To Keep)


"Home" by Great Northern (can be found on Trading Twilight for Daylight)


"Rehab," "Back to Black," and "You Know I'm No Good" (video) by Amy Winehouse (can be found on Back to Black)


"Sewn" by The Feeling (can be found on Twelve Stops and Home)


So this was my 2007 musically. As you can tell there was a lot swimming in between my ears. Hopefully you also had a great music year. I look forward to what is coming out in 2008. Happy listening!

xoxo,
Stefania
Sunday, December 09, 2007
"The picture was left on the front porch, the back said, 'I love you, don't you ever think of me?'"
On Monday, November 11th I saw Band of Horses (BoH) at the Metro. I have been looking forward to this show since I got their album Cease to Begin in October. This album at almost 35 minutes blew me away. Why is it so short? It is so good! I know it will end up on my list of best albums of 2007. I was just bouncing of the walls when Monday finally came. My friend Tim saw them in DC a few days before and was telling me how awesome of a show it was.

I arrived at the Metro fairly early. I really like the Metro. It reminds me a lot of my beloved 9:30 Club in DC. I stood in the front and center of the balcony (what a surprise!), and waited for the show to begin. There wasn't much of a wait, before the opening-opening act, Tyler Ramsey:
http://tylerramsey.com/
, took the stage. He is a guy with a guitar who played beautiful, dreamy, soft music. I really liked him and his voice. I didn't know any of his songs, but was really impressed by them. His album A Long Dream About Swimming Across the Sea will be out in January. Fans of Iron and Wine or Mark Kozelek would really like him. He also ended up playing with BoH during their set.

The opening act was an Australian band called The Drones:
http://thedrones.com.au/
They were loud and rough. In a way even painful to listen to physically…I covered my ears (forgot the earplugs…again!). I was not feeling them at all, and neither was the two gals standing beside me. It seemed like such an odd choice after Tyler. Plus they went on too long for my taste. I wanted more BoH time. I was so happy when they got off the stage.

So during the break I started up a conversation with the gals next to me. Turns out they were from the DC area, but we weren't living there at the same time. They also told me that they loved the 9:30 Club and they liked to stand in "my spot." Good thing we weren't there at the same time. I'd hate to be the jerk that has to point out the little gold plated plaque with my name on it, and then ask them to move.

By the time BoH took the stage the crowd was going nuts. The first thing I thought was "Ben Birdwell has really let his beard get out of control." How can you stand facial hair like that? Really?


At one point he did put a hat on, but I still don't think it helped with the hair situation.



They immediately started (due to that damn 10pm show end time) and started with "Is There A Ghost":


They then continued with songs from the new album and their first album Everything All the Time. They played:

"No One's Gonna Love You"


"Weed Party"


"Our Swords"


"Part One"


"The Funeral"


They also played a song that seemed like it was a cover, but I have no idea what it is. If you do, please let me know. It was so good…or at least their version was!


And also: "LRC," "Islands On The Coast," "Marry Song," "The General Specific," "Great Salt Lake," "The First Song," and "Monsters."

For the encore they played:

"Act Together" (cover song, original by The Rolling Stones)

You can see Ben pointing to his girlfriend at the start of the song.

"Cigarettes, Wedding Bands" (my FAVORITE song)


I really loved BoH live. This was my first time seeing them and I know it won't be the last. This show was so fun and they are great performers. They still have some more US shows this year and the start of the next. In February they head off to Europe. So go when you get a chance.

xoxo,
Stefania
Tuesday, December 04, 2007
"But Baby I don't need you cash, Mama got it all in hand now…"
So a month ago (yes, I have been slacking, but I am doing my best to catch up) I had two nights of Tori. When the tickets for the US leg of her American Doll Posse tour went on sale, only one Chicago night was listed for Nov. 5th at Auditorium Theatre. A few weeks later another show was added for the 6th at The Vic. I debated it for a split second, but knew I had to go. For each of the shows on this tour the first part of the show she would be one of the Dolls (Isabel, Clyde, Pip, or Santa), the character/voices from the album, and then she would do the rest of the show as Tori. It was exciting to guess who would make an appearance for the Chicago shows.

The opening act for this tour is a guy named Yoaz. The first night I arrived at the theater late with just enough time to see his last song, a cover of the Pixies' "Where is My Mind?" Which he did beautifully. I knew I would see him the next night so I was not as upset. So the second night I was there to watch his act. It was just him, his guitar, and some effects. He is really talented. For some reason I cannot find his website. Weird. But if you get a chance check him out.

Yoaz at The Vic



Nov. 5th: Auditorium Theatre at Roosevelt University
I have never been to this venue before. In fact I had never heard of it. Like I said previously I had arrive late. Just to see Yoaz's last song. But when the house lights came up…WOW! This place was gorgeous!
http://auditoriumtheatre.org/wb/pages/home/about-us/photo-gallery.php#
(click on "Pictures of Auditorium Theatre"). There wasn't much of a wait time before Tori came to the stage. Which was good. I think Chicago has a law that shows must end by 10pm. They seem to start early and end by 10pm. Just a guess. Anyhoo…when the house lights went down and the band took the stage Tori came out as Santa! Yay! Santa is the Doll that represents beauty, love, passion, based off of Aphrodite:
http://www.myspace.com/iampossesanta
She came out and pranced around before she sat at the piano and started to play "Body and Soul" one of my favorite songs off of American Doll Posse. The set list for Santa included:
"She's Your Cocaine," "Dragon," "Secret Spell," "You Can Bring Your Dog," and "Raspberry Swirl."

Santa



Then when the band started to play "Professional Widow" she danced off the stage. Costume change time. Then she came out as Tori. She was wearing this gold sequined one armed cat suit. Her hair was red and a blazin'!

While she was Tori she played: "Big Wheel," "Concertina," "Tear In Your Hand," "Cornflake Girl," "Your Cloud," "Take To The Sky," an improv version of "Nobody Knows the Trouble I've Seen," "China," "Cooling," "1000 Oceans," "Hotel," and "Code Red."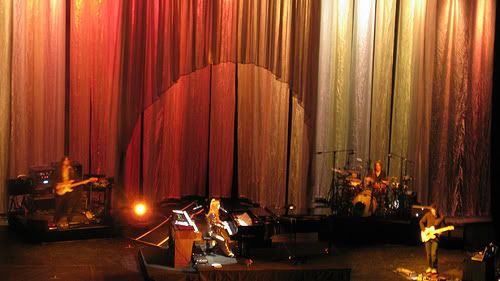 During "Nobody knows..," "China," "Cooling," and "1000 Oceans" she was solo and there was this T&Bo light that looked very much like Tiffany&Co. This part of the show got a little emotional for me (won't lie) since "Cooling" and "1000 Oceans" have such a significance to me. The highlight was when she sang the "brambles" verse of "Cooling" which she sometimes leaves out. Oh so good!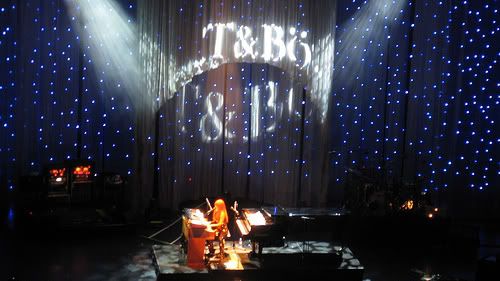 After "Code Red" she left the stage for a split second (it was nearing 10pm) but came back out for the encore which consisted of "Precious Things" and "Hey Jupiter" where she sang part of the bridge of the Dakota version of the song. Which I love that part so I was kinda bummed she didn't sing it fully. But hey I got "Cooling" so I wasn't gonna complain!

On the train ride home there were tons of fans discussing the show and then talking about the next night's show. I was really curious on what time people were going to get there. Doors opened at 6pm, show starts at 7pm. Tori's fans are notorious for being crazy and obsessive. With The Vic being so small I wanted to get there early. I debated skipping work. I debated taking a half day. I thought I would let myself decide in the morning.

Nov. 6th: The Vic
So when I woke up I decided to take a sick day. I had actually worked that weekend (visited Purdue) and I really did want to sleep in and just rest. Plus I wanted to be at the Vic by 1pm. I slept in, got ready, got lunch, and was at The Vic by 12:30pm. I was number 32 in line. Whoo hoo!

The nice thing about Tori fans is they are pretty friendly. In fact the people ahead of me I spoke to on the train the night before and the people after me sat next to me during the show. It was great sharing stories of past shows, talking about songs we would love to see live that we haven't ("Doughnut Song" for me), and speculating on which Doll would appear at The Vic (our money was on Pip…our hope was for Pip).

Now I thought I was a super huge fan, but after speaking to some of these people I realized I am a different sort of fan. One guy was using 9 of his vacation days to follow this tour. One guy from England was following part of the tour after he had seen most of the European shows. There was this group of 4 friend-fans who were following her pretty much everywhere on this tour. It was amazing to think how much time and money people spend on this sort of thing. I did ask if they go and see other shows or just Tori ones. Many of them said just Tori ones. I guess if you are constantly following her it doesn't allow for much time for other artists.

In line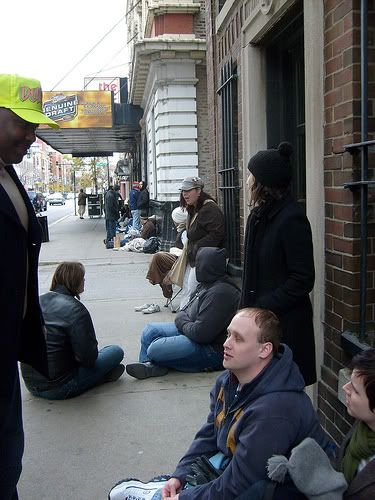 Entertaining ourselves by realizing Tori fans like Chuck Taylors (I'm the red)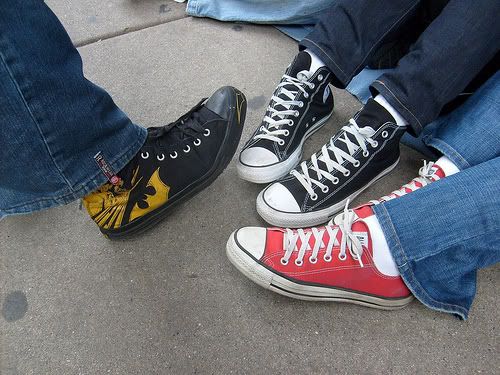 Chatting with new friends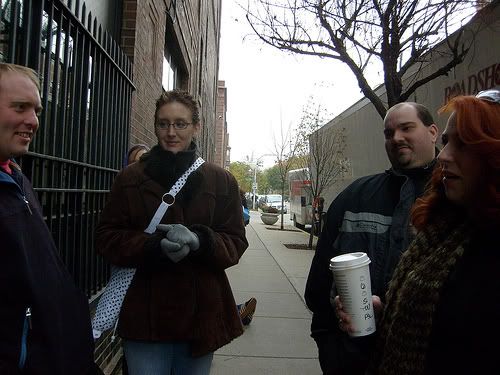 Marquee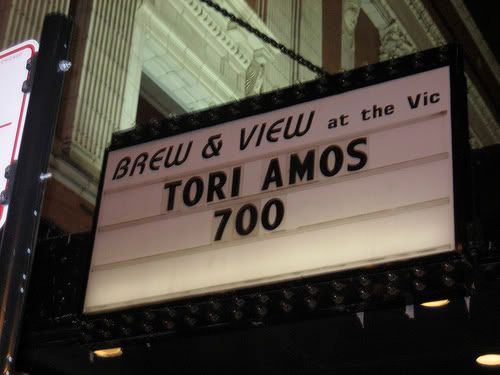 By the time we got into The Vic we were slightly frozen. I knew I could have made my way closer to the front, but I wanted to stand where I had a good spot and a little elevation. I had the best spot I think in the first tier. Those of you who have been to The Vic know. And those of you who haven't come visit and we'll go see a show.

So the show started with Yoaz, and like I said he was pretty good. Very creative and talented. And then in about 30 minutes they got the stage ready and the show began. Then to the crowd's delight Pip walked out. Pip is the Doll that is based upon Athena, goddess of war, wisdom and strategy:
http://pipolitics.livejournal.com/
Plus, she is the only Doll that could have easily fit into the look and history of The Vic. She came out and started with "Cruel" where she improvised a part about using and abusing someone you "love." It was intense and at that point we knew that Pip was going to be intense. She continued on with "Bliss," "Teenage Hustling," "Fat Slut," "Smokey Joe," "Waitress," and then ended her set with "Me and a Gun."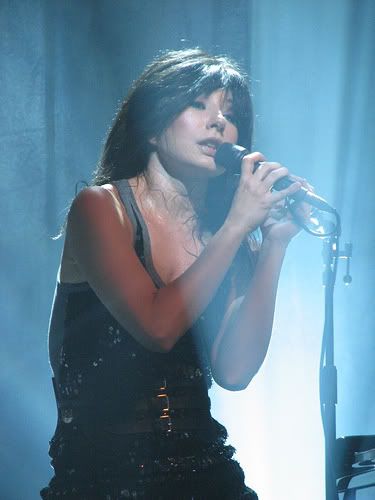 Pip is also confrontational and it came across in many of the songs. Hearing her sing some of them brought a new life and meaning to them. The one that hit the hardest was "Me and a Gun." The song that is usually sang a capella and as soft as a secret prayer (it's the song about Tori's rape) was anything but the usual. It was angry and loud. She also used props (a knife, a gun) that just brought it to another level. Yowza! The crowd just stood there in shock and awe. It was intense times a billion. In a way left you feeling awkward and uncomfortable…but that is Pip.

As Pip walked off the stage the band started to play "Professional Widow" for the costume change. When Tori came back out she was in another sequined one armed cat suit in leopard print. To lighten the mood she began with "Big Wheel."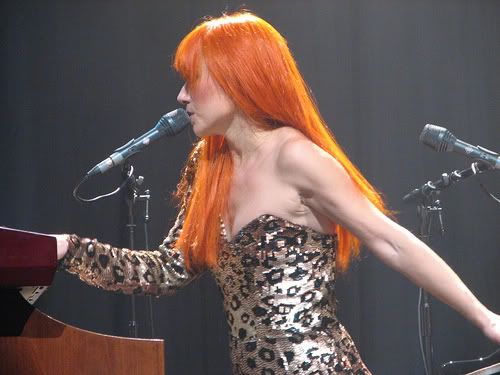 The rest of her set included: "Sugar," "Almost Rosey," "Cornflake Girl," "Liquid Diamonds," "Caught a Lite Sneeze," "Winter," "Happy Phantom," "Digital Ghost," "Hotel," and "Code Red."

For the encore she did "Precious Things," "Bouncing Off Clouds," and "Hey Jupiter" this time fully singing the bridge of the Dakota version:

"I go from day to day
I know where the cupboards are
I know where the car is parked
I know he isn't you"

I just love, love, love that part! So good!

So at 10pm on the dot, the show was over. We were shuffled out and just hyped up on what we had just seen. I was really glad that I had got there early. I met some cool people and made some great new friends (Sarah and Bryan).

I love Tori Amos. She is my absolute fave. She is creative, energetic, and just a great showman…err uuhhh show woman….or is that womyn? In any case, I know that she is very much an acquired taste. And I know that most people have a perception of her. However, if you are brave enough I say go see her live. Oh and "Bring your sister if you can't handle it…"

xoxo,
Stefania