Tuesday, November 07, 2006
Viva Las Vegoose
So a week ago I was leaving Vegas and heading back to a colder NYC. Being my first trip out to Vegas I can say it went well. As you all know (or will know now) I am not a gambler. The type of gambling I enjoy is I give you money and you give me shoes. We both win. So I did do some shopping out there, but nothing too crazy.

Okay so now on to Vegoose! Being my first music festival I had no idea what to really expect. I was envisioning what I have seen on MTV when they covered Woodstock '99 (less looting, fires, and rape though), Live 8, or Lollapalooza. What I got was similar but on a much less grand scale. Vegoose is done by the same people who do the summer music festival Bonnaroo. Like I mentioned previously, I was only doing day two of the festival. I went with my friend Paul, who was working on the Widespread Panic tour. I was really fortunate because one of Paul's fellow crew men was not feeling well, and so he really had no plans on going to Vegoose…which means that I got his pass. So I now have a really cool souvenir of an artist pass. Plus it allowed me access backstage and other areas the normal folks didn't get to go. Unfortunately, I didn't meet anyone or get to interact with any of the musicians other than a "hi" or a wave. Oh well.

When we arrived we noticed that there were not a ton of people like we expected. But that was okay, I mean it was only 1:30pm, and doors opened at noon. There were four stages: the Double Down Stage (main stage), the Snake Eyes Stage, the Joker's Wild Stage, and the Cabaret Clubs Tent (which looked like a circus tent). We had ended up missing the first act, Band of Horses, who I wanted to see, but what can you do? We went over to the Snake Eyes area first because Built to Spill was playing. We only saw half of their set, but they were awesome, and sounded really great live. They had a good crowd and people seemed to know who they were.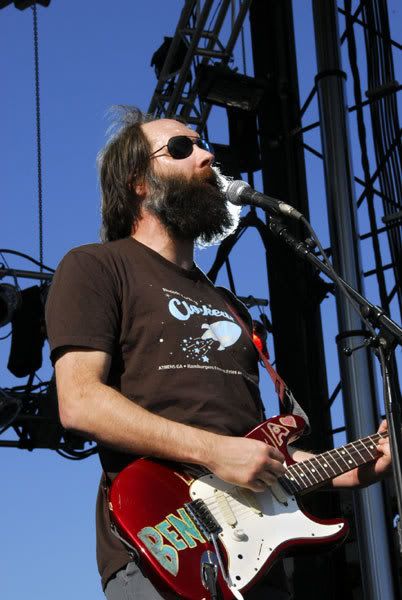 Doug Martsch of BTS

After that we went over to the Cabaret Clubs Tent to see Guster. I have seen Guster three times before, so I really just wanted to catch some of their set. We spent some time wandering the grounds and then walking over to the main stage to see The Rhythm Devils with Mike Gordon (of Phish—he said hello to me backstage) and Mickey Hart (Grateful Dead). They were pretty good and had the heady crowd. We left before their set was over to check out Fiona Apple.



Now I LOVE Fiona. Her music is so brilliant. Her music and lyrics just touch you to the core. Her music to me never gets old. It is timeless and has defined so much of what I was feeling at one time or another. Her crowd was large, and you could tell they were also fans. But as a performer, she is awkward….especially when she is not at the piano. She moves around like a bird that has an injured wing. Sometime flailing around on the stage and making movements with her mouth when not singing. Maybe that's her "getting into the music," but to me it just looked weird. She must have not been feeling well because she was straining at times with her voice, and she didn't play the piano the whole time, one of her band members did. She did sing most of the stuff you wanted to hear (you have to know that everyone with the exception of some of the later acts on the main stage had only an hour or a little over an hour to perform). We didn't stay to the end of her set because we wanted to check out Phil & Trey (see previous blog entry).

They also had drawn a large, heady crowd. Paul said it best. He said that if Vegoose wants to do well they should just take the remaining members of the Grateful Dead and Phish, and shuffle them around and they can perform the whole weekend. And as funny as that sounds I have to agree. But we pulled ourselves away for a bit to check out Jenny Lewis & the Watson Twins. Their act was very similar to how I last saw them. We stuck around for a few songs, but Trey & Phil were drowning them out. It was strange though seeing such a small crowd for her show. But at least I was able to get pretty close up.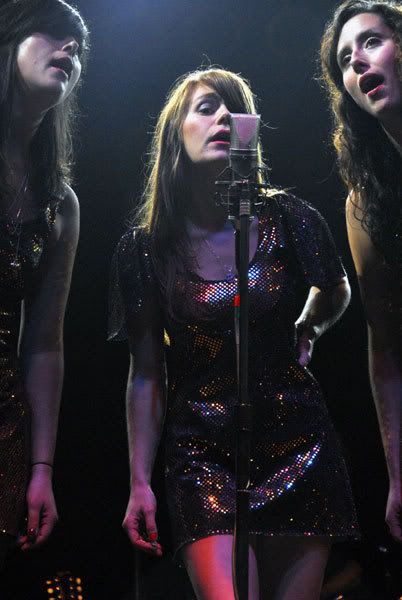 After Jenny was done, we were waiting for Ben Folds to come on. But by that point we were tired and it was getting colder. Plus I have seen Ben Folds 4 other times, so I wouldn't lose sleep over not seeing him again. Well I did see him the night before. He was staying in the same hotel as me, and as I was leaving the bar around 12:30am in my drunkenness I noticed him walking by. I called out, "Hey Ben!" and smiled and waved. He turned around and smiled and waved back. I was okay not seeing Ben perform. So we left to head back to the Strip.

The overall structure and feel of Vegoose was pretty cool. Since it is over the Halloween weekend, they had several things to remind you of this. The largest was the Evil Pumpkin.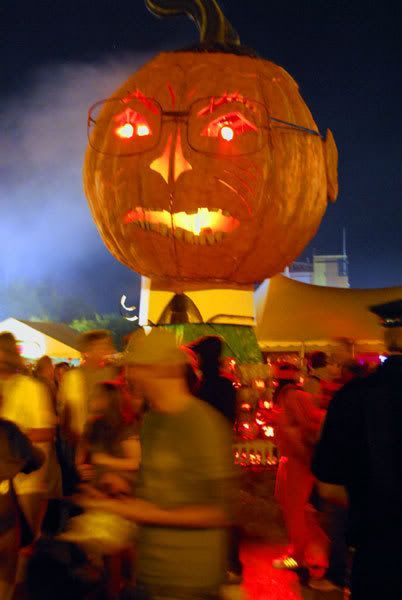 They also had a Farris wheel and a tent of famous look-a-like performers, like Ozzie, Austin Powers, Alice Cooper, Tina Turner, etc.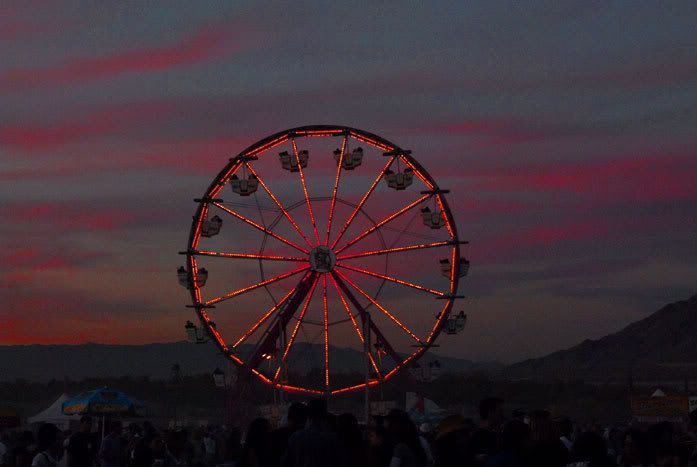 The crowd was pretty laid back and respectful. Some people were in costume, which was encouraged. The landscape was very flat. It was like being back in Oklahoma again. Well except for those random mountains! Anyway, the overall feel of the festival was cool, but a little strange. The acts were diverse enough to draw different crowds, but I'm not sure why there weren't more people in attendance. Maybe it's the weekend? Maybe the acts were not "big" enough? Who knows? But in the end I don't think I'll do another large festival again. I'm not opposed to it, but it was more of like being at a buffet. Having a little bit of this act here and a little bit of this act there and then leaving me feeling stuffed but a little sick because I took in too much. I think I prefer my seeing my acts like a nice meal. The opening acts are the pre-dinner drinks and appetizers, the main act is the entrée, and the encore is the dessert. I leave feeling full and satisfied, and willing to dine there again…errr uhhh I mean see the act again!

On Monday night I got to see Widespread Panic for the 4th time this year. When your friend works for a band you go see them when you can in order to see your friend. But this time it was a little bit special because it was their Halloween show. They had stage decorations, go-go dancers, and were in costume. The crowd also showed up all decked out, and the energy was exciting. Also Carrot Top (who is a good friend of Dave Schools, bassist) was there. Like I have said before I had never heard of WP before, but they are a good band, just not my thing. But I will continue supporting them and going to shows as long as my friend works for them.

So the next day I woke up, got myself ready, and made my way to the airport. I left Vegas in one piece and not broke. Overall it was a nice trip and now I can put a star on my US map of another state I have visited. I did get to spend time with my friend Ann, and I hope that I'll get to see her again soon. Until then…

xoxo,
Stefania

P.S. Thanks to Steve Hopson for his photos:
http://stevehopson.com/VegoosePhotos.htm

P.P.S. So in Shakespeare's play Hamlet, Marcellus said, "Something is rotten in the state of Denmark." Apparently he had not heard of the band Mew. Even though this Danish group has been around since the 90s, I have just discovered them now with their latest album, And the Glass Handed Kites. I first heard "The Zookeeper's Boy" and thought it was fabulous until I heard their latest single, "Special" (video below). Their music is melodic and have recently gotten more attention from the press. I suggest checking them out.