Monday, May 19, 2008
Colin back in Chi-town
So for the last month I have been to seven shows. Three of those seven shows I had not planned to go to, but the opportunity arose and so why not? Going to shows is awesome, but as you all can tell I've been slacking on getting them posted on my blog. So I hope to crank out those entries as soon as I can.

My run of shows started on April 21st when I saw Colin Meloy at Park West. This is his 3rd solo tour and my first time seeing him this way. When tickets went on sale I ended up getting two hoping someone would want to come with me. I invited my friend Lynnae, who I met through improv classes, to join me. She had heard of the Decemberists and was told she would really like them, but hadn't heard them. However, we have similar musical tastes (and in other stuff) that I thought she would enjoy the show. I was right!

For Colin's solo tours he basically just plays Decemberists' songs acoustic. So the set list was filled with some favorites as well as some new songs and covers. I can't recall the order the songs are in, and I couldn't find the set list online anywhere (I also did not look hard enough), but he started out with "Leslie Ann Levine" which I was super excited about since it is one of my faves. He also played:

O Valencia!
The Perfect Crime
Shankill Butchers
We Both Go Down Together
The Engine Driver
The Mariner's Revenge Song
A Cautionary Song
Oceanside
Kingdom of Spain
Apology Song

Each solo tour he chooses an artist to cover and releases an EP of those songs. In tours past he has done Morrissey and Shirley Collins. For this tour he has decided on Sam Cooke. He played a very beautiful version of "Cupid" with harmonies provided by opening act, Laura Gibson. Sadly, I arrived late and only got to see part of her act, but she was pretty good.

He also played two new songs, one was still a work in progress. I cannot wait for the new Decemberists' album. That means they will go on tour again. Hooray!

I'm glad I got to see Colin solo and be a part of a show that was more like a crowd sing-a-long. Everyone in the audience was a fan and that made the vibe extra fun. This tour was also in support of his new solo CD Colin Meloy Sings Live! which was recorded during his 2006 solo tour.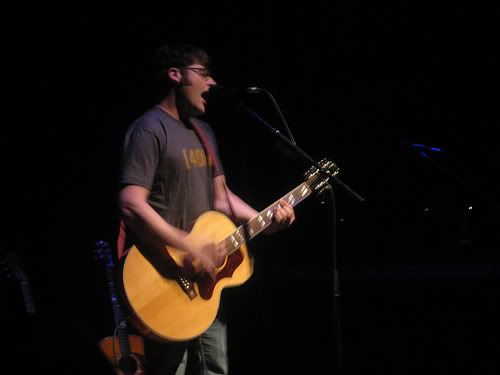 xoxo,
Stefania

Here is Colin singing "Oceanside" at Jackpot Records in PDX a little over a month before I saw him: