Tuesday, October 07, 2008
KEXP and Pitchfork Music Festival
So there was a week in July (16th-20th) where I was balancing my musical overload lifestyle with my regular life. I had just gotten back from one of my leadership institutes and I was preparing for the KEXP visit and Pitchfork Music Festival.

My favorite KEXP DJs, John Richards and Cheryl Waters, were going to broadcast live again from Engine Studios in Wicker Park for 3 days (July 16th-18th) and have some great in-studio performances from Chicago-land and beyond. Since I had just gotten back from a work trip I wasn't able to volunteer all three days like I wanted to. Instead I was only at Engine on Friday. Since last year, I have moved up in my volunteer duties for the in-studios and served as the "creative assistant" specifically working with Jim Beckmann, who is in charge of the blog.

But before I move on to Friday…On Wednesday the 16th we had our listener appreciation party at Darkroom making it a bonus Equalizer for the month. I was on hand as the "KEXP Girl" sitting behind the table handing out swag and giving info out about the station. Here I am with another volunteer, Michelle, giving away a sticker: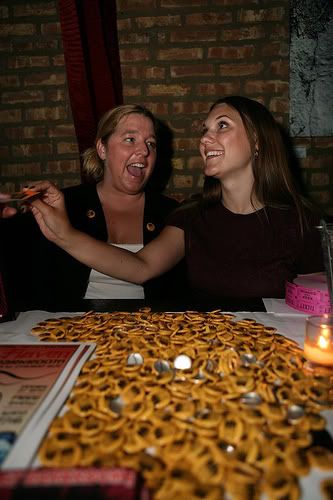 (Photo by Jeremy Farmer)

To read about the event, check out Mike Turner's post on the KEXP blog:
http://blog.kexp.org/blog/2008/07/23/equalizer-showcase-darkroom-chicago-7308-kexp-listener-party-with-catfish-haven-au-sleep-out/


Back to Friday…I was going to be working with Jim on the blog, my specific role was transcribing all of the interviews with the artists. Now this sounds really cool, I mean I got to sit in on the interviews and be the fly on the wall. However transcribing is tough! Especially for a quasi-perfectionist like me. But I did have fun and it was a new experience for me. I ended up transcribing the interviews for The M's:
http://blog.kexp.org/blog/2008/07/18/live-in-chicago-day-3-the-ms/
, David Vandervelde:
http://blog.kexp.org/blog/2008/07/18/live-in-chicago-day-3-david-vandervelde/
, and The Occidental Brothers Dance Band International:
http://blog.kexp.org/blog/2008/07/18/live-in-chicago-day-3-the-occidental-brothers-dance-band-international/
. Overall the day was great and it was fun being back in the studio watching the "magic" happen.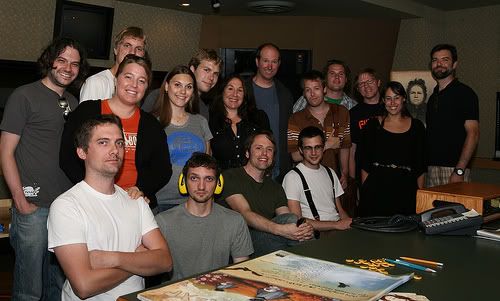 The Friday volunteer group with KEXP staff


(photo by Jeremy Farmer)



Friday night kicked off the Pitchfork Music Festival at Union Park, however, I had just volunteered to work on Saturday. KEXP was an official sponsor of the festival this year and so they needed volunteers to be at the table answering questions and handing out swag…the things I do for Equalizer. Since I am still not a fan of festivals I thought I'd give it a shot from another angle. I did pick to work Saturday since the line-up had more acts I wanted to see and after my shift I was free to enjoy the festival. So I took the earliest one and was in charge of set-up. The unfortunate thing about Saturday was that it rained for most of the day. Yuck! Here I am (in the green dress) setting up:


(photo by Jeremy Farmer)

When my shift was over I met up with some friends to check out some of the acts. I actually had several groups of friends who were going to be there, and I tried my best to balance all of them. Of course midway through my day I was granted VIP status, not by KEXP, but by another vendor that was close to the KEXP booth. It pays to be cute and flirty my friends. Not that I was looking to get VIP status, but if an attractive guy asks if you want a laminate and a wrist band you too would probably say yes. What was also great was that a group of my music industry friends (managers of bands, the bands themselves, and journalists) also had VIP status so I could hang out with people behind the gated-fancy pants part. However, the VIP stage area sucked. You were on the side of the stage (which sounds great) but actually wasn't since you couldn't really see the band, or if you did you might see a few members here and there. But I got as much free beer as I wanted. Whoo! Being sarcastic there, my dear friends.

I was not as stressed out about actually seeing acts, which normally causes me to not enjoy festivals. This time I was very go with the flow and would just wander around with friends from stage to stage. To be honest it would be best to say I caught a few songs from: Fleet Foxes, Vampire Weekend, The Hold Steady, and !!! The only act I made sure I saw a majority of his show was Jarvis Cocker.

Overall Pitchfork wasn't bad. I had some enjoyable moments and made the experience more about volunteering and spending time with my friends rather than making sure I saw this band or that band. I figured if I really wanted to focus on an act I would see them when they come back on tour…because they always do come back.

xoxo,
Stefania
P.S. Jeremy Farmer chronicled the KEXP in-studios as well as Pitchfork. Check out his pictures here:
http://www.flickr.com/photos/farmdog/collections/72157606348692030/