Thursday, September 28, 2006
Oh Yoshimi!
So on Monday (9-25-06) night I went to see The Flaming Lips at Hammerstein Ballroom. Many of you know that I enjoy a live show from time to time. Okay that's an understatement. I love going to shows. There was a point in time when I was frequenting the 9:30 Club (DC) so often that the people working at the door said, "Stefania, are you back again?!?!"

Live shows are definitely a great way to see a band, and a fabulous way to discover new bands. And bands on the rise. You never know who is going to make it big. The first time I saw The Killers they were the opening-opening act for Ambulance LTD and Stellastar*. At that time they didn't even have a web site. So you never know who you are going to see when you go to a live show.

Anyway, back to The Flaming Lips. I was really pumped to see this show. Not only are they a great band, who have been around for decades, they are fellow Okies. And that makes me proud. I mean c'mon I never was into Hanson, and I would never claim Color Me Badd. So at this point when it comes to indie rock I've got the Lips and the Starlight Mints.

I went to the show with my roommate's co-worker/friend Matt, who is an excellent concert buddy. The opening act was a band named Danielson from New Jersey. There are 10 members in this band, however, they don't always tour with that many. The lead singer is named Daniel and the rest of the members in the band are somehow related to him as siblings or through marriage. They wear costumes, and all play some sort of instrument.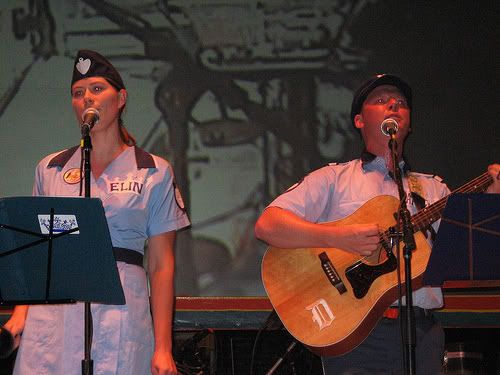 I personally didn't care for them all that much. I really enjoyed the music they made, but Daniel's falsetto and sometimes nasally vocals, made it less enjoyable for me. There were moments that I did enjoy, but not enough to buy any of their albums or go see them live again. But hey, they could be someone's favorite band. They just aren't mine.
http://danielson.info/

So after Danielson left the stage members of the Lips' crew (who were dressed as superheroes), and the Lips themselves started setting up the stage, etc. Once all was ready, and the show was started I really didn't know what to expect. I had read about their shows, seen pictures, and heard they are worth seeing live. But nothing could really make me finally understand it all, until now.

They opened the show with Wayne going across the crowd in his big giant bubble. I wonder if he ever tires of that? And tons of confetti and balloons...which would continue to be used the rest of the performance.



On one side of the stage they had female fans dressed as aliens and on the other side of the stage they had fans dressed as Santa Clauses.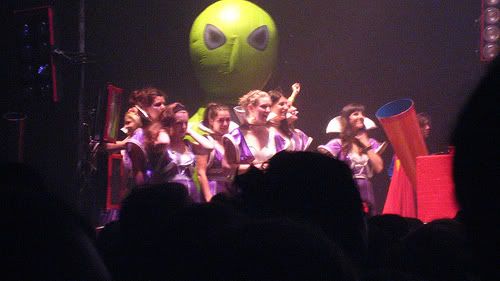 I wonder if this is a preview of Wayne's film, "Christmas on Mars" which is rumored to be released in 2007.

The Lips played songs from their new album, "At War With the Mystics" as well as songs from "Yoshimi Battles the Pink Robots" and "The Soft Bulletin." The even played a crowd sing-along favorite, "She Don't Use Jelly."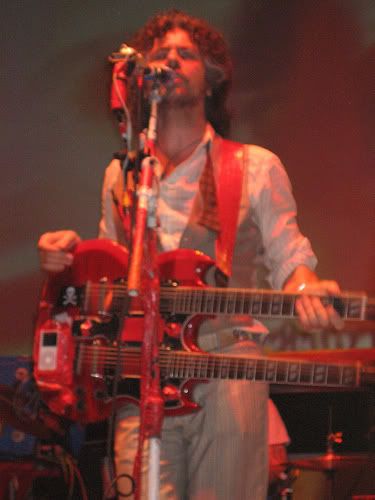 In addition to confetti and balloons, they used props and also utilized a video screen that showed Japanese game shows, dancing ladies, and images from a camera attached to Wayne's microphone.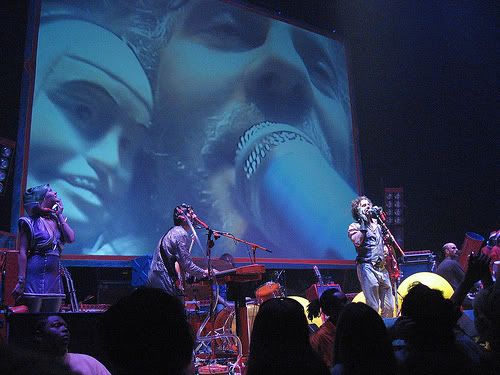 Why yes, that is a nun puppet!

After rockin' it for an hour and a half they closed with a slower song, and with Michael wearing the giant hands: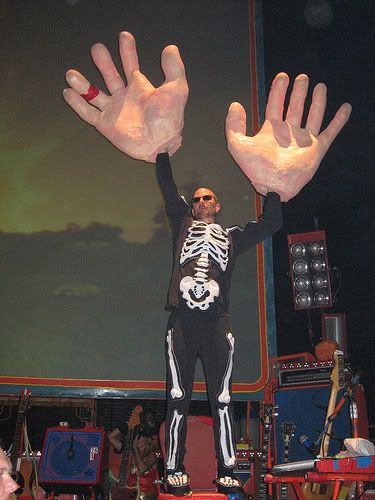 Matt and I were reminded of the "Everlong" video by the Foo Fighters, where Dave Grohl's hand gets incredibly large when he gets upset and lays the smack down. But it was not like this at all. Instead Michael used his giant hands to cradle the Teletubbies' sun (yes the children's show) and hug his band mates.

Overall, this was a really great show, and it was the last stop on the tour. They have been on the road for 7 months now, and it's always nice as an audience member to be part of a final show. It's like the band really wants to savor the last bit of it, and you get to help make that lasting memory. Okay chances are it isn't like that at all, but hey, humor me dammit!

If you ever get the chance to see the Lips, I say go. Even if you don't know any of their music. It is totally worth it. They are interactive with the audience and are engaging. Plus, Wayne's banter is fun. Also, you can't help but dance and smile the entire time. Which are two pluses in my book.

Until next time….

xoxo,
Stefania

Wayne in the bubble to open the show:


The best Flaming Lips song…ever: "Do You Realize??"


http://www.flaminglips.com