Tuesday, October 17, 2006
"But when I sell out and leave Omaha, what will I get?"
Last Thursday evening I visited Town Hall to see the fabulous Jenny Lewis. Jenny is not from Omaha. She is from the city of sin, glitz, and glamour…Las Vegas. She is the lead singer of the band Rilo Kiley, and had released her first solo album, Rabbit Fur Coat, this past January with the help of the Watson Twins (Chandra and Leigh). If you don't have it yet, go get it!



I have been waiting at least 5 months to see Jenny live, and it seemed that every time she rolled into the DC/NoVA area I couldn't make it. So I was very happy to get the chance to see her here in NYC. Her opening act, The Little Willies, unfortunately had to cancel the New York shows. But they are worth checking out if you get a chance, and why yes, that is Norah Jones
http://www.emimusic.ca/thelittlewillies/

Instead, Willy Mason performed for us. He is currently working on an album in New York, and was able to make it out to play us some songs on his guitar. Willy has been surrounded by music his entire life (both his parents are folk singers), but he started to receive more attention after he got a ringing endorsement from Connor Oberst (of Bright Eyes). His voice was strong, full of emotion, and he had some great songs to sing If you like that whole guy with a guitar thing I would suggest checking him out.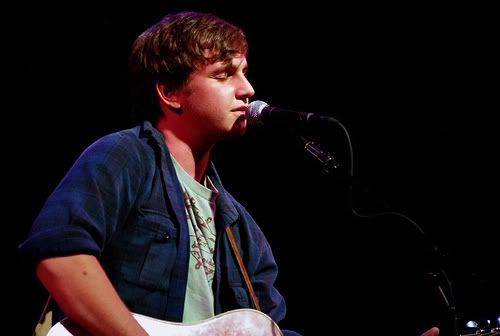 Willy's site:
http://willymason.com/

After Willy performed we waited about 30 minutes for Jenny to come on stage. Maybe this is a Town Hall thing. Why was there such a long unnecessary break? They did this for Sufjan too. Anyway the crowd was getting antsy and finally when Jenny and crew arrived on stage it looked more like they were members of a wedding party (the girls in black dresses and bare feet (bridesmaids?) and the guys in slacks, collared shirts, and sport jackets) rather than a band coming to perform for us. Armed with her guitar in hand (it seriously was half her size) she started to sing "Long Black Dress"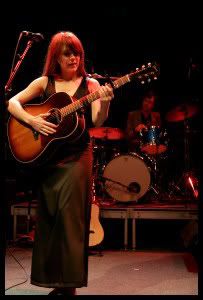 During the black dress portion of the show, she sang the slower songs off the album, and had us all swooning with delight. There was a little more crowd involvement than the Sufjan show, but over all everyone was pretty tame. Except for the guy who kept yelling, "I love you Jenny!" in between songs. And he did it through out the show. At least his love was unwavering.

Then the ladies left the stage as the rest of the band played on. They played this very upbeat tune, and then the guitarist Jonathan Rice (he played Roy Orbison in Walk the Line, has his own solo album, born in Alexandria, VA (woot!), and is currently Jenny's boyfriend) introduced the band in a very announcer-esque way. Then he gave a pause and introduced the Watson gals and "…Then all the way from Las Vegas…Jenny Lewis!" All three ladies came out in sequined mini-dresses and sang the song "Fernando." No, not the Abba one…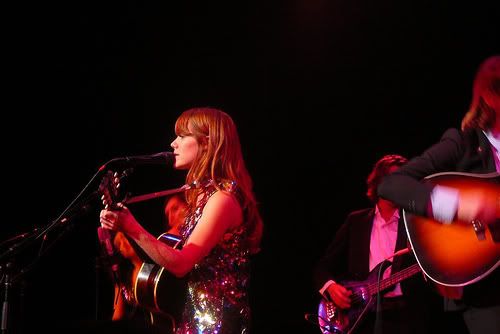 The next series of songs are a bit more upbeat, and at least some heads were bopping along in the crowd. She also played some new songs and got us all wanting more as her set was coming to a close. With one album out there is only so much material you could do. But I think we would have stayed all night listening to the same songs over and over again if we could have.

She left for a brief moment, but then returned to the stage solo for the encore of "Rabbit Fur Coat." Which she did beautifully. For the last song she and the group sang "Handle Me With Care," the song on the album that has Jenny calling in favors from those musicians she has lent her vocals to over the years. She sang Connor Oberst's and her parts, Jonathan sang M. Ward's part, and the Watson twins sang Ben Gibbard's part. Before they started she asked for us to stand. Since this is an upbeat song and just demands that your body moves. However, more than half of the crowd in the venue that night was lacking a pulse. There was very little movement. Hello there?! Do the crowds that go to Town Hall shows not dance? I didn't care. I had to move!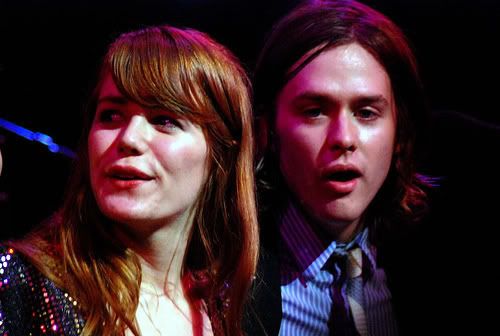 Jenny and Jonathan

Jenny Lewis and the Watson Twins, and the band accompanying them, put on a great show. And right now on a fabulous NPR show, All Songs Considered, you can hear Jenny and crew live from their DC show this past Sunday:
http://www.npr.org/templates/story/story.php?storyId=6254742

The set list isn't exactly what I heard, but it's very close. And this will give you an idea of what she sounds like live. Also, you are able to listen to this show (and any of their archived shows) as often as you would like. So listen away!

xoxo,
Stefania

Jenny's solo site:
http://www.jennylewis.com/