Sunday, October 01, 2006
Thinking outrageously I write in cursive...
Last night I visited a new venue for me (Town Hall) to see the extraordinary talented Sufjan Stevens. You say his name "Soof-yan." I missed him while I was in DC, because I had just gotten into his album, "Illinois" a week after he played the 9:30 Club. Fortunately, I was able to see him this tour.

I went with my "friend by default" Sam. I know he hates when I say that, but we are friends because he is really good friends with my roommate. But since I have been in NYC, Sam has become my friend too, and the only person who responded to my mass e-mail months ago about seeing this show. So the rest of you missed out! Start kicking yourselves now…

The opening act is no stranger to the Sufjan family. My Brightest Diamond (moniker for Shara Worden), has toured in Sufjan's band, and appears on his recordings. Her backing band, are also members of Sufjan's (it'd be hard to travel with two sets of string and horn players…so I understand). The highlight of her performance was her version of "Feelin' Good" from the musical The Roar of the Greasepaint—the Smell of the Crowd, or you may be more familiar with the Nina Simone version that appeared on the second Six Feet Under Soundtrack. In any case, My Brightest Diamond's version was great. The rest of her songs were okay. Nothing that really stood out to me, but some of the stories and meanings behind the songs were ummm how shall I say? Oh yes…interesting. Like when she shared a story of working in a restaurant and the annoyance of making sure people had their margaritas. Then she envisioned these people as horses, and if they were bad they would get sent to the glue factory. But she would come, like Tom Waits (and she did a Tom Waits impression) in her big blue beat-up pick-up truck and save them from the glue factory. Then she would take them all back to her place in Brooklyn. Then she went into the song, and I don't think she even mentioned horses. Oh well. When I was listening to her I couldn't place her voice, but it sounded familiar. At times she sounded like a younger sister version of PJ Harvey, but then it hit me that she sounded more like Sinead O'Connor, but not as intense. I'm not sure how much My Brightest Diamond will do solo touring (not right now anyway), but I can see why Sufjan had her open for him 1) her album just came out on his label, Asthmatic Kitty and 2) he needed her for his show! But I'm sure she found an audience last night, and will do well in her own right.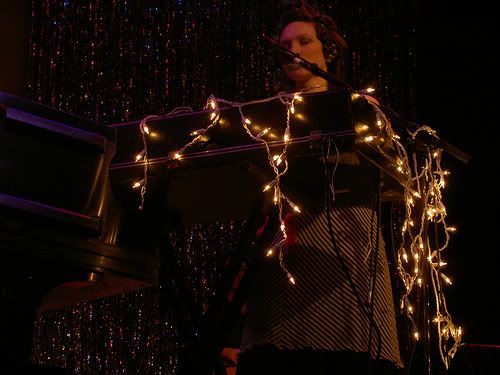 After My Brightest Diamond left the stage, there was minimal set up. In addition to the normalness of guitars getting tuned or the microphones being checked, someone came out to put up these bird kites around the stage.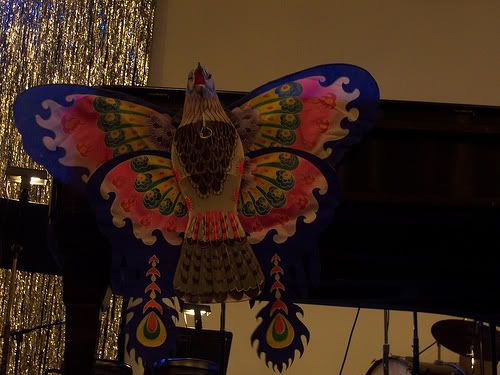 After waiting another 20 minutes the show began. The backing 14 members of his band came out with butterfly wings on, and then Sufjan joined them with a feathered mask and bird wings. He started out at the piano, and started to play "Sister."



Then he welcomed the crowd, and began with the songs we all know and love. For this tour he is just playing songs from "Michigan," Seven Swans," and "Illinois" as well as some new songs.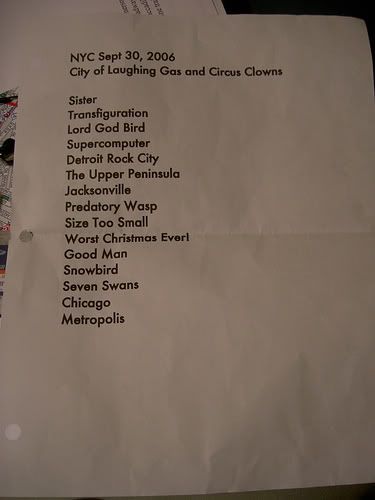 There were many highlights during the show, and unexpected surprises. One was when he played "Jacksonville" (which Sam guessed right away, but I told him he was wrong, but then he was right….there Sam! Are you happy? I admitted you were right!). It is one of my favorites on the "Illinois" album. Sufjan mentioned that Jacksonville, IL does a lot for the deaf and blind, so some of members would be wearing sunglasses due to that. Then about half of the band did.

Then when he played a new song, "Worst Christmas Ever!" (from his album to be released this year, "Songs for Christmas") blow-up Santas were distributed throughout the crowd and tossed around.

This tossing around of blow up items also came out when he performed, "Man Of Metropolis Steals Our Hearts" and blow-up Supermans and Superman hammers floated through the crowd.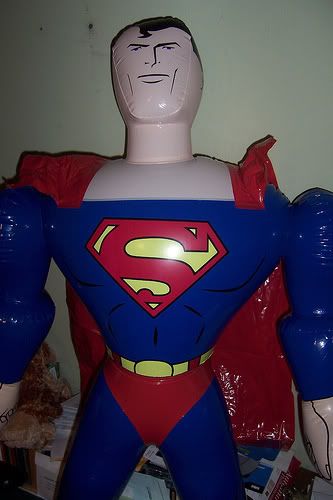 And on the screen was the band's visit to Metropolis, IL where they took photos behind the Superman backdrop and statue.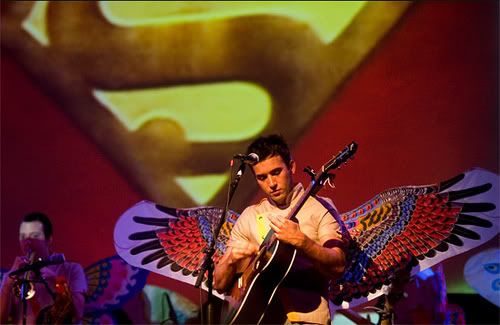 He also played a crowd pleaser and one of my favorite songs of all time, "Chicago."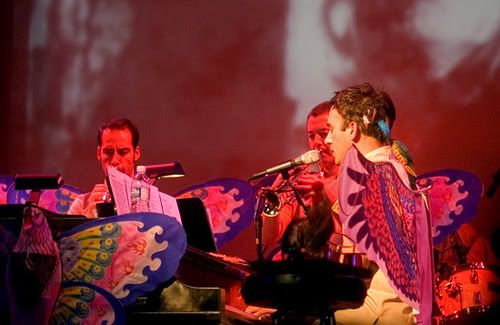 Sufjan was very friendly throughout the show and interacted with the audience well. Before he played, "The Predatory Wasp Of The Palisades Is Out To Get Us!" he shared the story behind it. About he and his friend at summer camp, and how this giant wasp was circling around them when they were out late one evening. They were scared, and how to this day he still fears the giant wasp. However, during the part of the song (which is my favorite) the sound system made this horrible electrical noise, resulting in the song stopping and ears being covered. Sufjan recovered by saying, "See the wasp is out there!" But then they picked up where they left off.

I was really pleased to finally get a chance to see Sufjan live. If you have heard any of his albums, you might think it would be difficult to recreate the sound live, but he did. It had just as much feeling and emotion.

Sam and I both thought the crowd was very polite. Everyone was respectful, applauded when the songs were over, and I heard no singing along. Well there was some reaction when he mentioned New York in the song "Chicago," and in between songs you would hear, "I love you!" being screamed. There was movement during the faster songs, but not a lot. And I don't think anyone stood up during the set at all. Just at the end where we gave him an ovation. But the crowd reaction/participation didn't take away from the show. Maybe everyone was entranced? Under some Sufjan spell? We were all intoxicated on melodies, harmonies, and emotions? Who really knows?

I would highly recommend seeing Sufjan live. He is phenomenal and worth whatever cash you have to shell out. Which by the way at the show t-shirts were $10, and all of his CDs were also $10. See, you can sell merch at a reasonable price! Also, it is sold on the Asthmatic Kitty site for the same price…

Bye bye Sufjan! Thanks for a great show! See you next time!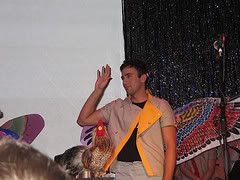 However, I hope he gets his butt back to the studio or visits another state to work on the next album. Incase you don't know, Sufjan has made a very lofty goal of creating an album for all 50 states (what? No love for DC? I know it isn't a state, but the music you could make about that city!). And the joke was after he released "The Avalanche" (which were outtakes and extras from "Illinois"), was, "How was he ever going to move on if he can't get out of Illinois?" The rumor is the next state to be done is Oregon or Rhode Island. However, Minnesota has been mentioned due to a song he has just written and performed live called "The Maple River." Also, Arkansas is mentioned in his song, "The Lord God Bird." So who knows what state he'll do next? I just have a feeling Oklahoma will be close to last. I mean we already have a musical! And he has jokingly said that he will probably not do Texas. I hope it was a joke…

xoxo,
Stefania


To give you an idea of what the show was like:

The start of the show, with Shara singing "Sister"



Part of the song, "Chicago." On the screen were images of Chicago…can you see the John Hancock Center? I heart you my First Big City Love!


A new song called, "Majesty Snowbird." Sufjan said this melody was trapped in his head for 10 years, and this song has become the theme song for this tour. I think it is one of the most beautiful songs I have ever heard.


Song I wish he played: "Casimir Pulaski Day" (maybe next time!)

Sufjan on his label's site:
http://www.asthmatickitty.com/musicians.php?artistID=5
Comments:
looks fantastic (great shots)
i have a review and setlist up from friday
seems like he mixed it up a little bit..
did he do an encore??
Post a Comment
<< Home