Sunday, October 22, 2006
"Walk out into velvet…"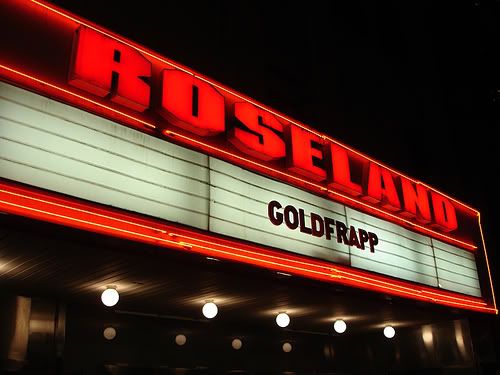 I finally made it to Roseland Ballroom on Wednesday the 18th . To see the glamorous and sexy Goldfrapp. Remember how I said the shows I went to so far the crowds have not danced? Well at this show they were dancing, dancing, and dancing. Yay!

Roseland is a pretty big venue and I got there 15 minutes after doors had opened. It was a large open space, and everyone was supposed to stand. But to the side of the main stage there was a smaller stage. I noticed people going up and sitting on it. So I went up there too, and little did I know I would have the best spot in the place. I was in the front and elevated above the crowd. As the room was filling up, I was able to see the stage perfectly and not have to worry about people pushing on me as they were trying to get to the front.

The opening act were two guys, who were going to DJ. They never said their names, and there was no mention of them on the ticket. And they never utter a word to us. They began their set with some electronic dance music, and soon I realized they were just playing songs off of CDs. Nothing that you wouldn't see on your normal night out. However, their selection of songs didn't quite mesh well with the Goldfrapp fans. They played "Ace of Spades" by Motorhead, "Nuthin' But a "G" Thang" by Dr. Dre, and other random songs you haven't heard in a while, but the last time you did it was probably at a club where people would have been grinding on each other. The crowd was growing restless. The DJs were booed, flipped off, and had things thrown at them. They just laughed and continued their set. Finally when they were getting off the stage the crowd cheered. I felt bad for them, but they really should have known their audience before agreeing to this gig: women and gay men. Motorhead and booty rap songs were not good choices.

After 30 minutes of waiting, the crowd was soon appeased once they saw Goldfrapp take the stage. And like many lead singers, Allison was the focal point. She is a petite woman, who was in a dress that essentially was a shirt, and in heels that had to be at least 4 inches high. Her curly blonde hair, her porcelain looking skin, and her siren like voice had the crowd hypnotized. If it weren't for the synth and drum beats we would have just stood there in awe. Instead bodies were moving, but our eyes were fixed.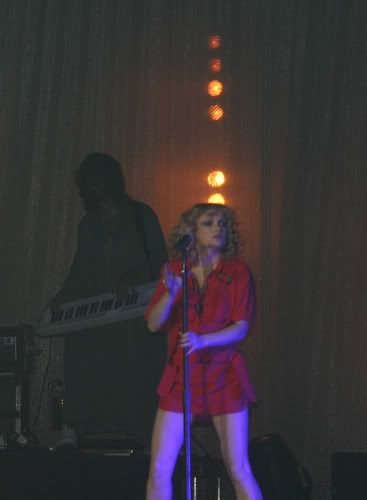 During certain songs there were four female dancers who came out in costume. For one song they wore bikinis and wolf masks.

Another song they wore white spandex suits and silver masks.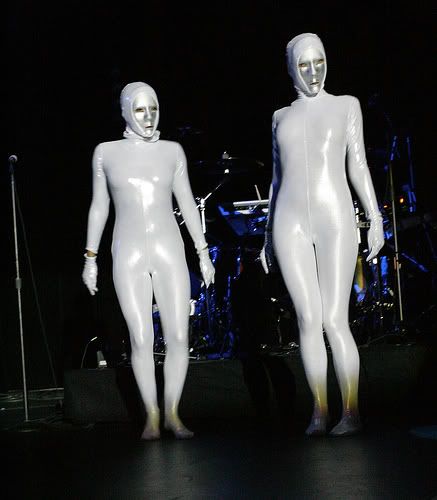 For "Ride a White Horse" they wore leotards, fringe boots, had horse tails, and giant mirror ball heads in the shape of a horse heads. All very interesting.

The set list covered all three of their albums: "Felt Mountain," "Black Cherry," and "Supernature."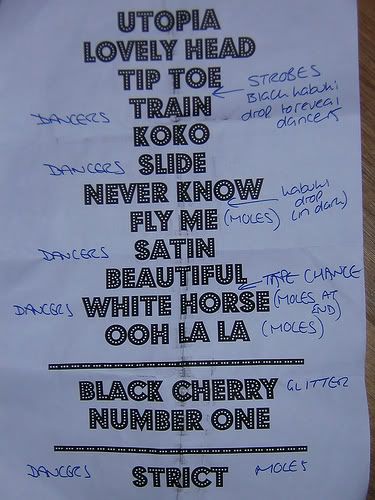 Goldfrapp music, if you have never heard it is actually used in many commercials and on TV shows. Diet Coke, Nintendo, Motorola, Nip/Tuck, and Grey's Anatomy have all used a Goldfrapp tune. Their music is sexy. That is the best way I can describe it.

I really am glad I went to see Goldfrapp. I mean I missed the season finale of Project Runway for it! But it was well worth it. This was the last show of the tour, so if you didn't get a chance to see them this time, ha ha. Hopefully, they'll head back to England and get started on a new album, after some long needed rest of course. In the meantime pick up their albums, and feel beautiful.

xoxo,
Stefania

Video for "Ooh La La"


Goldfrapp web site:
http://www.goldfrapp.co.uk/