Monday, January 08, 2007
My Best of 2006
Musically, 2006 was an awesome year. Albums from familiar favorites proved they still had it, and new bands and artists came on to the scene proving they had what it took. I have somewhat been dreading this entry, I'm not going to lie. These days everyone and their grandmother does a "Best of" list, but what makes me think mine is any more special? Or valid? In fact, I probably should not be doing a "Best of" list. This list will be biased and not fully educated on ALL albums released in 2006…just the ones I bought. And if you know me at all, you know I bought a lot! So maybe this should be a disclaimer, I suppose.

So here is a list of what I consider to be the best albums of 2006. These are the albums that I have enjoyed over and over and over as I experienced last year, and I have no doubt in my mind that I will continue listening to as the years go on.

10.
The Life Pursuit—Belle & Sebastian
In B&S'2006 release, they don't really stray to far from the norm. Known for cheery songs with sometimes sad undertone, this Scottish group did not disappoint on their 7th album. Songs like "Another Sunny Day," "White Collar Boy," and "The Blues Are Still Blue" make it hard to just sit there, at some point you will get up and dance. Songs like "Dress Up in You" and "To Be Myself Completely" are slower, but not any less catchy and evoke emotion of love and longing. If someone had never heard a B&S album before, this is a great one to get started in on.
http://www.belleandsebastian.com/
9.
Robbers and Cowards—Cold War Kids

When I first heard, "Hang Me Out to Dry" in August of 2006, I was hooked and wanted more Cold War Kids. Unfortunately, the album was not released until October. So until then I listened to whatever KEXP was playing by them and frequenting their MySpace page. Robbers and Cowards is one of those albums that as soon as you hear it you want to play it again. Nathan Willet's voice is perfectly combined with the jangly and clangy music provided by the rest of the band. Songs about alcoholism ("We Used to Vacation"), being on death row for defending your sister ("Saint John"), and threatening to not play fair ("God, Make Up Your Mind") never sounded so good.
http://www.coldwarkids.com/
8.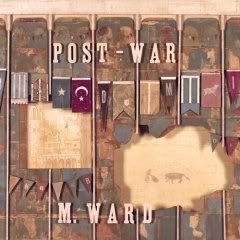 Post-War—M. Ward

It's no surprise that M.Ward's Post-War made my list. In a previous blog entry I had said it was the perfect album for the fall. Well, in fact, it is a perfect album for 2006. And like I said earlier, "Themes of love, loss, life after war, and well life in general make this an album that you can't just listen to once and then put on the shelf. These songs will seep into you. And you can listen to the album over and over and over again…all the way from start to finish." Yes, I just did quote myself.
http://www.mwardmusic.com/
7.
Show Your Bones—Yeah Yeah Yeahs

The instant you hear the drum beat from the first track "Gold Lion" you know that the YYY are not here to fool around. This New York City based band's 2nd album starts out with a bang and has the listener rocking out all the way to the end. Most of the songs like "Way Out," "Honeybear," and "Turn Into" start out slow, but then erupt to a full out rock out. "Cheated Hearts" makes you want to grab your hairbrush and sing into the mirror like you did when you were 14. This album is worth having in your collection.
http://www.yeahyeahyeahs.com/
6.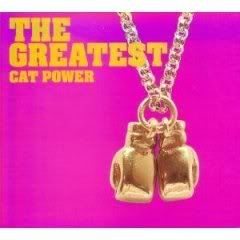 The Greatest—Cat Power

Well Chan Marshall has done it again. Her 7th album is full of songs that are slow and sweet. The kind of songs that linger in the air and hold memories of your lost love and of never fulfilled dreams. Recorded in Memphis, this album has a strong Southern feel. Songs like "Where Is My Love," "Empty Shell," and "After It All" breaks your heart as you think of the sweetheart who is no longer with you. While "Lived In Bars" and "Could We" share stories of the good times. This album easily can stand the test of time.
http://www.catpowerthegreatest.com/
5.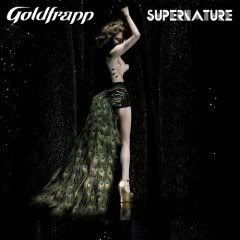 Supernature—Goldfrapp

The third album from this British duo was released a few days after my birthday. When there was still ice on the ground and we all hoped for some heat. Little did we know that it would come from Goldfrapp. This ultra sexy album catches you from the moment you hear the beat of "Ooh La La." All the songs are phenomenal. They have you moving from start to finish. Even some of the slower ones. It's a great album to put on as you are getting ready to go out and hit the town. One song, "Fly Me Away" (my fave) received national exposure in a Garnier hair product commercial as well as in a holiday Target commercial. Like the previous Goldfrapp albums, this one does not disappoint.
http://www.goldfrapp.co.uk/
4.
Rabbit Fur Coat—Jenny Lewis and the Watson Twins

The first solo album from the Rilo Kiley front woman far surpassed anything I could have imagined. Jenny's sweet and songbird like voice harmonized by the Watson Twins' proved that she could do it on her own. Most of the songs have a country twang to them, and you just have to tap your foot along. This album has a genuine sweetness to it, especially in the song, "Melt Your Heart." But she also is sassy and has this attitude about her that makes you just want to go, "Yeah!" as she starts singing something like "The Big Guns" or "You Are What You Love." This album may be her first solo, but hopefully it isn't her last.
http://www.jennylewis.com/
3.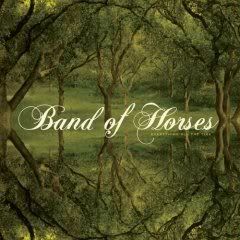 Everything All the Time—Band of Horses

The first album from this Seattle formed group was a pleasant surprise for 2006. I first heard the song "Funeral" and knew that this band had a sound that was intoxicating. Ben Birdwell's voice is warm and comforting and meshes well with the dreamy and gorgeous music. Songs like "Part One," "I Go to the Barn Because I Like The," and "St. Augustine" allow you to see how fragile and flawed love is, but at the same time worth ever second. Even the more upbeat songs ("The Great Salt Lake" and "Weed Party") have a certain sad truth to them. I bought this album later in the year, but I find myself turning to it more and more regardless of the mood I'm in. It flows nicely and is just quality.
http://bandofhorses.com/
2.
The Crane Wife—The Decemberists

At one point in time my friend Tim said, "Death Cab for Cutie is so good it is unfair to other bands." After listening to the fourth album from The Decemberists I told him we had a challenger. And now it is known that "The Decemberists are so good is unfair to other bands." This album was inspired by a Japanese folk tale and is weaved throughout three songs. "Crane Wife 3" and "Crane Wife 1 & 2" explains the story in a beautiful and heart wrenching way. Other songs on the album are typical Colin Meloy historical creations, like the well crafted "Yankee Bayonet (I Will Be Home Then)," a duet with Laura Veirs that is between a dead Civil War soldier and his wife. "O Valencia!" is a "Romeo and Juliet" tragedy, and he puts the fear in us by telling us the tale of the "Shankill Butchers." Like all Decemberists' albums each song conjures up a visual to the listener. The songs on The Crane Wife grab you and bring you into their story, if even for just a moment.
http://www.decemberists.com/
1.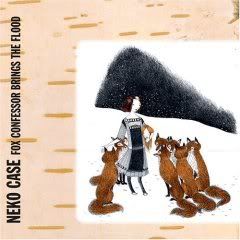 Fox Confessor Brings the Flood—Neko Case

I had never heard of Neko Case before this year. Even though this is her 6th album, I had no idea who she was other than the gal that sings with the New Pornographers. A month before the album's release I heard "Star Witness" on a compilation CD I got with my Feb./March issue of Paste. I was hooked. I had to have listened to that song at least 20 times a day. The story of having survivor guilt after losing a loved one tragically had me in tears. And her voice…her voice so is clear, distinctive, and commanding. I was literally counting down the days until this album came out. I was not disappointed. Her stories of girl rivalry ("Margaret vs. Pauline"), realizing it's important to never settle ("That Teenage Feeling"), or a family member that just went crazy ("Dirty Knife") can speak to anyone willing to listen. Her themes of unwavering love, loss, and acceptance are universal.
http://www.nekocase.com/

It was really difficult to narrow this list down to 10, and I know I could have done more, but in all honesty I had a hard time with placement of these 10. Adding more to the mix would have made some of the order even harder. And like all "Best of" lists you are probably wondering why some albums didn't make my top 10. But the albums I listed were my favorite and ones that I see myself taking off the shelf in years to come. And if you don't like it, well make your own!

xoxo,
Stefania