Sunday, April 29, 2007
"Let it never be said that romance is dead..."
On Thursday, April 12th I went to see the Kaiser Chiefs at Roseland Ballroom. This was the second show I had seen that week, and once again I was going to have to be late, this time it was for work. I was looking forward to this show, because I was also excited about the opening-opening act (Annuals) and the opening act (The Walkmen). This show was part of an NME sponsored US tour. NME, for those of you who do not know, is a British music magazine that is quite entertaining. I think each week they have a new favorite band and consider the band they loved the previous week rubbish. Oh those Brits!

I arrived an hour after doors had opened, and as the woman at the door confiscated my gum and gave me a look as if I had something far worse, "You can't have gum in here. We just put in new carpet," I heard the Annuals just tearing up the stage with "Brother." I hurried myself in, and tried to find a good spot on the floor. Unlike the Goldfrapp show, the side stage had tables on it, and was now a VIP area. So I stood on the floor like common folk. Once again being solo at the show allowed me to move up pretty close to the front, of course the crowd was not fully there yet. As Annuals wrapped up "Brother" and then played their final song, I was kinda bummed to have only seen that snippet of their show.

"Brother"


http://www.annualsmusic.com/

The crowd starting moving forward in anticipation for the next act, The Walkmen. I have seen The Walkmen three other times in DC, where many of them are from. There was not a large gap in wait time, which was good. They played a good mix of songs from all their albums, and even played a new song, "Red River, which can be found on the Spiderman 3 soundtrack. I have ended up falling in love with that song, and not because I used to live by the Red River geographically. As always The Walkmen put on a fabulous show. One thing I noticed since the last time I saw them is that 1) they all look really healthy, especially Hamilton. I mean I am not a fan of super skinny rocker boys. I just get depressed when I see boys in bands who are wayyyy skinnier than I will ever be. But The Walkmen, they are solid, and 2) All the band members are now married. Sad face for us gals.

"Louisiana"


http://www.marcata.net/walkmen/

So after The Walkmen left the stage, the crowd now started to push in and bunch up a little more. One thing about this crowd that I noticed was that I was the only one without an accent. Well I wasn't the only one, but it seemed as if a ton of Brits came out to the show. After some time, the Kaiser Chiefs took the stage and just dominated the entire time.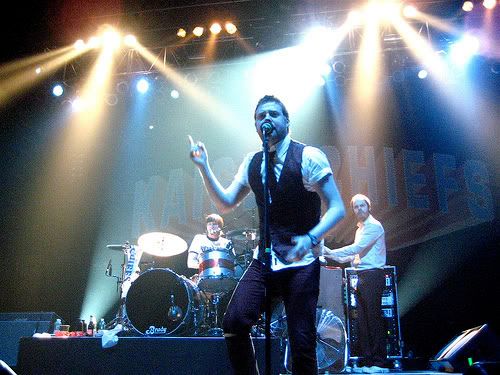 I don't think I ever really knew what the guys looked like. I guess I was just caught off guard by the lead singer Ricky. In my head I had him pictured totally different. But that really doesn't add anything to this story, it was just an observation.



Anyway, for the rest of the evening the band had the crowd singing and dancing along to songs off both of their albums. On the latest, Yours Truly, Angry Mob, they hit most of the songs I enjoy including "Ruby," "The Angry Mob," "Heat Dies Down," "Thank You Very Much," and "Try Your Best." Off of their first album, Employment they played such favorites as "Everyday I Love You Less And Less," "Na Na Na Na Naa," "Oh My God," and "I Predict A Riot."

I really had a fun time at this show. Overall the crowd was respectful, and I made friends with two gals who worked for British Airways. There was a random moment when this over 6 ft. tall Brit wanted to lift me up to crowd surf, and tried to convince me by saying, "It's all the rage in the UK." And I was like, "What? Maybe 10 years ago." I had to decline. I didn't want my naughty bits being touched, plus I was in my work clothes.

I really encourage you all to check out the Kaiser Chiefs if they make it into your area. They are so much fun to watch, and it is very easy to get sucked in to the show. You can tell they just are having a fun time up there, and then that makes you want to have a good time too.

"Ruby"


http://www.kaiserchiefs.co.uk/txp/index.php

xoxo,
Stefania

P.S. I had pre-ordered Tori Amos' latest American Doll Posse (it comes out Tuesday) from the label, and it came in on Friday. Whoo hoo! I always love getting albums before the release date. So far it's pretty good. 23 tracks in total, and I am having a good time discovering them all.