Monday, May 21, 2007
"I know no matter what you say, there are some debts you'll never pay…"
On Monday May 7th my friend Matt and I were one of the fortunate to see The Arcade Fire play at United Palace Theatre (UPT). The UPT is located in a part of Manhattan I had never ventured, and the farthest north I have ever gone to in Manhattan: 175th Street. And the hour train commute was worth it. The UPT is an old Lowe's movie theater that has now been turned into a church with Rev. Ike as their pastor. The marquee proudly boasted their 2pm Sunday service.

Matt and I arrive a little after 8pm. We didn't know if doors opened at 8pm or if the show started at 8pm. Turns out it was the show start time. However, after figuring out that we were considered VIP due to our seat location, (7th row orchestra, baby!) we were able to go in the shorter line. When we entered the theater we were overwhelmed by what we saw. It was all gold with carvings, statues and chandeliers. There were also quotes from Rev. Ike painted in mural sized signs throughout the lobby.

When we entered into the actual theater the opening act, The National, was playing. I know only a few songs by them, and my favorite is "Secret Meeting." But we were only there for the last part of their performance unfortunately. Matt was more familiar with them then I was. I enjoyed them, and found them to be entertaining. Maybe I'll get to see them again another show.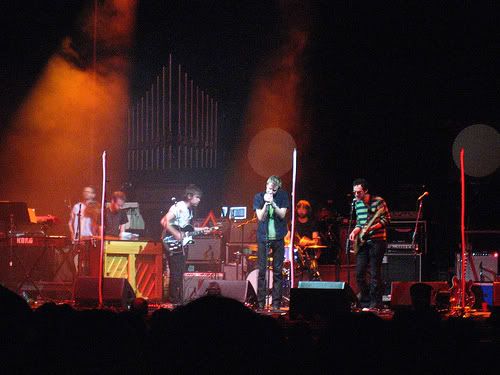 So in the intermission time between acts, these people came over to our row and had the same seats as us. After reviewing our tickets it turns out we were sitting in row G while our seats were row GG, which was in the same area but on the side. So we were still close to the stage, thank goodness. I felt silly, but Matt was forgiving.

After a short wait, the lights dimmed and everyone just cheered. Then these round screens that were set up on stage started showing footage from a female preacher in the '80s preaching something about women taking off their high heels and putting on combat boots and taking charge of life or something. Then it went dark and these neon lights in the front of the stage lit up and these images in neon lights of a book appeared (similar to their album art). The band then took the stage and started playing "Black Mirror."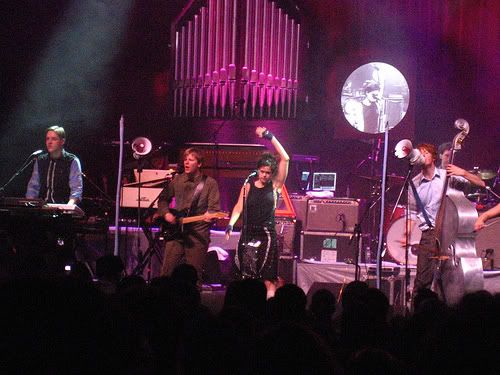 They covered many songs off their new album, Neon Bible such as "Intervention," "No Cars Go," "(Antichrist Television Blues)," "Neon Bible," and "Black Wave/Bad Vibrations." Then they played a few favorites from Funeral. And with each song they played the crowd was just eating out of their hands. They could have played anything and we would have loved it. They are so involved in their music and full of energy. It is contagious. One cool thing was at the end of "Neighborhood #3 (Power Out)" they morphed it into "Rebellion (Lies)." During this song Win entered the crowd:


The stage itself was set up with neon lights and video screens. It looked really cool, and sometimes the images were confusing, creepy, or interesting:



There were 10 of them on stage, and many of them would play different instruments for each song. It was really cool to see such versatility in a group.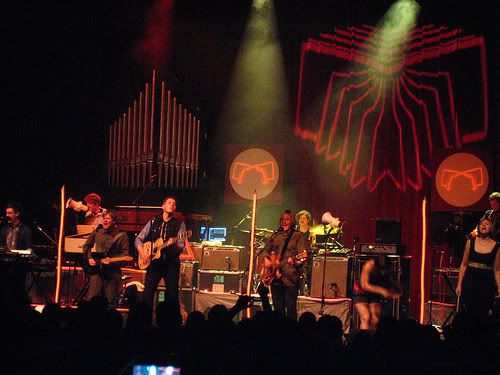 I wholehearted enjoyed this show. I have been looking forward to seeing The Arcade Fire for at least 2 years now. And each time they come into town I have been unable to get tickets. But this time the concert gods had pity on me and allowed me to get 2 tickets in a sweet spot. I was really happy to share this experience with Matt who is also a fan. It's always nice to share a fabulous show with someone who truly can appreciate it. Or whenever you take someone to a show that may not be totally familiar with the group, but then they leave a convert. I love that.

This was hands down one of the best live shows I have ever seen. I really don't have a ranking of the best shows I have ever seen. Normally I just say, "This show is in my top 5." But if you ask me what that top 5 is in order I'd have a hard time. But this show by far passed my expectations and just made me want to see them anytime they come to town. However, this is a hard ticket to get…in any city. So if you get the opportunity to see them then you MUST go. And if you can't make it, give me a call. I'd be willing to travel to see them.

xoxo,
Stefania


P.S. The Arcade Fire doesn't have videos yet for this album, but I found some good performances of two of my favorite songs:

"Intervention" Live at Canterbury High in Ottawa


"Neon Bible" (shot in an elevator for
http://www.blogotheque.net/
)