Wednesday, May 23, 2007
"We are the earth intruders, we are the sharp shooters…"
So remember how I said the music gods smiled favorably on me when I got the Arcade Fire tickets? Well I wasn't lying. The same day the Arcade fire tickets went on sale (at 10am), Björk tickets also went on sale that day (at 11am), and once again I was able to secure two tickets. But this is the way it works my dears. When the good karma rains on you it often times will pour.

So on Tuesday, May 8th Matt and I went to go see Björk at the famed Apollo Theater. I was really glad that I was able to go to this historic venue. Unlike the previous night, our seats were not that close. We sat up in the balcony, literally 4 rows from the back. But the theater was so slanty it gave me vertigo. I was afraid to stand up. But I didn't let it get to me too much, and after a while I got used to it. And I had to remind myself I was here to see Björk!

Björk's first album Debut was one of the first albums I ever owned. In fact I think it was the 3rd one I bought with my own money. I was quite proud of that. I am not going to lie though and pretend to be this super Björk fan. They are out there, I know this. I love her. I think she is fabulous, but after Post I haven't bought any of her albums. Even though there are songs off of each album I like, I never ended up buying them. But that doesn't make me any less of a fan though.

I got there early enough for the opening act. This rap/DJ combination. I didn't quite catch their name, and to be honest with you their music didn't impress me enough to make me want to research who they were. I know that is a crappy attitude to have and I am sure I am letting my readership down. But with lyrics like, "All you white girls shake it till my dick turns racist…all you black girls shake it till my dick turns racist " just doesn't' appeal to me. Sorry. Plus they weren't who I was there to see.

Okay I felt bad about that rant and not caring who they were. So I looked it up. They are the Baltimore based hip hop group, Spank Rock. Save your money.

So after the turntables were removed from the stage, most of it was set up already. There were tons of instruments and other random electronic-y looking things. Also big flags with birds, frogs, and alligators on them were in the background. As the stage hands were setting up the big red velvety curtain lowered. It just made the anticipation grow. Then…

Björk appears as the curtain opens. The crowd goes totally nut-so! She was wearing a gold lamé dress and headband with silver leggings. She was barefoot. She opened up her mouth and started to sing "Cover Me." With such a big catalogue of songs to choose from I was wondering what she would choose to do. Also, her latest album Volta had just released that day. Matt loves to read Brooklyn Vegan,
http://www.brooklynvegan.com/
, and actually that's how we found out Björk was coming. But anyway Brooklyn Vegan had her set list:

Cover Me
Earth Intruders
Venus as a Boy
Aurora
The Dull Flame of Desire
Immature
I
See Who You Are
Pleasure is All Mine
All is Full of Love
Jóga
Bachelorette
Army of Me
Innocence
Wanderlust
Hyper-ballad
Pluto
==========
Oceania
Declare Independence

They also had some great pictures of her. Which I was glad about, because there was no cameras/photography allowed. And people got kicked out if they pulled out anything with a glowing screen or flash. They were serious about it.

Björk and Antony (of Antony and the Johnsons) singing "The Dull Flame of Desire"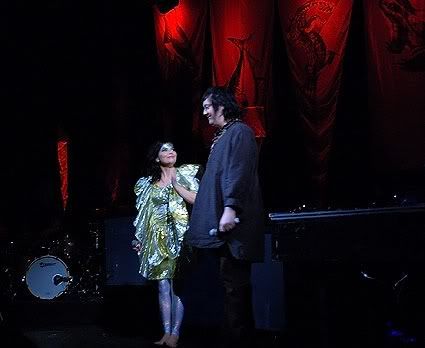 Rockin' it in gold lamé



I was really grateful and happy to get the opportunity to see Björk. She put on a superb show not only musically but also visually. If you saw her performance on SNL a few weeks ago then you will have a little bit of an idea. Her horn section was all women in these oversized solid colored jumpers with flags coming up from their backs. During the last song "Declare Independence" there is a line that goes "Raise your flag!" and all the ladies took the flags off of their back and waved them. It was a pretty cool visual, and a good one to leave out on.

I'm not sure if I will get the opportunity to see Björk again I would. I know it might be tough due to how often she tours and how hard of a ticket it is to get. But who knows? Maybe the concert gods will smile upon me again.

xoxo,
Stefania

Video for "Earth Intruders" (Sorry the video isn't here. You Tube has said, "Embedding disabled by request." Sad face.)

http://www.youtube.com/watch?v=wioa74MsBYA
.

P.S. Matt also sent me this article about a mishap that Ticketmaster had made about the date of the show, and how this poor gal missed out on it:
http://popwatch.ew.com/popwatch/2007/05/bjorkticketbast.html
I did get an e-mail a day before the show from Ticketmaster notifying me of their mistake and that the show was in fact on Tuesday. I guess that woman didn't get it. How crappy is that?