Friday, May 18, 2007
"Your tongue is sharp but I miss the taste of it…"
So here I go again totally slacking! Who do I think I am? Leaving you all waiting for weeks for an entry? Seriously! Please leave all complaints with my assistant. But don't be too harsh. She is a crier.

Alrighty then, moving on. On Wednesday, May 2nd I ventured out to a new venue (Webster Hall) to see Swedish darlings Peter Bjorn & John (PB&J). However I was just as excited to see their opening act Fujiya & Miyagi (F&M). Who you might guess were Asian, but no, three British dudes. The opening-opening act was a Brooklyn group, Au Revoir Simone. All three bands had three members each which I thought was a fun coincidence.

Au Revoir Simone played dreamy elcetoronic-y music. Made up of three gals (Erika, Annie, and Heather), they took their name from the character Simone is the movie Pee Wee's Big Adventure. Remember her? God, I love that movie. Anyway I digress. Where did I leave off? Dreamy music…right. I really enjoyed their sound, and this was the first time I had ever seen or heard of this band. They have just released a second album, and seem to be on a roll touring with some cool acts (Camera Obscura, Voxtrot). They were really cutesy-girly with their banter. You could tell they were really excited to be playing in NYC to a crowd of friends, family, and fans. Each had this distinct look that reminded me of high school girl stereotypes. One looked like the shy, artistic type, another looked like the sweet drama girl with a wannabe edge, and the third looked like the geeky but cute and a little bit spastic smart girl.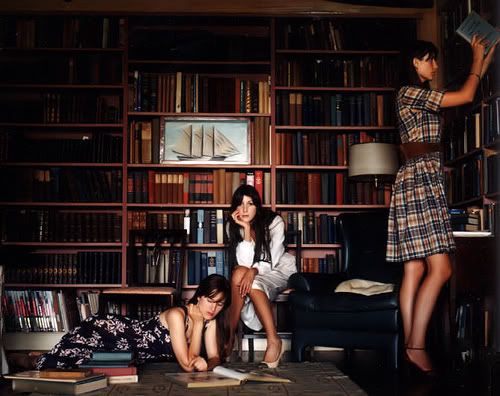 I really did enjoy them though, and they were stylish.
http://www.aurevoirsimone.com/


When F&M took the stage and started to play, I was really impressed. A lot more than I thought I would be. I know that sounds kind of awful to say, but it's true. In fact out of all three acts I enjoyed their set the most.



They kept their energy up and were a really solid act. Plus their music is danceable. Yay! To me the highlight was "Collarbone" but I also ended up loving "In One Ear & Out The Other."
http://www.fujiya-miyagi.co.uk/
"Ankle Injuries"

Does this video remind you of The White Stripes' "Fell In Love With A Girl"? Instead of Legos though, they used dominoes.

By the time PB&J made their appearance the crowd was more than ready. It was a pretty young crowd age wise. It seemed like many of them were surprised about the amount of people at the show. Like they are the only ones who knew of this group. It's quite funny actually when people act like that. Oh well. So as soon as they took the stage everyone went nuts. They played most songs off of their latest album, Writer's Block, and they played a few songs from previous albums. When it came to the song "Young Folks" Erika from Au Revoir Simone came out to sing Victoria's part.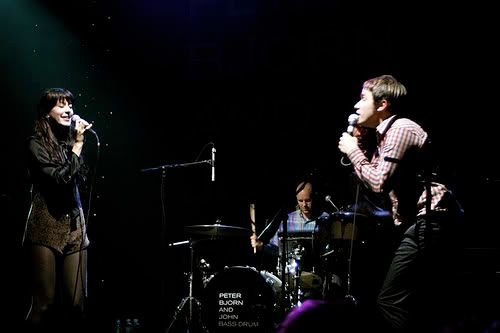 "Young Folks"


The rest of the show was good, but for some reason I wasn't as impressed by them live. They also did an acoustic version of "Amsterdam" that seemed really off. This is one of my favorite songs, and this version did not do it justice. Their banter was fun and they did interact with the audience. At one point Peter asked us if we liked the new backdrop:


As we all cheered, he then pointed out the sign on the guitar amp ("Peter Bjorn and John Amp"), then the kick drum ("Peter Bjorn and John Drum"), and then the bass amp ("Peter Bjorn and John Bass Amp"). At first it was cute and funny, but then when he started promoting the merch ("Peter Bjorn and John T-Shirt" and "Peter Bjorn and John Bag") it just got old. But at least his heavily accented English made it a little bit more endearing.
http://www.peterbjornandjohn.com/

The show overall was fab. I had a great time and had fun being in such a strange venue. The inside looked like the set of Legends of the Hidden Temple with the Asian/Indian/African looking statues, paintings, and animal skins. Definitely interesting.

"Objects Of My Affection"


"Let's Call It Off"


xoxo,
Stefania
Comments:
Oh, girl. I hate to be a brat again, but I am a stickler for accuracy. The F&M Ankle Injuries video is done with dice, not dominoes. Kind of a rip-off of the White Stripes either way, but still really cool.
And I totally agree that the awesomeness of F&M live was a surprise to me, and I'd venture to say I liked them a tiny bit more than PB&J, too.
Post a Comment
<< Home