Wednesday, July 04, 2007
"This is a jetsetter music letter from me to you..."
Dear Pacific Northwest (PNW),
Although we have never formally met (I have never graced your borders) I feel like I know you well. I am especially speaking to you, Oregon and Washington. In elementary school I had to learn your location on the map of the U.S. and memorize your capitals. I also had to play a computer game (The Oregon Trail) that taught me the hardships of those pioneers trying to get to you ("Don't ford the river!"). As a teen discovering music, many bands I liked were born from your cities. As a young adult in the DC area I made several friends who grew up and shared their love of you to me. And even to this day you have an impact on my life. Odd, I know but it is true. The area of my life where you have had the most influence is my musical tastes. I can't credit you for everything, but a good majority of the music I love and adore comes from the Pacific Northwest…or Great Britain (but that is another blog).

One reason on why this might be is my love for the Seattle radio station, KEXP. I was introduced to this fantastic station by my friend Tim S. Every Monday-Friday I listen daily to two shows: The Morning Show with John Richards and the Mid-day Show with Cheryl Waters. Due to the time difference I am able to hear a full day of great tunes while at my cubicle.

KEXP plays a lot of local artists, but many of them have found success outside of the PNW. Bands such as Death Cab for Cutie, Modest Mouse, Harvey Danger, and the like get their fair share of air time with other cross country and international artists. They also have a show that focuses solely on the music of the PNW. It is the freedom and innovation of KEXP that makes me love it so, and makes me want to work for them (someday…fingers crossed!). I know there are other stations similar to KEXP out there across the country, and I do not doubt their efforts to push the envelope and play music from those hardly recognized in the mainstream. However, to me, KEXP is where it is at.

So thank you PNW for the music you have given the world. Thank you for the countless bands that grew up, formed, or were signed in your borders. Thank you for being home to some awesome stations (radio and online). And thank you for the labels that sign acts close to home and from across the globe. For this I will love you and be grateful. And now that my best friend has moved to Portland, it will be time to come visit you. Thank goodness I have this map to help me there: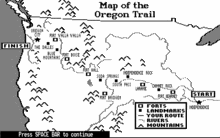 xoxo,
Stefania

Here are some lists of artists that come from or now reside in the PNW. By no mean is this a COMPLETE list, but these are the artists I like currently (and chances are I left some off). I could probably write another blog about the music from the PNW in the '90s:

Oregon:
The Decemberists (Portland)
Menomena (Portland)
Viva Voce (formed in Alabama, now in Portland)
Stephen Malkmus (resides in Portland)
Britt Daniel of Spoon (currently based)
The Helio Sequence (Portland)
Elliott Smith (Portland)
M. Ward (Portland)
The Dandy Warhols (Portland)
Helio Sequence (Portland)
The Shins (formed in Albuquerque, now in Portland)
The Thermals (Portland)

Washington:
Death Cab for Cutie (Bellingham)
Harvey Danger (Seattle)
The Long Winters (Seattle)
Modest Mouse (Issaquah)
Band of Horses (Seattle)
Jeremy Enigk (Seattle)
Sleater Kinney (Olympia)
Damien Jurado (Seattle)
Laura Veirs (From Colorado, now Seattle)
Neko Case (considers Tacoma her home town, got start in Vancouver, BC)
The Gossip (from Arkansas, formed in Olympia)

Here are the record labels that put out some great music. Many bands cross over and have had albums on more than one of them. But you can see that they just don't focus on talent in the PNW. If you click on the links you can see a full roster of their artists (past and present). Also, you can get some good deals on their merchandise:

Barsuk (Seattle, 1994)
http://www.barsuk.com/
:
Nada Surf (NYC)
Mates of State (San Francisco)
Rilo Kiley (LA)
Starlight Mints (Norman, Okla.)
Aqueduct (Tulsa, Okla.)

Sub-Pop (Seattle, 1986)
http://www.subpop.com/
:
The Album Leaf (San Diego)
The Brunettes (Aukland, New Zealand)
CSS (Sao Paulo, Brazil)
The Elected (LA)
Hot Hot Heat (Victoria, BC)
Iron and Wine (Miami, FL)
Pernice Brothers (Northampton, Mass.)
The Postal Service (Seattle and LA)
The Rapture (NYC)
Rouge Wave (Bay Area, Cali)
The Shins (Albuquerque, NM)

Kill Rock Stars (Olympia, 1991)
http://killrockstars.com/
:
The Gossip
Deerhoof (San Francisco)
The Decemberists
Harvey Danger

Some online fun:

KEXP
http://www.kexp.org
:
Audioasis—Show that highlights PNW music

Northwest Noise
http://www.northwestnoise.com/
:
Podcast from Portland that showcases "independent artists, interviews with local newsmakers, and all the noise that is coming from the Northwest." Started by my friend Tim G. and continues with help by our friend Jason (Gearsy).