Sunday, September 23, 2007
"You came on your own, that's how you'll leave…"
I have been waiting to properly see the Editors for at least a year now. And when I say properly see them, I mean a full show of theirs. The first time I saw them (and the only time before now) was in DC when they were the openers for Stellastarr*. My friend Brie and I were so excited to see them after becoming addicted to their song "Munich." After they were done with their short set (due to being the opener), we were bummed.

So I was really excited when I saw they were coming to Chicago on Tuesday, September 11th. I was sad that Brie couldn't be here with me (I still haven't found a concert buddy as fabulous as her), but I knew she would be there in spirit. They played at Park West, a venue close to my home, so close I walked there. It was a very interesting venue. It looked more like a place where you would see a dinner theater show or a reception room, but with a big stage. I got there kind of early not really knowing if the time on my ticket was start time or doors time. I walked around a bit scoping out the best place to see where I wanted to watch the show. I decided to sit at a table at least for the opening-opening act. I ended up striking a conversation with a gal who had driven down for the show from Madison. We hung out during the first two opening acts, but when the Editors took the stage I left the table and headed toward the stage.

The opening-opening act was a band called Ra Ra Riot from Syracuse.
http://www.rarariot.com/
They were pretty good as far as opening-opening bands go. They looked really young, like they could have been in college or just barely graduated. In fact, they seemed like the kind of band that formed when the 4 guys met on their dorm floor and said, "Hey let's put together a band." Then one said, "Well if we do maybe we can invite those cute artsy girls to join." And tah dah! Ra Ra Riot was formed. They did have a song called "St. Peter's Day Festival" that I liked. You could really tell that they were excited and grateful to be on tour with the Editors. And how could I tell this? They said it. They are even continuing on with them for their European leg of the tour.

The opening band was called Biffy Clyro and they were from Scotland.
http://www.biffyclyro.com/
They were errr umm interesting. They were a big departure from Ra Ra Riot. They were edgier, rockier, and grungier…in both music and appearance. The music they played wasn't my cup of tea, but they seemed to have a following in the crowd. However, when I listened to their music online they sounded crisper, clearer, and more Foo Fighters like. So maybe I should give them another chance.

By the time the Editors took the stage I was super excited.
http://www.editorsofficial.com/
They came out and just started into it. They played pretty much everything off of their new album, An End Has A Start including the title track, "Smokers Outside The Hospital Doors," "Bones," and "The Racing Rats."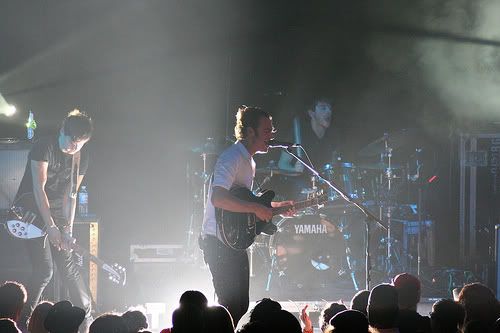 They also performed a number of songs from their first album, The Back Room including "Munich," "Bullets, and "Blood."

Russell Leetch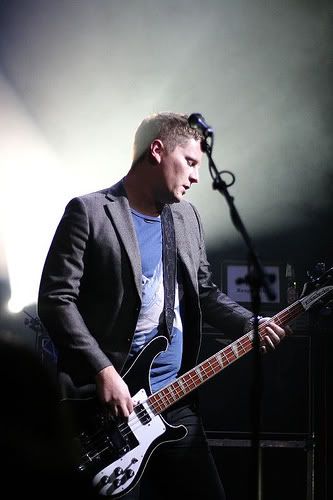 I really enjoyed this show and thought that the Editors are great live performers. Often times Tom Smith (lead singer) would do these weird arm movements, but I think he just gets really into it.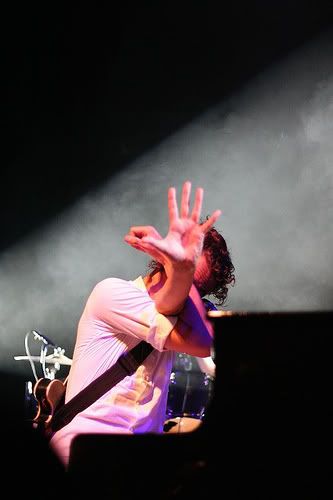 Plus he's such a hottie, so it doesn't really matter.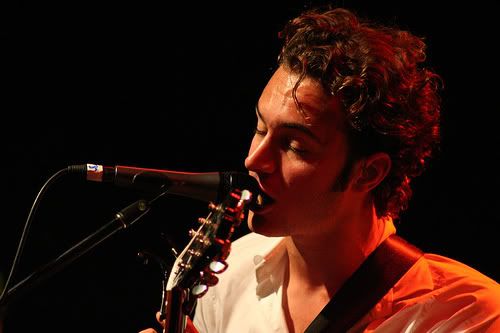 xoxo,
Stefania

"Smokers Outside The Hospital Doors" from Later with Jools Holland (there is an official video, but I want you to see what they look like performing):


"An End Has A Start"

Comments:
I am always at shows with you in spirit! You are the best concert buddy a girl (or boy) could ever ask for, and I'm jealous that others get to go to shows with you now instead of me. Sad face.
For the record, I still maintain that Tom Smith is on meth or something, not merely "into" the music. But the music, she is delightful.
Post a Comment
<< Home