Sunday, October 07, 2007
"Hanging around Broadway, and I think I saw your face…"
There are many bands/performers that have been around for years and have a rabid following. It's always strange when I get into these acts waaayyyyy after everyone else has already been there and done that. One of these bands is Wilco. Another is Ryan Adams. I know people who have seen him more times than I have digits to count on, and who have bootlegs of bootlegs of bootlegs of the rarest of rare songs. So where was I when everyone was getting into him?

Does it really matter where I was? No, it doesn't. Sometimes people make a big deal that they knew an artist before everyone else did or before an iPod commercial has brought them to the masses (I have been guilty of this…I do not lie…but sorry, Feist was an "artist to know" before "1234"), but shouldn't we just be happy when more people discover the music we love? I'm trying my best to do this. So okay, I got into Ryan Adams almost a decade after he broke the scene. But I'm there now.

On Saturday, Sept. 29th I made it out to the famed Chicago Theatre to see Ryan Adams & The Cardinals perform.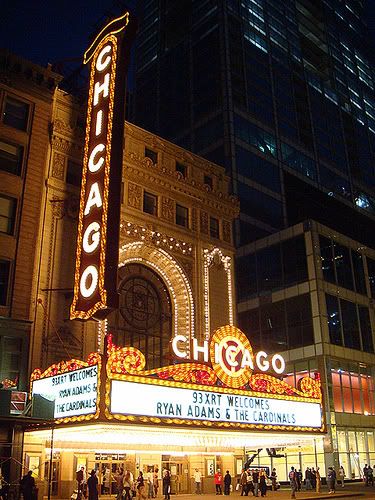 This performance was a few days after his "meltdown" in Minneapolis:
http://edition.cnn.com/2007/SHOWBIZ/Music/09/28/people.ryanadams.ap/index.html
So I was hoping that his performance here in Chicago would go smoothly. And it did. In fact he even poked fun of himself about the situation.

There was no opening act. Which I am not sure if this is typical of a Ryan Adams show, but I was okay with it. I know that he has enough material to play for hours so I was just looking forward to what was in store.

Since I am a newbie to Ryan and there are enough super fans out there, I found a site that posts every single set list since 1994. So this was the show I saw:
http://www.answeringbell.com/Answering%20Bell/2007%20Shows/2007.09.29.htm

He played some of my favorite songs such as "Dear Chicago," "When The Stars Go Blue," and "Two."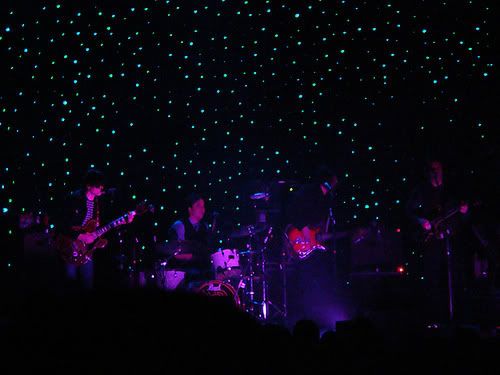 During the first part of the encore, Ryan was alone at the piano.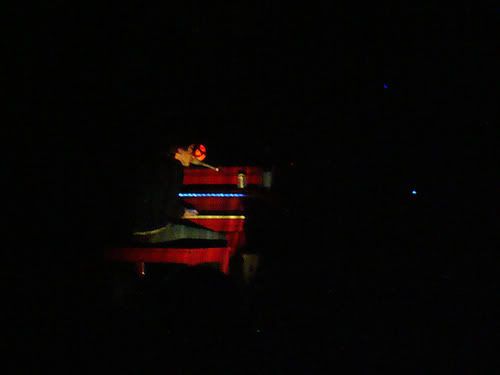 Nothing is as beautiful as hearing "Sylvia Plath" live with such emotion behind the lines, "Maybe she'd take me to France/Or maybe to Spain and she'd ask me to dance" with him playing on this small red piano.

He has lived in NYC for a while and so many of his song reference the city. Nothing made me more homesick than "Sweet Lil Gal (23rd/1st)" since it was so close to where I used to live (20th and 1st).

Overall, this was a great show and I'm really glad that I went. I have no complaints about the performance. Well maybe one. I wish he would have played, "To Be Young (is to be sad, is to be high)."



The biggest complaint that I had about the show is the audience. Well at least the audience that was a round me. I am still going solo to most shows, and so it's great when the show is seated. When you look for one ticket, you normally get to be in a good spot. However, you are then surrounded by twos. And most often times couples. The most annoying was the couple to my left who basically made out the whole time. And not just kissing or snuggling, but groping. Yes, Ryan has some pretty romantic songs, however just because a song is soft and slow it doesn't make it a great make out song, such as "Dear John." To my right was a couple who talked during the whole show, and in front of me were fratty frat boys who texted on their cell phones and chatted away making plans for what they were doing after the show. I was annoyed. Maybe this is why people get smashed or high at shows. Maybe it's not to help them really experience or enjoy a show, it's for them to tune out the d-bags. Of course often times they become the d-bags. What to do?

xoxo,
Stefania

Snippet of "When The Stars Go Blue"


Part of "Dear Chicago"