Thursday, June 26, 2008
"My heart's been troubled by the speed of love..."
Hi. Yes, I am still alive. I know I have been slacking on my entries. Life has gotten in the way. Not necessarily a bad thing, but a lot has been going on and I haven't made the time to get caught up on my blogging. Oh I am not asking for your pity or for a scolding. I'm here now and boy do I have some work ahead of me!

So on May 2nd I went to see Ghostland Observatory at the Metro. Originally I wasn't going to go to this show, but after some thought and numerous friends saying they were going, I got a ticket. I really like Ghostland Observatory from what I have heard on KEXP (where I discovered them…obviously!) and missed them when they played Lolla last year. I was pretty excited and knew that this was a show I was going to be able to dance my booty off.

I went with my friends Stephanie (who brought her friend Tonya) and Tyler (who brought his friend Matty-O and he brought a gal pal). It was raining like crazy so by the time we all met up we were a little wet and had missed the first act. I love going to shows with people, but when you have to meet a group after a workday chances are you all aren't going to be there on time. C'est la vie.

The show was sold out. Which I found odd because it wasn't sold out until an hour or so before the show started. It was so packed that we had to stand in the back by the open doors that lead into the main floor area. It was such an awful spot. People coming and going, all up in your way. But I thought once the show started it would get better. Nope. Worse. Whodda thought? By the time the gents from Austin took the stage the crowd was ready. After being warned by multiple signs in the building that there would be "intense laser lights" I was looking forward to the light show as well.

I do not own any of the 3 Ghostland Observatory albums, I keep meaning to get the one that put them on my map, Paparazzi Lightning, but always get sidetracked with something else. However, you don't need to own their albums or know all of their music to enjoy them live. They played my favorite song "Sad Sad City" as well as "Move With Your Lover," and "Piano Man." They do have a new album out called, Robotique Majestique, and I know they played "Dancing On My Grave" and "Heavy Heart." From their first album, delete.delete.i.eat.meat, they played "Rich Man" (a crowd pleaser).

As for the light show…it was pretty good. Very fitting for their style and for the mood they were going for. However, on a whole I didn't enjoy this show. Even though I had friends around me and a fun band on stage keeping the energy up, oh and dancing, the crowd overall were kind of d-bags. I also think it was largely due to the area of the venue I was in. I couldn't see much. After the show I went to a house party where I met other people who were also at the show and had nothing but really positive things to say about it.

I am not sure if I would go see Ghostland Observatory again. I think the venue might have to be smaller or I just have to arrive early enough to get a good spot free of sweaty people ramming into me every 2 minutes and then not apologizing, free of beer getting spilled on me from every angle, or being by the door where a flow of people are constantly going in and out.

But good times were had regardless. I found some pictures that a guy named Jeff Woelker took. Looks like he was able to see:

I saw a lot of this during the show…but aren't the lights pretty?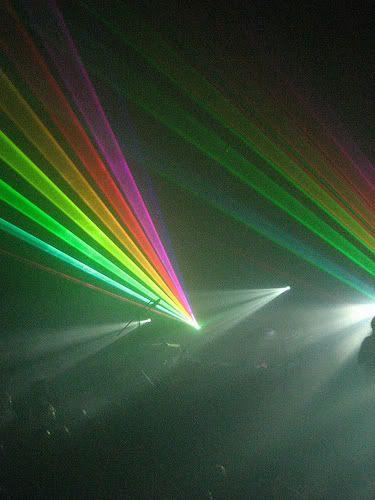 Oh, you say there are people on stage?



Oooh! Ahhh!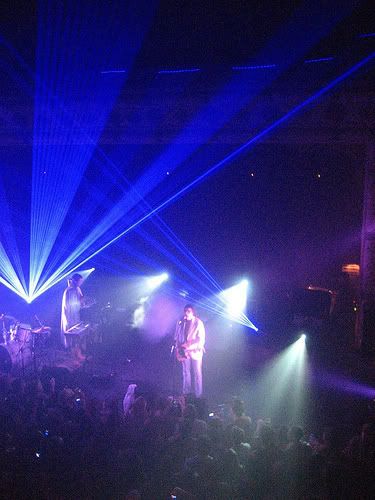 xoxo,
Stefania


http://www.trashymoped.com/
http://www.myspace.com/ghostlandobservatory
Comments:
Hi, I like your blog. I see you are talking about
Melt it off
. Lots of my friends also were the victims of what is considered to be credit card fraud. I did not happen to get tricked thanks to this great site www.pissedconsumer.com. There I found lots of negative feed backs about the company. Watch out!
Post a Comment
<< Home