Tuesday, December 16, 2008
Madonna. Enough said.
In July I receive an e-mail from my friend John that simply said, "I have tickets for Madonna. You in?" Without asking date or location I of course said, "Yes!" The show was going to be in October…October 27th to be exact. So I had to wait 3 months before seeing Madge with her super buff body prancing on the stage. Can do.

I like Madonna and have enjoyed dancing to her music since I was 5. In fact for Halloween in 1st grade I was Madonna (thanks to the vision of my big sister, Kathy). So I was excited to see her on her latest tour: Sticky & Sweet.

She played 2 nights in Chicago, and I went to the second night. Due to the magnitude of her show she played at the United Center. Beforehand, John, his mom, and our friend, Mike, went and grabbed pre-show drinks and apps. The bar we were at actually had a shuttle that would take us to the United Center. Excellent…since it was cold.

By the time we got to the venue it was packed. The crowd was no surprise, mainly women (of all ages) and gay men. There were a group of gals that were dressed as Madonna during her different phases. They were pretty spot on.

There was no opening act, I mean when you are an artist that huge and have a catalogue that could last for months, you are the only act people really want to see. Thanks to the site Madonna Tribe:
http://www.madonnatribe.com
I got the set list and some photos (thanks Joey and Allan!). However, this show was so choreographed and staged that it is the same show every night, maybe with a variation or two. This was the show:

Sticky & Sweet Set List

Intro/Candy Shop
Beat Goes On
Human Nature
Vogue

Video Interlude - Die Another Day
Into The Groove
Heartbeat
Borderline
She's Not Me
Music

Video Interlude - Rain/Here Comes The Rain Again
Devil Wouldn't Recognize You
Spanish Lesson
Miles Away
La Isla Bonita/Lela Pala Tute
Doli Doli (Live interlude - Romanian folk song)
You Must Love Me

Video Interlude - Get Stupid (About saving the planet)
4 Minutes
Like A Prayer
Ray Of Light
Hung Up
Give It To Me (Finale)

During the last part of the show she asked for an audience request. As you can imagine tons of people shouted various things, but the guy in the front was audible and he had a sign: "Dress you Up":


As you can see she is playing the guitar. Throughout the show she would strum and lightly play. It's like she just learned how and now she wants to show off that new skill. However, her backing band did most of the heavy lifting when it came to playing the musical instruments. She however sang and danced like she was 20. It was amazing how she has aged. Her arms are so intense!



This is how she took the stage in the opening. The chair revolved around and revealed her.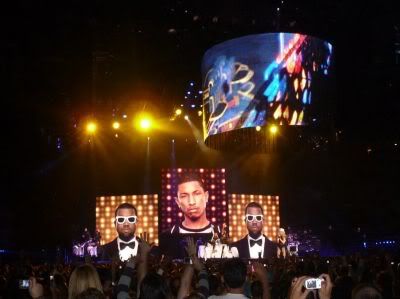 During "Beat Goes On." She utilized many of her friends/collaborators in the videos throughout the night.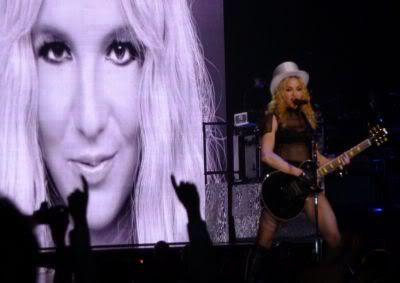 Ms. Spears giving a performance in an elevator during "Human Nature." The video ended with Brit Brit saying her line, "It's Britney, bitch!"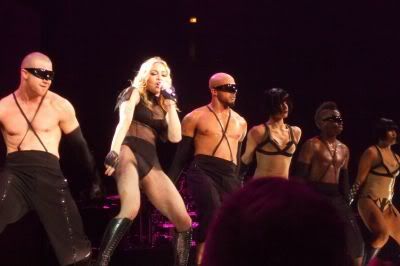 During "Vogue."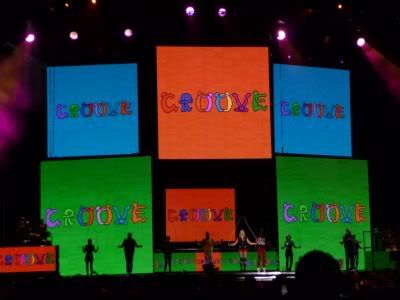 The screens were showing very Keith Haring type artwork during "Into The Groove."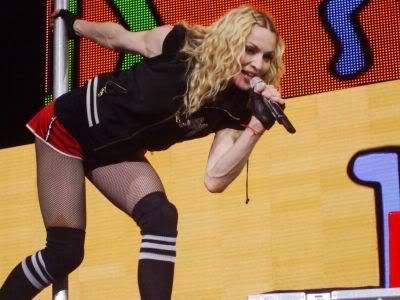 Close up during "Into The Groove."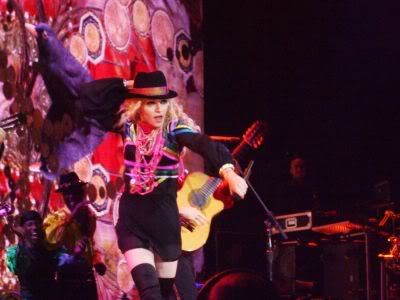 Her costuming during the third part/costume change of her show. More colorful and Latin inspired.

The video screens during "You Must Love Me."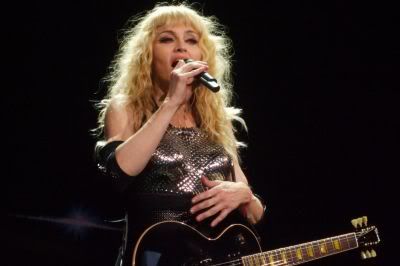 Her look during the final part/costume change of her show.


I really had a fun time at her show, because everyone who was there was super excited and happy to be there. You could just feel the energy in the room. Also because it was a constant dance party. It was for us anyway. The girls sitting next to us barely moved. They just sat there. Who does that? You are at a Madonna show!

I think she did an excellent job of integrating her new album with some of her old favorites. I was super excited and surprised about "La Isla Bonita" and "Borderline." I love both of those songs. It must be tough trying to decide what songs will be done on each tour. There is definitely a theme she works off of. As you can tell by the pictures there is no room for error. Being my first Madonna show I wasn't disappointed. Even though the tickets were expensive I really felt it was worth it. I can now say I have seen Madonna live. One more music titan I can cross off my list. Now to focus on U2…


xoxo,
Stefania


Comments:
What's Stefania, I worked both nights of the show in Denver and was head of Security detail the second night. Me and like 3 other people were the only ones there for the sound check. That was a really cool experience she seemed to be really cool to her dancers, staff ect. I got to actually watch the show the second night as the night before I had to stand in front of the thurst part of the stage with my back to the show. Over all I thougt it was a good show I'd say the high light was "like a prayer".
Post a Comment
<< Home